Finder makes money from featured partners, but editorial opinions are our own.
How to sell a used car in Ontario
Learn about specific requirements and steps you'll need to take when selling a car in Ontario privately or to a dealership.
Selling a car in Ontario isn't difficult, but there are a few things you can do to make sure you have a quick and easy sale. This guide will look at the key steps you need to take when selling a car in Ontario. We'll walk you through how to sell your used car privately as well as how to sell it to a dealership.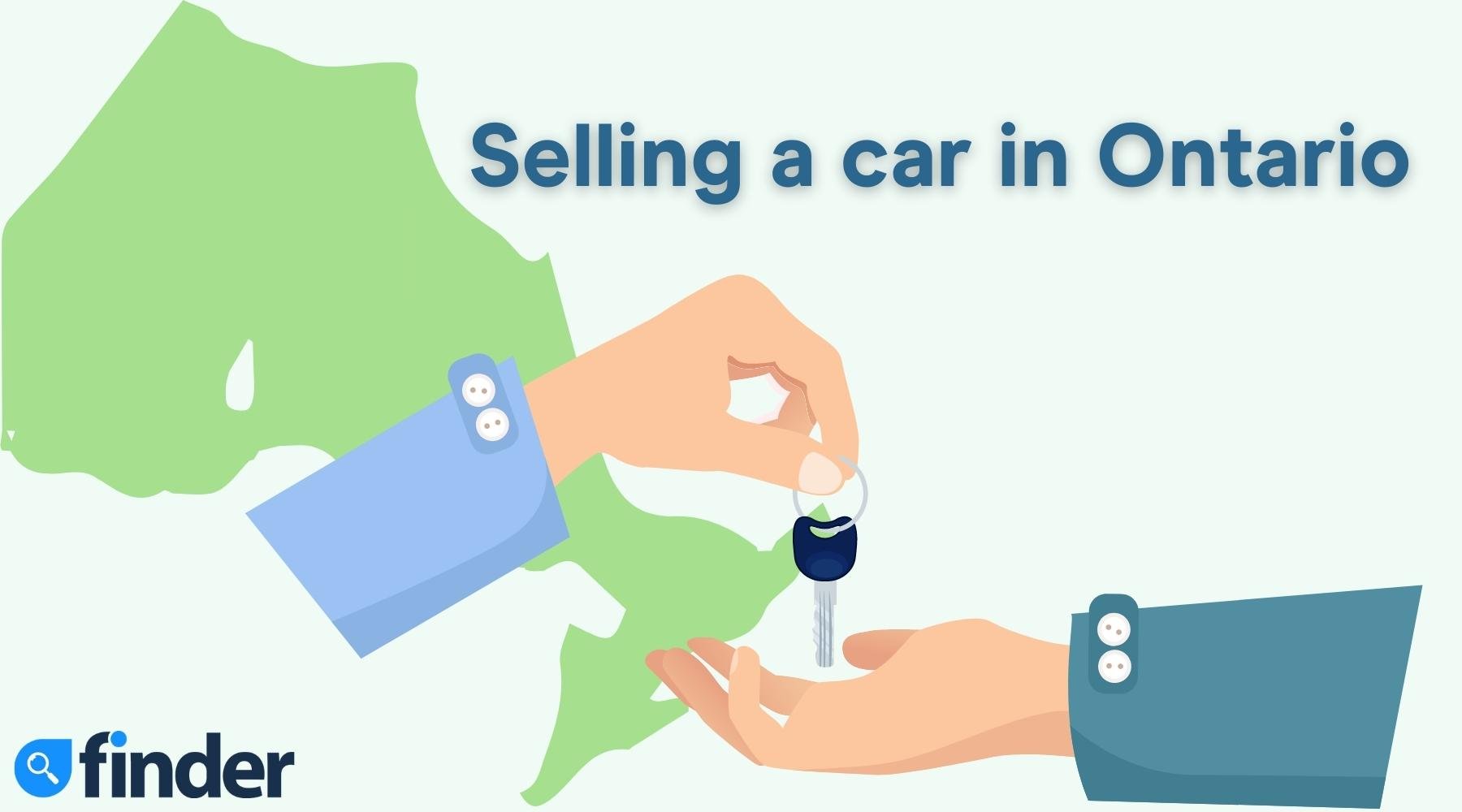 How to sell a used car privately in Ontario
You will need the following documents if you are selling your car privately in Ontario:
Used vehicle information package (UVIP)
Required
The used vehicle information package contains details of your vehicle and its history. You are legally required to provide this package to a buyer when you're selling a used car in Ontario. The UVIP should include the following:
Description of the vehicle, including the vehicle identification number (VIN), plate number, year, make, model, colour, cylinders and other identifying information
Ontario vehicle registration history (present and previous owners)
Odometer information
Outstanding debts (link to liens) on the vehicle
Wholesale and retail values for the vehicle's model and year, if available
Sales tax requirements
Bill of sale
You can order a UVIP online through ServiceOntario. The cost is $20, and it'll be mailed to you within 5 business days.
Signed bill of sale
Required
When you're selling a car privately in Ontario, you'll need to provide an original bill of sale to the buyer. It can be handwritten or printed. The UVIP will have a bill of sale section where you'll include the following details:
Vehicle identification number (VIN)
Vehicle's make, year and power source (gas, diesel or electric)
Body type, colour and model if available
Price of the car, including HST
Your name, address and signature as the seller
Name and address of the buyer
Date the car was bought/sold
Completed application of transfer
Required
The application of transfer is located on the back of the ownership permit. You must sign the application of transfer to validate the sale and transfer ownership to the buyer. The buyer must register their name as the new owner of the vehicle within 6 days of the purchase.
Safety standards certificate
Recommended
A safety standards certificate shows that your vehicle meets the minimum safety standards. A buyer could ask you for it as part of the deal because they cannot put plates on the car without this certificate. You can visit an inspection station that is licensed by the Ontario Ministry of Transportation to have your vehicle inspected. Once it passes the inspection, the mechanic will issue the certificate, which can cost between $80 and $135.
Sell your used car in Ontario
Clutch is an example of an online platform that buys used cars from private owners. All you have to do is fill in some basic information about your vehicle, submit a few documents, either drop off your car or arrange for pickup and then get the cash wired to your account.
How to sell a used car to a dealership in Ontario
It's also possible to sell your used car to a dealership in Ontario. Not only can you make a quick sale, but you can also avoid the hassle of meeting people and booking test drives with strangers. That said, make sure you know the value of your car and ensure that it's in pristine condition to get a good price.
If you're looking to sell a car to a dealership in Ontario, here are a couple of things to consider.
Value and year: Find out the value of your car using Kelley Blue Book or CARFAX, sites that specializes in car valuations. Knowing the value based on the age and mileage of your car will go a long way to getting a good price. Of course, if your vehicle has any issues, such as dents or broken parts, then you can't expect to get the estiamted value.
Car repair and detail: Repairing the windshield, fixing dents and dealing with other cosmetic damages will bring a higher dollar value.
Choosing the right dealer: You can sell your vehicle to your original dealer or to a dealer's network. Dealers look at the vehicle's condition, aftermarket modifications, mechanical issues, year and mileage as well as maintenance history and current market conditions to determine a sale price.
How much should I sell my car for in Ontario?
There are 4 ways to figure out how much your car may be worth in Ontario:
Car value estimate sites. Examples include Kelley Blue Book, Canadian Black Book and CARFAX. You'll need to input details about your car, such as the VIN, year, make, model, kilometres and postal code.
Online dealers. Online dealers like Clutch, Canada Drives and CarDoor buy cars. Visit their sites to get an offer for your car at no cost.
Online bidding sites. Online bidding sites like Carity and Autozen allow you to get multiple offers from dealers at no cost.
Marketplaces. You can check out marketplaces like AutoTrader and Kijiji to find cars that are similar to yours.
Tips for how to sell a car in Ontario
To ensure that you get the smoothest experience and top dollar when selling your car in Ontario, consider the following tips:
Preparation
Not many people want a fixer-upper, so do your best to get your vehicle ready for sale. This includes fixing affordable nicks and dents.
You should also make sure the vehicle is clean. Getting your car detailed before you list it can help it look much more appealing and indicate to buyers that you've taken care of the car in the past.
Take many high quality photos from different angles of both the exterior and interior. Take a picture of the dashboard that clearly shows the odometer. Try to shoot on a slightly cloudy day so that direct sunlight doesn't wash out your pictures but there's still enough light to see details. Make a 360° video if you can.
Listing
Finding the right place to list your vehicle will help determine how much you get paid. While you might get less money if you're selling directly to a dealership, it can save you time. On the other hand, you might get a slightly higher price if you're selling it privately, especially if you're selling a specialty car.
Make sure to include a detailed list of all of your car's features. It's also important to be transparent in your listing about any existing issues with the car. Clearly show the make, model, series, year, number of kilometres and whether the vehicle is manual or automatic.
Timeline
If you're in a rush to sell the car, selling your vehicle to a dealership might be better than a private sale. Again, this depends on the quality of the car and the make and model. Otherwise, if you can afford to take your time selling your car in Ontario, you might get a better price selling it privately.
Where to sell a used car in Ontario
Below is a sample of online and in-person dealers that are looking to buy used cars in Ontario, plus their locations. You don't need to trade in a vehicle.
Clutch (will pick up the car from your home)
Canada Drives (will pick up the car from your home)
CarDoor (will pick up the car from your home)
Car Nation Canada (Burlington and Brantford)
Prio Auto Sales (Ottawa)
Myers Automotive Group (Ottawa)
Ridebuyers.ca (Greater Toronto Area)
Azores Auto Group (Greater Toronto Area)
Good Fellow's Auto Wholesalers (Greater Toronto Area)
Pro Drive Auto Sales (Greater Toronto Area)
Can I sell a used car with a loan on it in Ontario?
Selling a financed car in Ontario is possible. However, many Canadians look for vehicles that don't have loans attached. If you still owe money on your vehicle and you fail to pay off your loan, the lender can repossess it, even if you sold it to someone else. Generally, it's best to try to pay off your loan before selling it. If you can't afford this, you can use the money you were paid for the car to pay off your lender.
Should I trade in my car instead?
If you're looking to upgrade your vehicle, there are some definite perks to partnering with a dealership for a trade-in rather than selling your car privately in Ontario. A dealer applies the trade-in value for your existing car to the price of your new car. If you still owe money on your existing car loan, the dealer can include that outstanding balance to your new car loan and refinance the amount.
Trading in your car is often a much quicker process than selling it yourself. You don't have to wait for a buyer and the dealership handles all of the paperwork. You can also save money in sales tax on your new vehicle, because you'll only be charged tax on the cost of your new vehicle after the trade-in value has been applied.
That said, you can often get a higher price when you sell your car privately in Ontario than you would in a trade-in. Considering these pros and cons, you'll need to weigh your priorities to decide whether a trade-in or private sale is right for you.
Bottom line
Selling a used car privately in Ontario is different from selling a used car to a dealership. Selling a used car to a dealership is easier since you won't need to provide as many documents, haggle with strangers, book test drives or deal with tire kickers. If you're selling a car privately in Ontario and you want to ensure you have the right documents for a legal sale, you can reach out to ServiceOntario.
Frequently asked questions about selling a car in Ontario