Stock Trading Fee

$6.95 - $8.75

Account Fee

$0 if conditions met, otherwise $25/quarter

FX Fee

0.90% for positions under $9,999.00

Min. Deposit

$0

Available Asset Types

Stocks, Bonds, Options, Mutual Funds, ETFs, GICs
Our verdict
Qtrade offers free trades for 100+ ETFs and discounts for active and young investors. But the platform has some drawbacks.
Consider Qtrade Direct InvestingTM if you want to trade a variety of securities on a user-friendly platform. Look elsewhere if you want fee-free stock trades or access to a wide range of advanced research tools.
Best for: Beginner and moderately experienced investors
Pros
Buy and sell over 100 Canadian and US ETFs with zero trading fees.

If you're 18-30 years old and set up recurring deposits of $50+ per month, pay just $7.75 per trade and enjoy no quarterly account fee.

The minimum balance to open an account is $0.
Cons
Pay $15 quarterly per registered USD account.

Pay $25/quarter if your balance is below $25,000 or you don't make 2+ trades quarterly. Doesn't apply to new or young investors.

Many users report speed and performance problems with the mobile app.
More pros and cons of Qtrade
Many accounts. Open a TFSA, RESP, RSP/RRSP, RIF or LIRA. Supports cash and margin accounts as well as dividend reinvestment plans (DRIPS).
Many investment types. Trade stocks (including OTC/Pinksheet stocks), bonds, ETFs, mutual funds, IPOs, GICs and options.
Strong investment research tools. New and experienced investors can make smart, efficient investment decisions with TipRanks analyst consensus ratings ranging from "strong buy" to "strong sell" as well as research from sources like Morningstar and Desjardins.
Investor Plus. Active, high-balance traders can open USD accounts, get reduced trading fees and access dedicated phone service.
Special offer. Get up to $2,000 cashback as a new or existing client. Use promo code CASHBONUS2024. Ends March 4, 2024.
Free trial. Take Qtrade Direct Investing for a test spin with a free 30-day trial (view only, no trades).
Minimum purchase amount for mutual funds. You must purchase the minimum amount outlined in the mutual fund's prospectus or $1,000, whichever is greater.
No live chat. Customer support is only available by phone, email or letter mail.
How we rated Qtrade's features
| | | |
| --- | --- | --- |
| Fees | ★★★★★ | Free trades for 100+ Canadian and US ETFs. Discounted fees for active traders and young investors. |
| Available securities | ★★★★★ | Trade stocks, bonds, ETFs, mutual funds, IPOs, GICs and options. Access to Canadian and US securities including OTC/Pinksheet stocks. |
| Customer support | ★★★★★ | Contact customer service by phone (5 days a week), email or letter mail. No live chat option. |
| Mobile app | ★★★★★ | Many users report that the mobile app is glitchy and has less convenient features than the desktop app. |
| Research and tools | ★★★★★ | Real-time quotes; TipRanks, Morningstar and Desjardins analysis; charts and portfolio scoring and simulation tools. |
| Reliability | ★★★★★ | No major outages have been reported, although some mobile app users report speed and performance issues. |
To learn how our star ratings are calculated, read our methodology at the bottom of the page.
Qtrade is good for beginner and moderately experienced investors
Qtrade Direct Investing is good for investors who want to manage their own portfolios and trade a variety of investment types without being overwhelmed by an advanced, complex interface.
Nevertheless, experienced investors can enjoy having access to options trading, limit orders and discounted fees if your portfolio is worth $500,000+ or you make more than 150+ trades per quarter ($6.95 per trade instead of $8.75). Qtrade Direct Investing also offers lower fees for young investors ($7.75 per trade instead of $8.75).
What you can trade on Qtrade
Stocks
Bonds
ETFs
Mutual funds
IPOs (new issues)
GICs
Options
Where Qtrade shines
Qtrade Direct Investing offers a great balance of user-friendly features and flexible trading options for investors with varying levels of experience. Optional help is available during the application process to guide you in selecting the right account, and photo capture technology makes it super easy to verify your identity.
Choose between a number of popular account types including TFSAs, RRSPs and RESPs. Trade with your own funds, or borrow funds and trade on the margin (not recommended for beginners). The platform supports market and limit orders, so you can buy at the current price or wait until stocks reach a more favourable price.
Where Qtrade falls short
Qtrade Direct Investing fees are less competitive than many other online discount brokerages. The platform doesn't offer free stock trade deals, although you can trade 100+ ETFs for free. You'll have to pay a $25 inactivity fee if you don't maintain a balance of $25,000 or make at least 2+ qualifying trades per quarter (or 8+ per year). Plus, there's a $15 quarterly fee for USD accounts.
Additionally, many mobile app users complain about performance issues and service interruptions, although the desktop app is more favourably received.
Qtrade's fees
| | |
| --- | --- |
| Minimum deposit | $0 |
| Annual account fee | $0 if conditions met, otherwise $25/quarter |
| Stock, ETF and option contract trade fees | $6.95 - $8.75 + $1.25 per contract |
| Inactivity fee | $25 |
| Electronic funds transfer (EFT) | $0 |
| Dishonoured items (NSF fee) | $40 |
Is Qtrade legit?
Yes. Qtrade Direct Investing is a member of the Investment Industry Regulatory Organization of Canada (IIROC) and the Canadian Investor Protection Fund (CIPF). The company is headquartered in Vancouver, British Columbia.
Qtrade's platform is easy to use
Here are some of the tools you can use to trade with on Qtrade Direct Investing:
Access to TipRanks Analyst Ratings as well as Morningstar and Desjardins research and reports
Portfolio score evaluates your portfolio and provides tips on how to improve it
Portfolio simulator shows how your portfolio would be affected if you added/removed assets
Interactive charting tools
Stock screener
Qtrade's app
With the Qtrade Direct Investing mobile app, you can trade stocks, bonds, ETFs and mutual funds. View real-time stock quotes, see how your investments are performing, transfer funds between your bank and Qtrade, create watchlists more.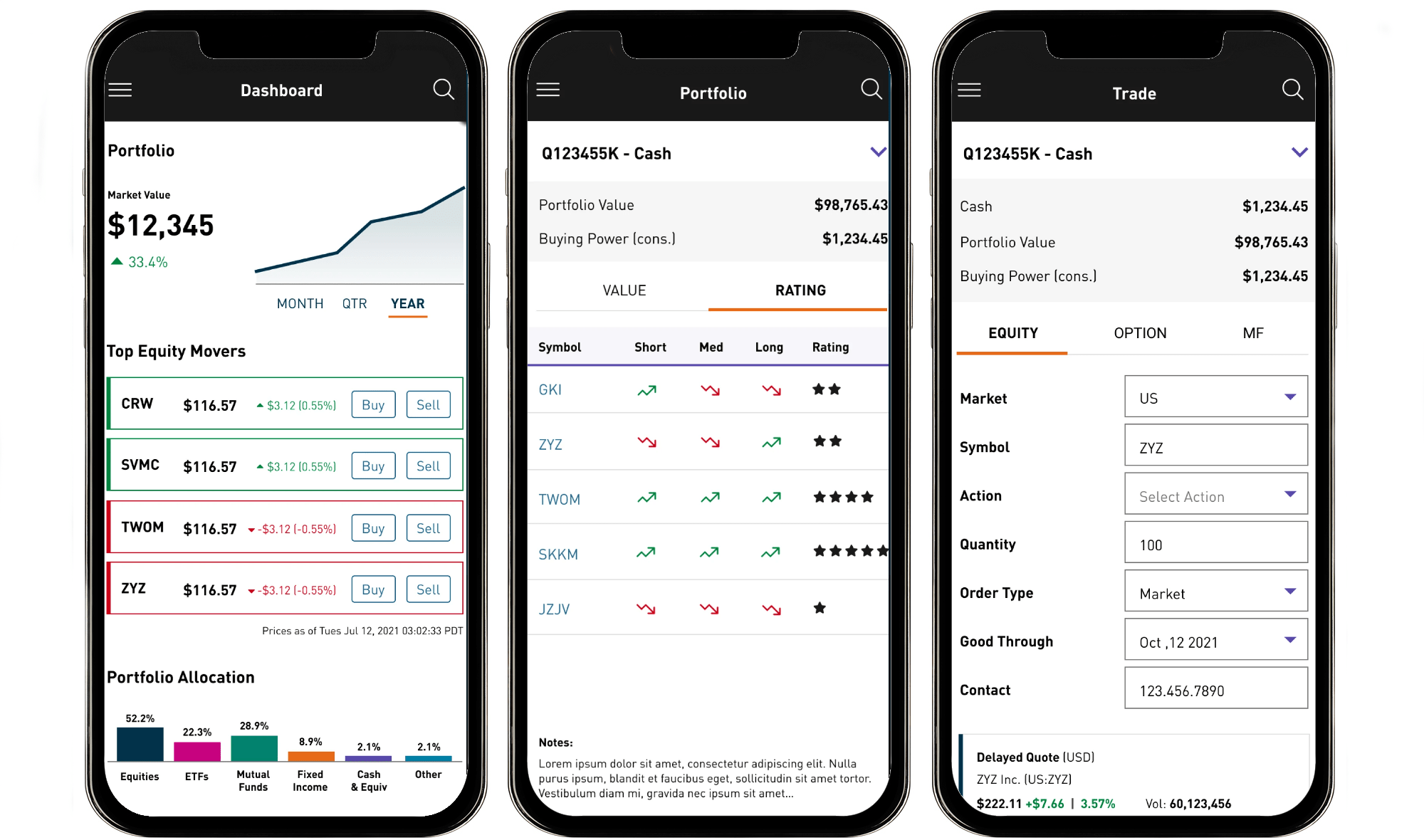 Qtrade's desktop tools
Qtrade Direct Investing's desktop app offers real-time market data and screening tools to help you find investments that match your goals and risk tolerance. Create your own stock watchlists to track the performance of specific securities.
Get the latest investment news and insights with the Morning Briefing, and benefit from expert recommendations for growth, value and income stocks. Jump on opportunities to invest in the latest public offerings with the New Issues centre.
Under the Overview and Analyst Ratings tabs, you can view TipRanks-powered analyst consensus ratings from "strong buy" to "strong sell," average analyst 12-month price targets, price target estimates and low to high ranges. You can also view individual analysts recommendations, price targets and news sources (where available).
Qtrade's app store reviews
| | |
| --- | --- |
| Google Play app reviews | 1.7/5 stars based on 312 ratings |
| Apple App Store app reviews | 1.7/5 stars based on 11 ratings |
Qtrade's customer support
You can contact Qtrade Direct Investing by phone, email or letter mail. Phone support is available Monday through Friday from 8:30AM to 8:00PM. You can also access lots of helpful how-to articles and FAQs online.
How to open an account with Qtrade
Click the "Sign up now" button below and click "Open an account".
Enter your name, email and password, and select Create Login. Enter the validation code sent to your email.
Select your account type and indicate whether you want to trade in both USD and CAD. Enter your personal, employment and financial information.
Review and agree to the terms, conditions and disclosures.
Fund your account via EFT (this can be skipped and done later).
Use your phone to upload a copy of your ID and take a selfie to verify your ID. Approval can take anywhere from 30 seconds to 10 minutes.
Digitally sign the required documents to complete your application.
Wait for your application to be reviewed. This could take 1-3 business days.
Eligibility and required information
At least the age of majority in your province or territory
Valid phone number and residential and email address
Mobile phone with front/rear camera and a stable wifi connection (or data) for mobile ID verification
Bank account to fund your Qtrade account
Copy of valid government-issued ID (i.e. driver's license or passport)
Social Insurance Number (SIN)
Copy of investment e-statements
How safe is Qtrade?
Qtrade Direct Investing follows industry-standard best practices to protect customers' money and data. This includes using 256-bit encryption, 2-factor authentication, firewalls, round-the-clock surveillance, timed logoff and digital site safety certificates issued by trusted third-party companies. The company also restricts employees' access to customer data.
The Qtrade Internet Security Guarantee states that you'll be fully reimbursed for any account losses due to unauthorized online brokerage activity, provided you've met your responsibilities.
Frequently asked questions about Qtrade
Compare Qtrade with other platforms
Qtrade Direct Investing
★★★★★
Finder rating 3.7 / 5
---
Available Asset Types
Stocks, Bonds, Options, Mutual Funds, ETFs, GICs
---
Stock Trading Fee
$6.95 - $8.75
---
Min. Deposit
$0
---
Signup Offer
Get up to $2,000 cashback as a new or existing client. Use promo code CASHBONUS2024. Ends March 4, 2024.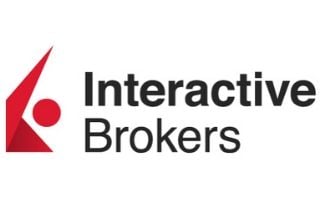 Interactive Brokers
★★★★★
Finder rating 4.3 / 5
---
Available Asset Types
Stocks, Bonds, Options, ETFs, Currencies, Futures
---
Stock Trading Fee
min $1.00, max 0.5%
---
Min. Deposit
$0
---
Signup Offer
CIBC Investor's Edge
★★★★★
Finder rating 3.8 / 5
---
Available Asset Types
Stocks, Bonds, Options, Mutual Funds, ETFs
---
Stock Trading Fee
$4.95–$6.95
---
Min. Deposit
$0
---
Signup Offer
100 free trades + up to $4,500 cash back
How we rate trading platforms
★★★★★ 5/5 — Excellent
★★★★★ 4/5 — Good
★★★★★ 3/5 — Average
★★★★★ 2/5 — Subpar
★★★★★ 1/5 — Poor
We analyze top online trading platforms and rate them one to five stars based on factors that are most important to you. These factors include fees, securities available for trade, customer support, customer feedback, platform resources and overall reliability.
For a complete breakdown of how we score each category, read the full methodology of how we rate trading platforms.
Online brokerage services are offered through Qtrade Direct Investing, a division of Credential Qtrade Securities Inc. Qtrade, Qtrade Direct Investing, and Write your own future are trade names and/or trademarks of Aviso Wealth Inc.
Frequently asked questions
This information should not be interpreted as an endorsement of futures, stocks, ETFs, CFDs, options or any specific provider, service or offering. It should not be relied upon as investment advice or construed as providing recommendations of any kind. Futures, stocks, ETFs and options trading involves substantial risk of loss and therefore are not appropriate for all investors. Trading CFDs and forex on leverage comes with a higher risk of losing money rapidly. Past performance is not an indication of future results. Consider your own circumstances, and obtain your own advice, before making any trades. Read the Product Disclosure Statement (PDS) and Target Market Determination (TMD) for the product on the provider's website.