motusbank loans
Digital bank motusbank offers personal loans of up to $35,000 and personal lines of credit.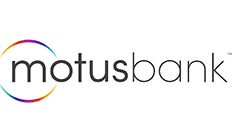 With motusbank, you can get personal loans, personal and unsecured lines of credit, savings accounts, chequing accounts, Guaranteed Investment Certificates (GICs) and mortgages. motusbank is a digital bank, which means you can do anything from opening an account to borrowing funds all online.
How does borrowing from motusbank work?
You can apply for a motusbank personal loan from $5,000 to $35,000 online at the motusbank website. motusbank personal loans are available in terms ranging from 1 month to 5 years.
motusbank also offers lines of credit with variable interest rates starting at 5.65%. If you're not sure whether a line of credit or a personal loan is right for you, there are several differences you should consider. In general, a line of credit is more suited to someone looking for continued access to funds, whereas a personal loan may suit someone needing to make a large purchase.
Features of a personal loan from motusbank
motusbank personal loans include the following features:
Loan rates as low as 5.15%. motusbank offers personal loans with interest rates starting at 5.15%. Keep in mind, interest rates vary depending on individual circumstances. motusbank also offers personal line of credit interest rates as low as 5.65%.
Available across Canada. motusbank personal loans and lines of credit are available in all Canadian provinces and territories except Quebec.
High loan limit. You can borrow up to $35,000 from motusbank to help cover a wide range of costs such as paying for a wedding, starting a business or buying a car. The exact amount you are able to borrow from motusbank will depend on your credit report and current income.
Flexible loan terms. Personal loan terms range from 1 month - 5 years.
Loan calculator. You can use motusbank's online loan calculator to determine the total cost of your desired loan before you apply.
How much will a motusbank personal loan cost?
Personal loans from motusbank have interest rates as low as 5.15%. The exact interest rate of your loan will be clearly stated in your loan contract as well as any fees that may apply.
There is no application fee for motusbank personal loans and no origination fee.
Ready to apply? Here's how
To be eligible for a loan, you typically need to meet the following criteria:
Be a citizen or resident of Canada.
Be at least 18 or 19 years of age, depending on the province you live in.
Have good credit and at least a 12-month credit history.
Have a Canadian bank account.
Not have declared bankruptcy.
Have no current delinquencies or collections on your credit file.
You'll also generally need the following details and documents to complete your application:
Personal information including your name, address and email address.
Proof of income.
Canadian bank account details.
Read more on this topic