Finder is committed to editorial independence. While we receive compensation when you click links to partners, they do not influence our content.
Compare personal loans in Winnipeg
Learn more about personal loans in Winnipeg, including where to find them and how to qualify.
You can apply for secured or unsecured loans in Winnipeg, Manitoba, with either fixed or variable rates. Learn more about where to shop for personal loans, how much they cost and what you need to qualify. Use this post to compare lenders and apply for the best loan for your personal situation.
Compare personal loans in Winnipeg, Manitoba
What are the interest rates of personal loans in Winnipeg?
You can expect to pay between 5.4% and 46.96% for personal loans in Winnipeg.
Factors that affect personal loan rates in Winnipeg
The personal loan rates you get will depend on your credit score, collateral and other factors.
Credit score. You'll get lower interest rates if you have a high credit score. Your rates will be higher if you have fair or poor credit.
Collateral. You'll pay lower rates for your loan if you secure it with an asset. Your rates will usually be higher with an unsecured loan.
Loan amount and term. You may pay higher rates with a shorter loan term or a smaller amount (to make it worthwhile for the lender). You'll often pay lower rates with longer terms and higher amounts.
Types of personal loan rates you can get
Fixed rate personal loans
Fixed rate peresonal loans come with a fixed interest rate and a predictable monthly payment so you can budget ahead.
Variable rate personal loan
Variable rate personal loans come with a fluctuating interest rate that's based on the Bank of Canada's prime rate. Your monthly payment will generally stay the same, but the amount you pay towards your principal versus interest will fluctuate.
Types of personal loans you can get in Winnipeg
Unsecured personal loan
Unsecured personal loans are issued based on how good your credit score is, but your credit score will suffer if you default. You won't need collateral to secure your loan, and you can borrow anywhere from $500 to $50,000 depending on your personal finances. Expect to pay higher interest rates for unsecured loans than you do with secured loans.
Secured personal loan
Secured personal loans let you borrow money by using an asset such as your home or investments as collateral. You may be able to borrow as much as the equity in your asset is worth, at lower interest rates than you'd pay with an unsecured loan. Just remember that your asset can be repossessed by your lender if you default.
Types of personal loan providers in Winnipeg
Shop with banks, credit unions, P2P lenders, online lenders and online brokers to find the best personal loans in Winnipeg:
| | Banks and credit unions | P2P lenders | Online lenders | Online brokers |
| --- | --- | --- | --- | --- |
| How it works | Borrow from trusted financial institutions (usually in person) | Connect with and borrow anonymously from Canadians online | Shop online and borrow funds completely virtually | Compare lenders with a broker to find the best rates |
| Credit score minimum | Good to excellent | Fair to excellent | Poor to excellent | Poor to excellent |
| Interest rates | Competitive | Competitive | Usually higher | Not applicable |
| Turnaround time | Slow, 1 to 3 weeks | Fast if you have a strong financial profile, 2 days to 2 weeks | Fast, 1 to 2 business days | Fast, pre-approval within 5 minutes |
| Application | Online and in person, more paperwork than alternative lenders | Online, less paperwork than banks | Online, less paperwork than banks | Online, no paperwork required |
Do you qualify for personal loans in Winnipeg?
Eligibility criteria
Most personal loans in Winnipeg will require you to meet the following criteria:
Be a Canadian citizen or a permanent resident who is at least 18 years old
Have a valid address, be employed and have a steady income
Meet credit score and income requirements as outlined by your lender
Not have a recent bankruptcy or consumer proposal on your credit report
Required documents
To apply for personal loans in Winnipeg, you may need to supply the following documents:
Identity documents. Personal identification such as your passport or driver's licence.
Proof of income. Pay stubs, employment records, tax records, proof of government benefits (such as EI) or other documents.
Debt-to-asset ratio. Lists of assets and debts to make sure you can qualify for funding.
Credit score. Consent for your lender to run a credit check.
Am I eligible for a personal loan?
How to pick the best personal loan for you
Think about the following factors when you compare personal loans in Winnipeg:
Interest rates. Compare at least 3–4 lenders to find the lowest rates possible. Secure your loan with an asset or get a cosigner to lock in the best rates. Compare personal loan rates in Canada.
Loan amounts. Many lenders offer amounts up to $50,000. Figure out how much you need to borrow and find a lender willing to give you that amount for the lowest cost.
Turnaround time. Banks, credit unions and P2P lenders may take a few days to a few weeks. Most online lenders can get you money in under 48 hours. If speed is critical to you, learn more about emergency loans.
Loan term. Loan terms often range from 6 - 60 months. Aim for the shortest term you can afford to keep your interest costs low.
Fees. Some lenders charge origination fees, late fees and early repayment fees on your loan. Read the fine print to make sure you don't end up with hidden charges. Learn more about personal loan costs.
Company reputation. Look for a lender with a solid reputation for customer service. Check online reviews on sites like Google, Trustpilot and the Better Business Bureau.
Personal loans in Winnipeg if you prefer to visit a branch
| Lender | Loan amount | Loan term | APR | Location in Winnipeg |
| --- | --- | --- | --- | --- |
| Assiniboine Credit Union | Not disclosed | 12 - 60 months | From 9% | 12+ locations |
| Steinbach Credit Union | From $5,000 | Not disclosed | From 7.7% | 5 locations |
| AAR Financial | $500 – $50,000 | 25 - 120 months | 14.99% - 46.70% | 3 locations |
| Fairstone | $5,000 – $50,000 | 36 - 120 months | 19.99% - 24.49% | 5 locations |
| easyfinancial | $500 – $100,000 | 9 - 120 months | 9.99% – 46.96% | 6 locations |
| Money Mart | $500 – $15,000 | 12 - 60 months | 29.90% - 46.90% | 12+ locations |
| Cash Money | $500 – $10,000 | 6 - 60 months | 46.93% | 4 locations |
Can you get bad credit personal loans with guaranteed approval in Winnipeg?
It's not possible to get guaranteed approval for bad credit personal loans in Winnipeg. Some lenders offer no credit check loans, but you may need to meet other criteria. If a lender is promising guaranteed approval, you should be suspicious. It could be a loan scam, or they may want to charge you exorbitant rates.
Is it a legitimate loan company? 10 signs of a scam
What can you use a personal loan for?
Most lenders won't specify how you can use the money you borrow. These are some of the most common expenses covered by personal loans in Winnipeg:
Everyday expenses. Use your loan to cover your everyday expenses or check out a revolving line of credit if you need regular access to a steady pool of funds.
Large one-off purchases. Get fast cash to pay for a large one-off purchase such as a new vehicle, mattress or mobile phone.
Life event. Get an infusion of cash to pay for a wedding, anniversary, milestone birthday or funeral expenses.
Home improvement. Use your loan to pay for renovations to your property if you want to increase the resale value of your home.
Post-secondary education. Lock in a personal loan to cover the costs of your schooling if you can't take out government student loans.
Debt consolidation. Use your loan to consolidate all of your outstanding debts into one easy monthly payment. Your lender will usually require you to use funds expressly for this purpose, so these loans can be less flexible. Compare debt consolidation loans in Winnipeg.
Debt in Winnipeg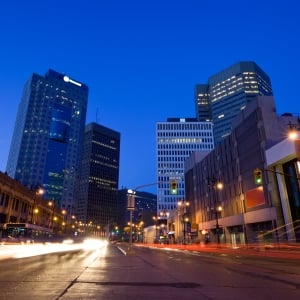 While there's no data specific to Winnipeg, based on recent Equifax data, the average non-mortgage debt for Manitoba residents in the third quarter of 2022 was $17,095. This is lower than the average level of debt for people across Canada, which was $21,183. Despite these figures, the number of delinquencies and insolvencies in Manitoba continues to increase by a few percentage points each year.
Frequently asked questions