Finder is committed to editorial independence. While we receive compensation when you click links to partners, they do not influence our opinions or reviews. Learn how we make money.
Paxful bitcoin marketplace review
Quickly and easily buy and sell Bitcoin with this peer-to-peer marketplace.
While it's more difficult to mine for bitcoin these days, cryptocurrencies are gaining acceptance for even everyday purchases. Paxful helps to connect buyers and sellers to easily exchange bitcoin, accepting more than 300 different payment methods. For businesses, Paxful provides a quick and easy way for online shoppers to pay using bitcoin.
Details
Product Name
Paxful P2P Cryptocurrency Marketplace
Fiat Currencies
DZD, XCD, ARS, AMD, AWG, AUD, AZN, BSD, BHD, BDT & 140+ more
Cryptocurrencies
BTC
Deposit Methods
Cash
Credit card
Cryptocurrency
PayPal
Western Union

Trading Fee
Buyer: None
Seller: Fees vary
Deposit Fees
0.5%
Withdrawal Fees
None
Pros
Easily and quickly buy and sell bitcoin online.
Accepts hundreds of payments that include cash and cards
Cons
Exchange rates vary by seller — sometimes wildly.
Sellers set maximum and minimum amounts.
Delivery speeds depend largely on a seller's response time.
Potential for scammers, so you must be vigilant.
Disclaimer: This information should not be interpreted as an endorsement of cryptocurrency or any specific provider, service or offering. It is not a recommendation to trade.
Which fiat and cryptocurrencies are supported?
Supported fiat currencies: DZD, XCD, ARS, AMD, AWG, AUD, AZN, BSD, BHD, BDT & 140+ more
Supported cryptocurrencies: 1 cryptocurrencies
What is Paxful?
Paxful is a peer-to-peer online marketplace that allows you to buy and sell bitcoin with anyone in the world. One of the best things about Paxful is that it allows users to pay for their bitcoin purchase using their choice of more than 300 payment methods. Options include gift cards and Apple Pay, as well as more traditional methods like your debit card, cash or online wallet.
Details
Minimum transfers. US$10 minimum, but may vary by seller.
Maximum transfers. Varies by seller.
Transfer methods. Credit or debit card, bank transfers, third-party transfers and 300+ other methods.
Transfer options. Delivery to Paxful e-wallet.
Delivery speed. Minutes or longer, depending on payment method and seller's response.
Available currencies. 100+ currencies.
Fees. No fee for buyers; Fees vary for sellers.
Exchange rates. Bitcoin exchange rates fluctuate more dramatically than other currencies. Paxful updates its rates online.
Customer service. Email and 24/7 live chat support on the Paxful website.
How much will I pay with Paxful?
As a buyer, you won't pay a transfer fee. Sellers, however, pay a fee equal to 0.1% of the transaction amount.
A bigger cost you'll need to pay attention to is the exchange rate. Bitcoin is a decentralized currency, but it's still affected by government regulation and other market trends. On Paxful, sellers define their own prices at slightly higher than the exchange rate for the speed and convenience of its transfers.
Exchange rates also vary by the transfer service you choose. For example, if the mid-market rate is 1 USD = 1,049.20 BTC, Paxful might offer an exchange rate of 1 USD = 1,037.15 BTC. The seller will then decide how much more they want to charge, so be sure to compare sellers' rates before initiating a transaction.
Available countries
Paxful operates in more than 100 countries, giving you lots of options when it comes to currencies that you can trade for bitcoin.
What types of transfer does Paxful support?
Since bitcoin is a digital currency, all transfers are delivered into your Paxful e-wallet.
To buy bitcoin, you can use one of more than 300 payments options that include:
Bank transfers
Cash deposits
Debit or credit cards
Gift cards
E-wallet balances
PayPal
Money transfer services like Western Union and MoneyGram
Visit Paxful's website to see a full list of payment methods that sellers can choose to accept.
Benefits and drawbacks
Benefits
It's easy to use. Both buyers and sellers enjoy a quick and simple process.
Hundreds of payment methods. Pay with cash, debit or credit cards, your bank account, gift cards, Apple Pay and more.
Speedy transfer deliveries. In most cases, your bitcoin shows up in your e-wallet instantly.
Drawbacks
Sellers choose the exchange rates they want to offer. Compare sellers' rates before choosing the best deal for you.
How do I buy bitcoin through Paxful?
Buying bitcoin is a simple process with Paxful:
Create an account and instantly receive a free e-wallet from Paxful.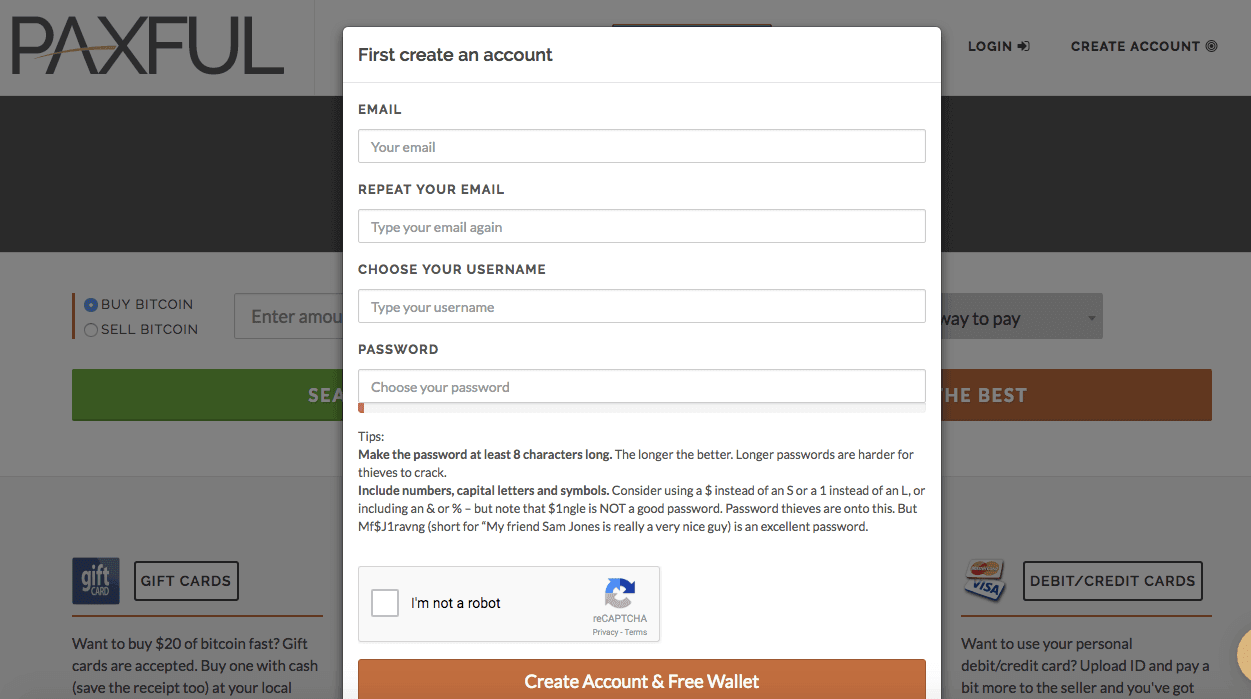 Enter how much you would like to spend, and choose your payment method.
Compare sellers' rates and choose a sender.
Initiate a live chat with that seller to agree on terms and complete the transfer.
Bottom line
Paxful can be a convenient option to help you buy and sell bitcoin, but the value of bitcoin can be somewhat volatile. Compare exchange rates, transfer speeds and fees with other bitcoin exchange services like LocalBitcoins, CEX.IO and Cryptonit.
Frequently asked questions