Finder is committed to editorial independence. While we receive compensation when you click links to partners, they do not influence our opinions or reviews. Learn how we make money.
Steps to manage your debt with a balance transfer
You've made your balance transfer, so what now? Here are some tips on how you can manage your debt on your new credit card.
Balance transfer credit cards can be an efficient way to free yourself from high interest rates and start consolidating and paying down your debt. Conducting a balance transfer is a simple process, but repaying your debt before the promotional offer runs out can be a daunting task. If you've just conducted a balance transfer, here are a few tips to follow to ensure that your debt consolidation is a successful and smooth process.
Pay attention to the details of the promotional offer
There are a few key details of the promotional offer that you should pay attention to after you've conducted your balance transfer. These include:
Transfer offers generally last between 6 and 12 months, however sometimes they can extend as long as 15 months. Once your card has been approved, the balance transfer promotional period begins. The sooner you begin repaying your balance, the longer you'll have to take advantage of the low interest offer.
Tip: Set phone and calendar reminders to prompt you to make regular repayments and to flag how long you have left on your promotional offer.
Some providers offer cardholders 0% balance transfer offers, however some do charge a low interest rate, which tends to be around 1.99%. If you are paying a low interest rate, it's important to understand how much your balance will grow each month and how you'll need to factor this into your repayments.
Tip: Creating a payment plan will help simplify the process and reduce your chances of failing to repay your entire debt by the end of the promotional period.
Like all good things, the low promotional rate on your balance transfer won't last forever. Once the promotional offer ends, the revert rate will kick in and start collecting interest on your remaining debt. The revert rate is generally the much-higher standard cash advance or interest rate.
Tip: To avoid growing your debt with interest once the offer expires, make regular repayments, don't use your card for any new purchases and keep an eye on when the offer ends to ensure you don't have a remaining debt at that point.
You may have a 0% interest rate, but you'll still need to make minimum repayments each month. How much you'll have to pay will vary from card to card, but this amount rarely allows cardholders to repay their entire debt by the time the promotional offer ends.
You should aim to pay more than the minimum amount each statement period to avoid collecting high interest once the promotion expires.
Consider the size of your debt, the length of the promotion and the interest rate to calculate how much you'll have to pay each month to ensure that your entire debt is repaid by the end of the offer. If not, your remaining balance will begin collecting the higher revert rate and you could get stuck in the vicious debt cycle once again.
What is a balance transfer fee?
Compare balance transfer credit cards
*The products compared on this page are chosen from a range of offers available to us and are not representative of all the products available in the market. There is no perfect order or perfect ranking system for the products we list on our Site, so we provide you with the functionality to self-select, re-order and compare products. The initial display order is influenced by a range of factors including conversion rates, product costs and commercial arrangements, so please don't interpret the listing order as an endorsement or recommendation from us. We're happy to provide you with the tools you need to make better decisions, but we'd like you to make your own decisions and compare and assess products based on your own preferences, circumstances and needs.
Decide what to do with your old cards
Opening a balance transfer credit card doesn't automatically close your old cards. While you may want to cancel your old cards, doing this may impact your credit score for the worse. Both your credit utilization rate and the age of your card can positively or negatively affect your credit rating.
Credit utilization rate. This is your debt-to-limit ratio. If you have a $1,000 limit and a balance of $800, you have a rate of 80%. There are no hard and fast rules for how long you should try to keep your rate, but many money experts recommend that you should shoot for under 30% as a goal. Your credit score may take a hit upon transferring one or several balances to your new card if it uses most or all of your limit.
Age of card. A credit bureau likes to see that you have had a long relationship with your credit card. The older your card, the better.
Annual fee. On the other hand, if your old cards have an annual fee and you don't plan on using them any longer, you may want to consider closing them if you don't want to keep paying the fee every year.
Don't use your balance transfer credit card for purchases
The sole purpose of getting a balance transfer is to consolidate your debt into one single location and focus on paying it off. Using your balance transfer card for new purchases completely contradicts your debt consolidation plan.
Balance transfer credit cards often charge high interest on purchases and depending on their terms and conditions, your repayments could automatically go to whichever debt is collecting the least interest. By using your card for purchases, your payments go towards your balance transfer debt while the balance for your purchases accrues interest.
Interest-free days are only active if you're not carrying a balance at the end of the statement period, so you won't be able to cut interest costs that way.
If you want a card for emergency purchases, you might want to consider applying for a different card with a low interest rate on purchases and do your best to keep the other card for consolidating only.
Visualizing payment hierarchy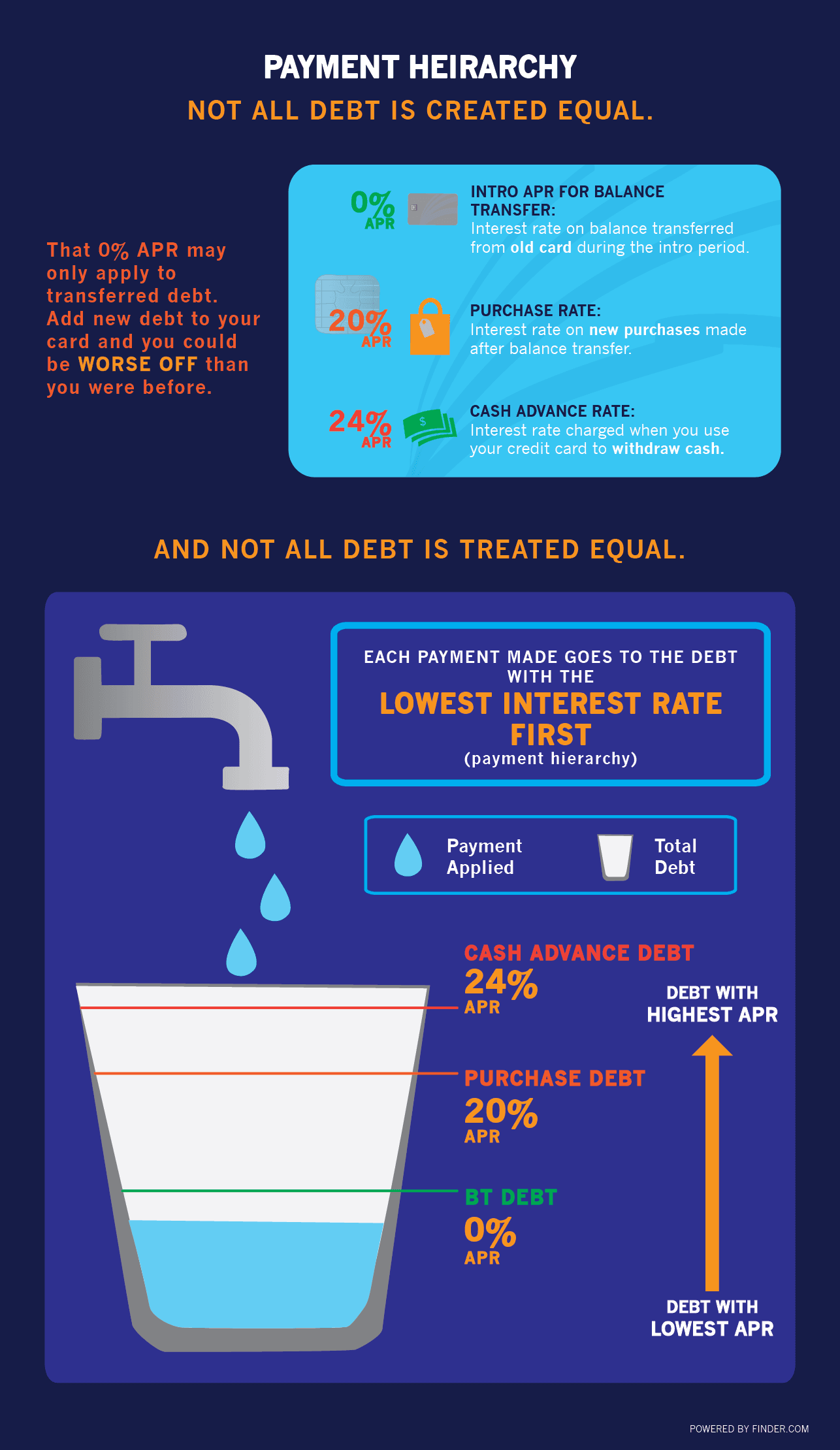 Back to top
After the offer ends
If you've found yourself with remaining debt at the end of your promotional period, you might want to consider doing another balance transfer. However, if your credit history shows that you were unable to repay your debt during the promotional period, lenders may be less likely to approve your application.
Applying for too many credit cards and receiving rejected applications can have a negative impact on your credit score, so it's important to consider what outcomes using a second balance transfer as a back up will have.
Balance transfer credit cards can be a worthwhile consolidation tool, but only when used properly. Plan your strategy, make regular repayments and follow the above tips to ensure you get the most out of your balance transfer.
Bottom line
To manage a credit card after a balance transfer requires a certain level of dedication and planning. Just getting your debt moved over won't be an instant way to pay it down, and smart budgeting is crucial to prevent you from falling into the same financial place you were before the transfer. Make a solid plan, and if you're going to use a back-up card, make sure to compare your options before securing it.
A step-by-step guide to balance transfer credit cards
Back to top