Send money to Mexico
Save time and money when sending money to Mexico from Canada.
When it comes to sending money to the land of the Mayans, Canadians have a lot of choice. Follow this custom guide to find the best service for you, complete with competitive exchange rates and lower transaction fees.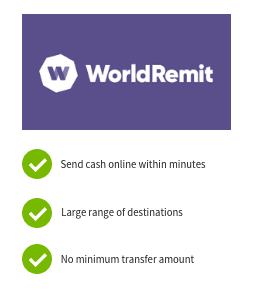 WorldRemit International Money Transfers

WorldRemit can help you get your money where it needs to go in minutes, with upfront exchange rates and low fees.
Use promo code FINDERCA on your first transfer and pay zero fees. T&Cs apply.
Transfers to 150+ countries
Send to bank account, cash pickup, mobile money, airtime top up
Pay with card, Interac or Apple/Android Pay
Disclaimer: Exchange rates change often. Confirm the total cost with the provider before transferring money.
Banks versus money transfer companies
Since banks have become the go-to for a wide array of financial services in Canada, it's no wonder that many people assume that their banks are the most qualified and trustworthy providers to facilitate money transfers overseas. The fact is that banks are reputed for jacking up exchange rates well beyond the inter-bank rate (which is the rate used to trade among banks), while also charging inflated fees. Money transfer services, on the other hand, specialize in offering safe and affordable transfers since their niche market happens to be in trading currency.
Case Study: Juan Transfers Money to Mexico
Juan, a Mexican national, has been given the opportunity to work as a Spanish teacher in Canada. Although he wants to take the job, he worries that his parents will suffer financially without his help. He decides that, if he travels abroad, he will need to send remittances home every month to help them cover their living expenses. After calculating his estimated budget, Juan realizes that he can send $1,000.00 back to Mexico each month. Juan compares his bank with a well-known international money transfer service to see which one will save him the most money.
| | Canadian Bank | Money Transfer Service |
| --- | --- | --- |
| Exchange rate | $1 CAD = $10.82 MXN | $1 CAD = $11.24 MXN |
| Transfer fee | CAD$20 | CAD$60 |
| Amount received in Pesos | MXN$10,816.50 | MXN$11,236.15 |
| Transfer time | Three to five business days | 10 minutes |
| Transfer options | Bank to bank transfer | Bank transfer or cash pick up |
| Difference | | +MXN$419.65 |
Juan can send an extra MXN$419.65 to his parents by doing a quick comparison and choosing the second transfer provider.
Back to top
How to compare transfer companies when transferring money to Mexico
Juan learned a great deal by doing a quick comparison between his bank and a reputable money transfer service. So what does he recommend you look for when looking for a suitable option?
Competitive exchange rates. Banks tend to jack up rates while money transfer services typically trade at or around the mid-market rate. Finding the best exchange rate can save you a lot of money, particularly on large transfers.
Minimal fees. While most banks and transfer services will charge a nominal fee, there are also a handful of rare services out there with zero fee payment structures. For this reason, it pays (quite literally!) to do your homework.
Various transfer methods.

Depending on your situation, you might prefer to go with a bank-to-bank transfer rather than a cash pickup. Figure out what works for you, and make sure that the service you choose can deliver on the other end.

Fast transfer times. If you need to send money fast, it's best to opt for a money transfer service with a cash pick-up location.
Suitable transfer amounts. Some services have an upper and lower threshold (min and max transfer amount) that could prove to be prohibitive, so be sure to read the fine print.
Reliable customer service. Reputation means everything when it comes to money transfer services, so make sure to do a bit of digging before settling on a provider. What does this mean? Read customer reviews, call customer service and make sure there is an operable and preferably 24/7 hotline to call should you run into any roadblocks.
Back to top
How to send money to Mexico from Canada
With the growing relations between Canada and Mexico, Canadians have many alternatives to choose from when transferring funds to their continental neighbour:
Canadian Banks

. Many Canadian banks are able to arrange overseas transfers online, but most cost more than a dedicated international money transfer service.

Money Transfer Services

.Money transfer services are a great option for those who are looking for bank-beating exchange rates and reasonable fees.

Cash pickup transfer companies.

Western Union and MoneyGram have a number of cash pick-up locations in Mexico to choose from, and boast the fastest turnaround times when it comes to transferring money overseas.
Back to top
Compare Money Transfer Services
| | | | |
| --- | --- | --- | --- |
| Money Transfer Service | Transfer Fee (CAD) | Exchange Rate Markup | Total in MXN minus fees (from $1000.00) |
| TransferWise | $10 | $14.6775 | $14,531 |
| Canadian Forex | $15 | $14.6668 | $14,447 |
| XE Money Transfer | $0 | $14.6770 | $14,677 |
| Currency Solutions | $0 | $14.6770 | $14,677 |
| WorldFirst | $10 | $14.6790 | $14,532 |
Rates updated as of 25 February 2018
Emergency cash transfers in Mexico
If something comes up and you need to send money to Mexico lickety-split, than set your sights on a money transfer option that offers cash pick-up in as little as 10 minutes. With companies like Western Union and Moneygram, higher fees and less competitive exchange rates often apply, so just be clear on the terms of the arrangement before agreeing to a contract. Once your money is on its way, your recipient will just need to show up on location with passport in hand.
Back to top
Cash pick-up locations in Mexico
Before making arrangements to have cash delivered to you in Mexico, it's not a bad idea to look into reputable cash pick-up locations in the proximity of your hotel. Check out the listings below for more information.
Western Union
Moneygram
Pick up from more than 16,000 locations in Mexico, including Banorte, Elektra, Waldo's, Ley, Coppel, Bodega Aurrera and Super Farmacia.
Tips for picking up cash in Mexico
So you've finally managed to book those long overdue tickets to Mexico? Great news! Just keep in mind that the Government of Canada recommends that you exercise a high degree of caution (as of 26 January 2018) when traveling in the region due to high levels of criminal activity, as well as demonstrations, protests and occasional illegal roadblocks throughout the country. If you happen to need to pick up cash while you're sunning on the beach, be extra careful around automated teller machines (ATMs), avoid secluded areas and refuse to walk alone at night.
Background for Mexico
A thin wedge of land bordered by the Pacific ocean and jutting off the southern portion of North America, Mexico is a marvel for the senses, with its chili-spiced cuisine, tequila cocktails, crashing topaz waves and palm-fringed beaches. For Canadians, it's just a hop, skip and a jump across the water, which makes it a prime travel destination in any season. In addition to tourism, Mexico and Canada also enjoy strong diplomatic relations and are working hard to increase bilateral trade and cooperation.
Ask an Expert
You must be logged in to post a comment.