Finder makes money from featured partners, but editorial opinions are our own.
Buying a demo car
How to score a bargain on a demo car without getting blindsided.
A lesser known option for car buyers, demo vehicles come gently used and at a discounted price compared to brand new vehicles. Landing a deal on a good-quality demo car can make you one lucky buyer, but it's important that you come prepared with the right know-how to negotiate. If you're looking for a discount and are considering buying a demo car in Canada, you've come to the right place – we'll tell you what you need to know about demos and how to get rolling in one faster.
What's a demo car?
Also called a demonstrator vehicle, this is a car that executives, customers or sales people have driven for brief periods of time for personal use or simply to test drive. These cars have low mileage – often only a few thousand kilometres – and tend to be in great shape. Because demos have been used to make sales or to drive execs around in style, they may come with some nice upgraded features and add-ons.
Demos are considered "new" vehicles because they have never been sold or registered. Once a vehicle has been registered, it officially becomes "used." But despite being new in status, demos are discounted to reflect their slight use and to get rid of them in order to make room for new demo vehicles.
Pros and cons of buying a demo vehicle
There are many great advantages to buying a demo car, but there are some potential disadvantages as well that you may want to consider before making a purchase.
Pros
Qualifies for special offers and rebates
Qualifies for new car warranty
Low mileage and less wear and tear than many used vehicles
If used by dealership employees, then the car may have been handled more carefully to comply with dealership rules such as no pets and no smoking
May come with upgrades and added features
Cons
Pre-existing mileage may be considered usage under the new car warranty (depending on the car's in-service date), which would lessen the coverage you get
May have been more heavily used than the dealer advertises (especially if driven by many different people)
Cannot choose your colour or features
No used-vehicle records exist to verify the car's true condition
Many experts say that demo cars are not sufficiently discounted to be worth purchasing
How to find demo cars
If you're on the hunt for a demo car, your best bet is to head to car dealerships. That's because dealerships often use demo cars for test drives and in showrooms, so buyers can take the car for a spin, and check out the interior and trunk space before deciding on their purchase. Overall, the cars are gently used but you should also get a third-party inspection to verify that the vehicle is still in good condition.
Check prices on sites like the Canadian Black Book or autoTrader.ca to get an idea of current market prices. These comparisons can give you bargaining power when it comes to negotiating the vehicle price.
Browse car loans to buy a demo car
Types of demo cars
Before you figure out your finances and run to buy a demo car, make sure you understand what you're buying:
Older models. These are discounted cars that need to be cleared out before new stock arrives. The vehicles usually have less than 10,000 kilometres and can come with discounts for light wear and tear.
Dealer demos. These cars are sometimes used as loaners for customers and they're usually the newest models to help promote them. These can also be vehicles that were immediately returned by customers or even cars from canceled customer orders.
Factory demonstrators. These vehicles are used in promotions or sponsored events and are sent back to the dealership to sell for a bargain price.
How to spot a fake demo vehicle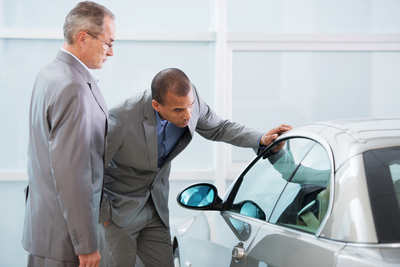 Sometimes, car dealers try to pass off a used car as a demo car to make more money off of it or to make the car look more attractive to buyers so that it will sell faster. There's nothing wrong with buying a used car, but a used car should be priced like a used car. Furthermore, if your dealer is trying to pawn off a used vehicles to you as a demo, he or she may be obscuring the vehicle's true condition.
So how do you separate real demos from fakes? Ask how much the car has been used and by whom. If the owner of the dealership was driving the car, but then replaced it a few months later with the same type of car but customized with fancy upgrades or special rims, then the vehicle is not likely being sold because of overuse or hidden damage.
Similarly, if the dealership formerly used the car as a test vehicle, but then a new model of the vehicle rolled out and the dealership wanted to show that model to prospective customers, then it makes sense that they'd want to sell off the old demo. The lack of used vehicle records for demo cars can make identifying a fake demo a little challenging.
But by asking the right questions, test driving the car yourself and having a licensed mechanic from an outside shop look the vehicle over and give it a seal of approval, you should be able to avoid unknowingly driving off the lot in a lemon.
Should I buy a demo car?
Demo cars can help you save but it's not always a great choice. Here's when you might buy a demo car and when you might not:
Consider a demo car if…
You'd rather have an unregistered car
You don't mind a car that has some mileage on it
You're comfortable negotiating
Look elsewhere if…
You can find a better deal on a used car
You're bothered by the vehicle's wear and tear
The price is the same as an un-driven, brand new car
How to buy a demo car in 5 steps
Follow these steps to make sure you're actually getting a fair deal on your demo car.
Step 1: Research the car's history
Make sure you're actually getting a demo car by asking the salesperson about how the car was used and how old the car is. You can verify this by doing a quick search of the car's Vehicle Identification Number (VIN). A VIN check gives you information about the odometer reading, maintenance and repairs, structural damage and more.
You can do this either online for a small fee or through a used car lot. Ask about anything in the history that doesn't line up with what the salesperson told you.
Step 2: Check the car's warranty and registration.
Also request proof of the car's in-service date — the day that the warranty begins. Sometimes warranties begin earlier on demo cars, since dealerships are technically using them before making a sale. If the warranty starts early and there isn't an option to extend it, you can use this as leverage to ask for a lower buying price. Don't forget to check if the car was ever registered.
Step 3: Do it again with more demo cars
The best way to find a good deal is to compare multiple options — especially from other dealerships. Compare the asking price, financing options and history of different cars before coming up with a short list of potential cars. You can also ask for a detailed list of what differentiates a new car from its corresponding demo version.
Step 4: Inspect for damages
Dealerships typically use demo cars for test drives, which can lead to damages. When you've found the car you're thinking of buying, check it yourself or have it inspected by a third-party expert for any possible damages. If you find damages that are manageable, use this as leverage to negotiate down the price.
Step 5: Negotiate the price and financing
Since demo cars fall somewhere between used and new, you might have more wiggle room than you think with the price and financing. Use the research and inspections to work down the price with your dealership. You might also be able to get a better deal on financing by getting preapproved for a car loan from a third-party lender.
How to inspect a demo vehicle
Demo vehicles are relatively new, but some may have been driven off-road or have more kilometres on them than usual. Inspecting the vehicle for any signs of wear and tear is important prior to making your purchase. Here's what you should look out for:
Listen to the engine for any strange noises.
Check the quality of the tires.
Ask if the vehicle has been in any accidents.
Look for scratches and check the paint quality.
Check the battery life.
Check the lights, radio, windshield wipers to ensure that everything functions properly.
If you're unsure of what to look for, take the vehicle to a mechanic or bring a friend who is car-savvy to help you.
How to negotiate on price when buying a demo car
When you're in the business of buying a demo car, you'll need to put your negotiation skills to the test to score a great deal. Here are some factors to consider when you're negotiating on price:
Get familiar with the demo car's market value. Find out how old the car is and how often the car was used. Ask if there is any documentation available to see how the car was used. Consider how the demo car's usage compares to a brand new or gently used model on the market and you'll have a better idea of how much the demo car should be commanding in price.
Don't rely on dealership appraisals. Get the car inspected by a third-party to feel confident the car is still in top condition. Use the research and inspections to work down the price with your dealership.
Take stock of mileage on the car. The average demo car can have anywhere from 1,000 to 10,000 kilometres on it. As a general rule of thumb, auto specialists recommend trying to get a discount ranging anywhere from $0.25 to $0.55 per kilometre on the vehicle.
Get pre-approved. Apply for a pre-approved car loan to give yourself a hard budget and more bargaining strength. When you have a pre-approved car loan in hand, the dealership knows you have a set amount of cash available to buy your demo car and may be more willing to work within those parameters.
How much can I save?
Discounts on demo cars can vary based on each car's features, what it was used for and how many kilometres it has, but often you can get thousands of dollars knocked off the new car price right away.
Some dealerships offer a percentage discount on demo vehicles based on the MSRP (manufacturer's suggested retail price) of new models. Such percentages may run around 15% – 25%, or the discount may be set to reflect the average depreciation of a car's value over its first year of use. For a $30,000 vehicle, that could mean a discount of $4,500 – $7,500.
Alternatively, some dealers offer a flat percentage discount per month the car was used, often between 1% and 3%. Others offer a flat discount on the mileage. If this is the case, then look for a discount of at least $0.25 – $0.55 cents per kilometre that the car was driven. For cars driven 5,000 km, that would mean a savings of $1,250 – $2,750.
Many dealers are willing to waive freight expenses and other miscellaneous fees for demo cars, so be sure to ask your dealer about these types of discounts while negotiating the price.
Compare the new vehicle sticker price to see how much you're saving with the demo vehicle. Demo cars can be a great option and help you save when purchasing your next vehicle, but they might not be the right choice for everyone, so be sure to look around and avoid making a hasty buying decision.
Need help paying for your next car? Find out about the best car loans in Canada here.
Frequently asked questions