American Express Centurion Black Card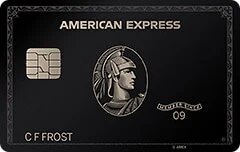 Issued by: American Express (AMEX)
Available in what countries? No known geographical restriction (open to residents of Canada)
Annual fee: $5,000 USD
Initiation fee: $10,000 USD
APR: This is a charge card, so balances must be paid off in full each billing period or a penalty APR of Prime + 25.99% will apply.
Physical card: Made of anodized titanium and weighs almost 14 grams.