Finder is committed to editorial independence. While we receive compensation when you click links to partners, they do not influence our opinions or reviews. Learn how we make money.
Balance transfer credit card terms explained
If you're doing research on balance transfer cards, you may come across some confusing terms. Instead of learning these terms the hard way, by making mistakes when transferring your credit card balance, we're here to help before that happens. In this quick guide, we'll explain some common and important terms you should know when making a balance transfer.
The basics
Balance
Your balance is the amount of debt you owe.

Balance transfer
Typically, you initiate a balance transfer to move debt from one credit card to another card. You might do this because:
The other card has a better interest rate, or
You want to consolidate debt from multiple cards.

Though balance transfers are usually for credit card debt, you can often transfer many different types of debt, including student loans, mortgages and auto loans.
Balance transfer kiting
Balance transfer kiting is transferring your credit card balance to a new card that offers introductory rates, sometimes as low as 0%. Credit card kiting isn't illegal, but can be risky. Repeat transfers to avoid paying interest rates on a balance that you can't afford to pay off can lead to a mountain of debt. Furthermore, it can negatively affect your credit score if lenders see that you keep high levels of debt.
Credit score
A credit score is a number assigned to you between 300 and 900 that summarizes your financial health. Anytime you apply for a loan or credit card, lenders check your score to determine your interest rate, with the higher scores getting the best interest rate. Sometimes you can be turned down for a loan if your score is too low. Credit scores are released by TransUnion Canada and Equifax Canada, the two credit bureaux. They determine your score based on factors like payment history, age of credit and debt-to-income ratio, among other things.

No-fee balance transfer card
With a no-fee balance transfer credit card, you're not charged fees when you move debt to it. Sometimes, this perk is temporary, lasting up to 60 days or so. Other card providers may offer no balance transfer fees indefinitely.
Keep in mind that though a no-fee balance transfer card doesn't charge balance transfer fees, it may still charge annual fees, foreign transaction fees, cash advance fees and more.
Joint balance transfer
A joint balance transfer is when a balance is transferred to or from a partner or family member's credit card. Not all credit card providers allow this process, but there are many that give you the option to move your debt to a partner or family member's credit card.
There are two ways to do this: one is where you can transfer between two names, while the second way is to create a joint account for the debt. Transferring between accounts involves moving your balance to a new card with your partner's name attached to it. This essentially moves the responsibility of the debt and could increase your partner's debt-to-income ratio, while helping yours. Creating a joint account allows you and your partner to share equal responsibility for the debt.
Compare balance transfer credit cards for 2020
Fees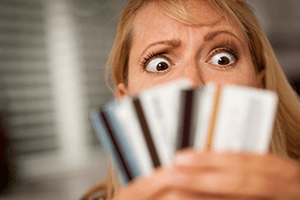 Annual fee
An annual fee is a yearly fee you pay to your credit card company for the ability to use your card.

Balance transfer fees
Most providers charge balance transfer fees when you initiate balance transfers. Typically, these fees are between 1% to 3% of the amount you transfer, however sometimes it can be up to 5%.

Cash advance rate
Taking out a cash loan from your credit card is called a cash advance and costs significantly more than you'd pay if you were to simply swipe your card to make purchases. You'll likely pay a transaction fee and pay around 22% or more in interest, often with no grace period to pay off before you're charged. This means you will pay interest from the moment you withdraw the money.
Foreign transaction fee
A foreign transaction fee is a fee assessed when you use your credit card for a purchase outside of Canada. A card's foreign transaction fee is usually between 1 – 3% of the transaction amount in Canadian dollars.

Late fee
You may be charged a late fee when you miss a payment or fail to pay your minimum balance by the due date.
Interest
APR
APR stands for annual percentage rate – the interest rate that's charged to the debt. The APR is how credit card providers make money by lending you money. It's applied each month to the remaining balance on the card.

Introductory APR
An introductory APR, also called an intro APR, is a temporary interest rate a credit card provider offers to a new customer. After the intro APR ends, it will revert to an ongoing APR.

Ongoing APR
The ongoing APR, also known in some regions as the revert rate, is the interest rate you'll pay after your introductory APR period ends. Generally, the ongoing APR is much higher than the intro APR.

Penalty rate
The penalty rate or default rate, is a very high APR charged when you violate the terms of your cardholder agreement, such as making late monthly payments.
Bottom line
If you're looking to save money on your credit card payments, finding the right balance transfer credit card for your needs is one way to help you get out of debt. And remember, understand the risks and fees that are associated with opening new credit cards and transferring balances before you dive in.
---
More guides on Finder