Finder is committed to editorial independence. While we receive compensation when you click links to partners, they do not influence our content.
ATV loans: What you need to know
How to get ATV financing for your new off-road vehicle.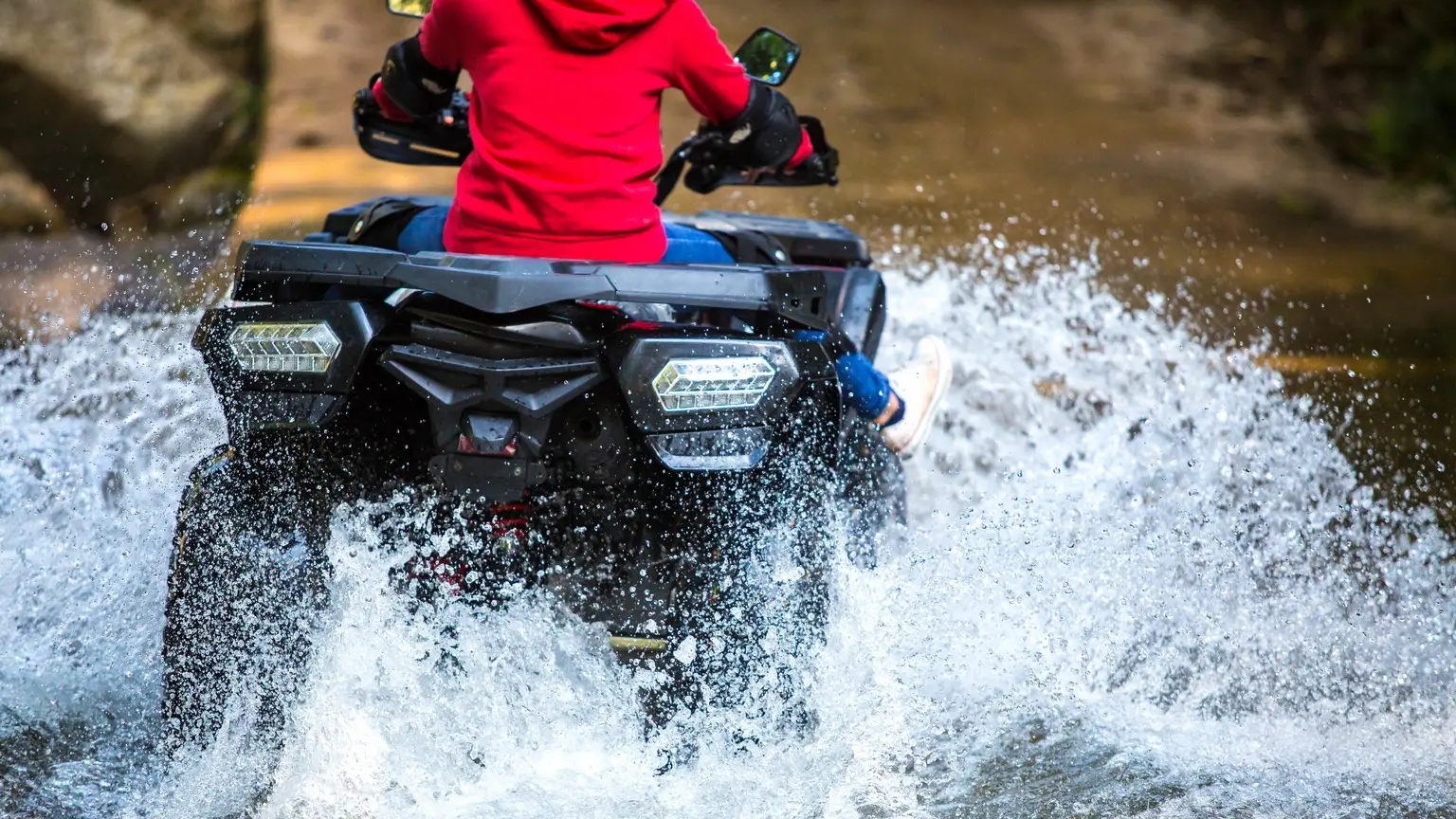 Anyone who's ridden an all-terrain vehicle, or ATV for short, knows that there's nothing like tearing through trails on a quad. But if you don't have cash lying around to buy a new ATV, you're going to need ATV financing.
Compare ATV loans in Canada
How much do ATV loans cost?
Since ATVs are often less expensive than other larger vehicles, you typically don't have to make a down payment. Therefore, the interest charged on your loan is your primary cost. Since everyone's financial circumstances are unique, there's no magic number for everyone. Thankfully, once you have basic information about your loan, you can easily calculate the cost before proceeding with the ATV purchase.
ATV loan rates by credit score
The table below shows what type of APRs may be offered by lenders relative to different credit scores. Note that the actual APR you're offered may differ – this is just a representative example.
| Credit type | Credit score | Possible APR |
| --- | --- | --- |
| Excellent | 760 o 900 | 0% to 3% |
| Very good | 725 to 759 | 3% to 5% |
| Good | 660 to 724 | 5% to 8% |
| Fair | 560 to 659 | 8% to 12% |
| Poor | 300 to 559 | 12% + |
Lower credit can also affect which loan terms you qualify for. Generally, you'll need to have at least good credit to qualify for longer terms. Other factors like your debt-to-income ratio can also factor into your rate.
I have bad credit. Can I get financing?
Bad credit ATV loans do exist; it's simply a matter of finding the right lender. Once you find a lender, expect to encounter high interest rates. Lenders do this because people with poor credit are at a higher risk of being unable to pay back their loan. Before applying for an ATV loan, do what you can to improve your credit and financial position. In addition, maintain patience because it can take time to find a lender willing to work with your circumstances.
Keep in mind that there is no minimum credit score for an ATV loan. Each lender has differing standards when it comes to requirements and application processes.
How to qualify for an ATV loan
Eligibility can vary depending on the lender and type of vehicle you're interested in. However, you typically need to meet the following criteria to qualify for ATV financing:
Regular income. Steady, stable income from employment is generally preferred over irregular, seasonal, self-employment income.
Age of majority. The minimum age to take out a loan is either 18 or 19 depending on the province or territory you live in.
Canadian resident. Most lenders require that you be a resident of Canada with a valid, permanent Canadian address.
How to find a competitive deal
You can find a competitive deal by comparing these four main factors:
Eligibility. Write off any options that you don't meet the basic requirements for.
APR. A lower APR means you'll pay a smaller percentage of the balance in interest and fees.
Term length. Find the shortest loan term you can afford to lower the overall cost without struggling to make monthly repayments.
Loan amounts. Most in-house financing options cover up to 100% of the value of your vehicle, while outside lenders might have minimum and maximum loan amounts.
How to choose the most favourable loan term
Most in-house ATV loans come with terms from 24 to 72 months. Unsecured personal loans often come with terms from 6 to 60 months.
A longer term can give you lower monthly repayments, but you'll end up paying more in interest. A shorter term might save you on your total loan cost, but it'll up your monthly repayments. To get the best of both worlds, use our calculator to find the shortest term length you can afford.
ATV financing calculator
Use this calculator to figure out your monthly payments based on loan term, APR and loan amount.
ATV loan monthly payment calculator
Calculate how much you could expect to pay each month
Your loan
Loan amount
Loan terms (in years)
Interest rate
Fill out the form and click on "Calculate" to see your estimated monthly payment.
or
Compare ATV loans now
Based on your loan terms...
You can expect to pay back $ per month
This breaks down to...
$ in
principal
and
$ in
interest
charged, with a total cost of $
Compare ATV loans now
Tips for comparing ATV loans
Make sure you're eligible first. While many dealers have options for all credit types, there's a chance your credit score or income type doesn't fit the bill. Ask about eligibility requirements before anything else so you don't waste your time.
Request quotes. Many manufacturers only advertise the lowest possible rate on their websites, which only the most creditworthy borrowers actually qualify for. Many manufacturers and online lenders allow you to pre-qualify for financing. This gives you an estimate of the rates and loan amounts you are eligible for without impacting your credit or receiving the loan just yet.
Compare APRs with the same term lengths. The longer your loan term, the more you pay in interest. An APR of 1.9% might not be as favourable as you thought if it comes with a longer term when compared to a higher APR, shorter term offer.
Ask questions. Personal loans aren't as regulated as other financial products, so you might not be able to find all of the information online. Go directly to the source if you have any questions by calling the customer service line, shooting an email or using your lender's live chat feature to get answers to anything that's unclear.
What to watch out for
Want to make sure your lender is legit? Watch out for these red flags when looking for ATV financing:
Guarantees. No lender can guarantee that you'll be approved for a loan. If you come across one that does, there's a chance it's a scam.
No credit check loans. Often these loans come with even higher rates compared to credit check loans.
Upfront payments. Most ATV loans generally don't come with a down payment. Any lender asking for money before you get your funds could be running a scam, especially if they're in the form of gift cards or money orders.
What are the types of loans available?
Financing an ATV is possible through a lender or manufacturer. Dealerships usually offer a combination of lender and manufacturer financing with the following options:
Secured loans. This is a term loan that uses your vehicle as collateral, which you pay off over one to five years.
Unsecured loans. This is a one to five year term loan that doesn't require collateral. You'll need stronger credit to qualify compared to a secured loan, but you won't risk losing your ATV.
Manufacturer credit cards. Some manufacturers offer credit cards, often with low promotional APRs for the first six months or longer.
How to finance with a dealer or manufacturer
Getting financing directly from your ATV dealer or manufacturer is a popular lending solution. With this style of financing, you're required to use your vehicle as collateral.
Manufacturer financing
Some dealers offer financing directly from the manufacturer, which allows them to offer promotions like cash rebates or 1.99% interest for the first 6 to 12 months on credit cards. This is typically a strategy to move old ATV inventory or unpopular models.
Third-party financing through a dealership
Many dealers offer ATV financing through a third-party lender, such as a bank or credit union. These can sometimes be less costly than manufacturer financing, but you might have a difficult time qualifying for a competitive loan if you don't have excellent credit.
Representative example: Jayden buys a new ATV
Jayden, a resident of Ontario, wants to buy an ATV for summer vacation. After doing some research, he heads to a nearby dealership, where he finds a 2020 Kawasaki Brute Force 300 priced at $4,300.00. Jayden makes a 10% down payment of $430.00 and heads to his local bank to get an auto loan to cover the remaining $3,870.00 + $559.00 HST on the purchase price. Because Jayden has a solid credit history, he is approved for a $4,429.00 ATV loan with competitive terms.
| | |
| --- | --- |
| Cost of new ATV | $4,300.00 |
| Loan type | Auto loan (term loan) |
| Loan amount | $4,429.00 |
| Interest rate (APR) | 4.90% |
| Loan term | 3 years |
| Additional fees | 4.00% origination fee ($177.16) |
| Payment | $132.54 monthly or $61.11 biweekly |
| Total loan cost | $4,771.44 with monthly payments or $4,766.58 with biweekly payments |
*The information in this example, including rates, fees and terms, is provided as a representative transaction. The actual cost of the product may vary depending on the retailer, the product specs and other factors.
How to finance with an outside lender
Don't want to risk losing your vehicle? Taking out an unsecured personal loan is another option. You can apply for these online or through your local bank or credit union. Online lenders tend to get you your funds faster and don't have strict credit requirements like many banks.
1. Personal loans
Some lenders have restrictions on how you can use your funds, though many don't have any policies about recreational vehicles. Like with dealership financing, you'll need good or excellent credit and a steady income to get approved for the most competitive rates and higher amounts.
2. Bad credit ATV financing through private lenders
Certain lenders work specifically with borrowers who have bad credit. However, these loans usually come with higher rates to offset some of the riskiness of the loan.
Warning signs to watch out for with ATV financing
Want to make sure your lender is legit? Watch out for these red flags when looking for ATV financing:
Guarantees. No lender can guarantee that you'll get approved for a loan. If you come across one that does, there's a chance it's a scam.
No credit check loans. Often these loans come with even higher rates than you would get if you have a credit check.
Upfront payments. Most ATV loans generally don't come with a down payment. Any lender asking for money before you get your funds could be running a scam, especially if they're in the form of gift cards or money orders.
Common ATV types and brands
Sports ATV. These quads are designed for fun. They're faster, lighter and can absorb shock better than their counterparts. They're typically less expensive too.
Utility ATV. If you're hauling cargo through rough terrain, a utility ATV is what you're looking for. It can handle a heavier load and is typically more stable than a sports ATV.
Side-by-side. Also known as SxS or UTV, these vehicles allow you to ride with another person or carry a heavier load.
Used vs. new ATVs
Before you buy a new ATV, consider whether you want a new or used vehicle. Both come with benefits and drawbacks.
New ATVs
New ATVs can be more expensive, but don't require as much upkeep in the beginning. They can come with lower APRs when you finance, and you don't risk having hidden damaged parts that could set you back. However, you could end up having to pay for major repairs on an already-expensive vehicle if it gets totaled.
Used ATVs
Used ATVs are generally much cheaper. Rather than paying thousands of dollars, it's possible to find used ATVs for around $3,000. While rates might be higher, you'll still end up paying less – or you might not even need to get a loan to cover the upfront cost.
This means that if you damage your vehicle, it's less of a big deal. It could also be a good option for first-timers who don't know how much they're actually going to take it out. But there's a chance you'll need to replace some parts and spend some serious time in the garage.
Top brands to consider
| Brand | Cost for 2021 models | Series |
| --- | --- | --- |
| Polaris | $2,799 – $17,999 | Outlaw 70 EFI, Sportsman 570 Ultimate Trail LE, Scrambler XP 1000 S |
| Honda | $3,199 – $12,099 | Fourtrax Foreman Rubicon DCT EPS Deluxe, TRX 90X |
| Can-Am | $10,299 | Outlander |
| Yamaha | $3,599 – $12,299 | Kodiak 700, Grizzly EPS, Raptor 90 |
Bottom line
Between in-house ATV financing and personal ATV loans, you've got lots of options to choose from. Dealership financing might be easier, but you have fewer options to explore – and you could find more competitive rates elsewhere.
Get started on your search by checking out our personal loans guide to learn more about how they work and compare lenders.
Frequently asked questions
More guides on Finder
Ask an Expert
You must be logged in to post a comment.