Finder is committed to editorial independence. While we receive compensation when you click links to partners, they do not influence our content.
6-month interest-free credit cards
Save on interest during the 0% APR intro period.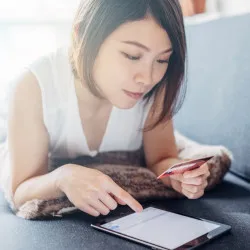 By taking advantage of a 6 month 0% intro APR offer, you could have up to 6 months to pay off purchases and balance transfers. If you have poor credit or are working on building your credit, a card with a six-month interest-free period might be worth considering. Those with higher credit scores may qualify for a card with an even longer interest-free period.
Learn how this interest-free period works, if you can get even longer 0% intro APR offers, and get answers to the most common questions about applying for this type of credit card offer.
How do the 6-month interest-free period cards work?
The concept is simple. You make purchases and save money on interest payments for a promotional period of 6 months. Once the 6 months pass, the regular interest rate of your card will apply and you'll start accruing interest on balances you haven't paid off. For this reason, it's best to pay off your balance in full before the regular interest rate kicks in.
Types of credit card interest
APR on purchases.
APR (annual percentage rate) is charged on transactions which qualify as eligible purchases. This is usually everything you buy, excluding cash withdrawals and cash equivalent transactions.
APR on balance transfers.
This is the interest rate charged on an outstanding amount on another credit card that has been transferred to a new credit card.
Cash advance APR.
This is charged on cash withdrawals and cash equivalent transactions, including ATM withdrawals and gambling transactions. Unlike the APR on purchases where you get a grace period before interest starts accruing, here you start accruing interest from the moment you make the transaction.
How will a credit card with 6 months interest-free benefit me?
If you have an outstanding balance on your current credit card and you're having trouble paying it off, switching to a 6-month interest-free card could help you tackle that debt. This is considered as a shorter term offer, which can allow you to repay any outstanding balances with no interest for six months. These cards are good for credit-building, but if you need more time to pay off your balances, consider a card with a longer interest-free period.
Are there cards with a longer interest-free period?
Yes. In fact, 6 months of no interest comes with most credit-building cards, secured cards or student cards. Most regular 0% intro APR credit cards offer a longer intro period. For example, you could get a card with a 12-month 0% intro balance transfer APR period. This can help you save money for a longer period of time.
What happens when the interest-free promotion has ended?
After the interest-free promotion has ended, any outstanding balance on the card will be charged at the card's regular interest rate which can average between 12% to 22% depending on the card. This can result in a higher amount of debt if the outstanding amount is not repaid quickly.
Bottom line
If you're looking to save money on interest payments or tackle an outstanding balance, considering a 6 month 0% intro APR credit card can be a strategic and helpful choice. Take your time when looking for an interest-free card, and make sure to compare your credit card options to make the right choice.
More guides on Finder
Ask an Expert
You must be logged in to post a comment.