Minimum Transfer Amount

$1

Fastest Transfer Speed

24 hours

Receiving Options

Bank account, Alipay (China only)

Available Currencies

AED, ARS, AUD, BDT, BGN, BWP, CAD, CHF, CLP, CNY, CRC, CZK, DKK, EGP, EUR, GBP, GEL, GHS, HKD, HUF, IDR, ILS, INR, JPY, KES, KRW, LKR, MAD, MXN, MYR, NGN, NOK, NPR, NZD, PEN, PHP, PKR, PLN, RON, SEK, SGD, THB, TRY, TZS, UAH, UGX, USD, UYU, VND, XOF, ZAR, ZMW
Summary
Wise offers a low-cost way to make international money transfers.
Wise is one of the more well-known money transfer specialists in Canada. This provider is a strong option if you want transparent fees and no margin on the exchange rate. However, it's not so great if you need to transfer to less popular currencies.
Pros
Fast transfers

Best exchange rates
Cons
Fees may not always give you the cheapest transfer
| | |
| --- | --- |
| Product Name | Wise (TransferWise) |
| Pay By | Credit card, Debit card, Bank transfer, Interac e-Transfer, Online bill payment, Direct debit (EFT) |
| Receiving Options | Bank account, Alipay (China only) |
| Customer Service | Phone, Live chat, Email |
| Available Currencies | AED, ARS, AUD, BDT, BGN, BWP, CAD, CHF, CLP, CNY, CRC, CZK, DKK, EGP, EUR, GBP, GEL, GHS, HKD, HUF, IDR, ILS, INR, JPY, KES, KRW, LKR, MAD, MXN, MYR, NGN, NOK, NPR, NZD, PEN, PHP, PKR, PLN, RON, SEK, SGD, THB, TRY, TZS, UAH, UGX, USD, UYU, VND, XOF, ZAR, ZMW |
Wise is an international money transfer service and payment network that offers transfers to 80 countries with zero markup on the exchange rate. Wise also offers a multi-currency account that lets you pay for purchases as well as receive, hold and convert funds in multiple currencies.
After more than a decade of enormous success in the fintech space, Wise is rumoured to be exploring plans to go public. But it has yet to announce and official IPO.
Pros and cons of Wise Money Transfer
In our Wise (formerly TransferWise) review, we looked at fees, features, transfer options, ease of use and more. Here's a quick snapshot of the benefits and drawbacks we found:
Pros
Easy to use. You can sign up for an account and initiate a transfer within minutes.
Affordability. Compared to banks, Wise's fees and exchange rates are almost always better.
Zero markup exchange rates. Wise offers the mid-market rate on all transfers sent through its network. All you have to think about are transfer fees.
High sending limits. Send up to $1.5 million CAD if you pay by online bill payment or wire transfer. The limit if you pay by bank transfer is $9,500 CAD daily or $30,000 CAD weekly. The limit for debit/credit payments is $3,000 CAD.
Multiple payment options. Pay by Interac e-Transfer, debit, credit, bank transfer (direct debit), online bill payment or wire transfer.
Low minimum transfer amount. Depending on the sending and receiving currencies, you can send as little as $1 CAD or less.
Cons
Bank account transfers only. Funds can only be delivered to bank accounts. Cash pickup is not an option.
Requires ID verification. You'll have to provide your photo ID, proof of address and/or a picture of you holding your ID to start using your Wise account.
Transfer fees. Because Wise offers the mid-market rate, it relies on transfer fees to make a profit. There are no fee-free transfers.
Cannot pay from wallet. Users in Canada cannot pay by Apple Pay or Google Pay.
How much are Wise's transfer fees?
Wise is very upfront about its fees. Its transfer fee is usually a fixed fee (under $1 to over several dollars) plus a variable fee (a small percentage of the sending amount). The total varies based on the transfer amount, payment method and sending and receiving currencies.
We found that variable fees are cheapest for online bill payment and wire transfer payments, while credit card payments comes with the highest fees. We also found that the variable fee tends to go down as the transfer amount rises.
Here's what you might pay if you send $1,000 to the following countries (information current as of August 26, 2022):
| Send to | Payment method | Fixed fee | Variable fee | Total fees |
| --- | --- | --- | --- | --- |
| India | Bank transfer | $2.39 CAD | $8.57 CAD | $10.96 CAD |
| India | Interac e-Transfer | $1.44 CAD | $8.57 CAD | $10.01 CAD |
| India | Credit card | $27.62 CAD | $8.38 CAD | $36 CAD |
| Japan | Bank transfer | $2.39 CAD | $8.96 CAD | $11.35 CAD |
| Japan | Interac e-Transfer | $1.44 CAD | $8.97 CAD | $10.41 CAD |
| Japan | Credit card | $27.62 CAD | $8.81 CAD | $36.43 CAD |
| United Kingdom | Bank transfer | $2.39 CAD | $6.42 CAD | $8.81 CAD |
| United Kingdom | Interac e-Transfer | $1.44 CAD | $6.43 CAD | $7.87 CAD |
| United Kingdom | Credit card | $27.62 CAD | $6.29 CAD | $33.91 CAD |
| Singapore | Bank transfer | $2.39 CAD | $6.56 CAD | $8.95 CAD |
| Singapore | Interac e-Transfer | $1.44 CAD | $6.57 CAD | $8.01 CAD |
| Singapore | Credit card | $27.62 CAD | $6.43 CAD | $34.05 CAD |
Example: Sending money to Hong Kong
Here's how much you could pay to send a $1,000 CAD money transfer from Canada to Hong Kong. The fee is deducted from the amount sent, not paid on top of it. The actual cost could change based on the transfer amount and exchange rate at the time of your transfer.
| | Pay by Interac e-Transfer | Pay by debit |
| --- | --- | --- |
| Fixed fee | $1.44 CAD | $21.14 CAD |
| Variable fee | $7.17 CAD | $7.06 CAD |
| Total fee | $8.61 CAD | $28.20 CAD |
| Exchange rate | 1 CAD = 6.01895 HKD | 1 CAD = 6.01895 CAD |
| Total received | 5,967.13 HKD | 5,849.22 HKD |
| Receiver gets | 117.91 more HKD | 117.91 less HKD |
| Transfer speed | Within 15 mins. | Within 10 minutes |
How are Wise's exchange rates?
Wise is unusual as it uses the mid-market rate for transfers and also allows you to lock in a rate for a day or more to complete your transfer. Most money transfer providers will add a markup to their exchange rate in order to make a profit.
When we checked Wise's rates against the mid-market rate on Google and Xe, they were similar. Wise's rates update multiple times a day.
What your Wise transfer could look like
Use the table below to find out more details about what making a money transfer with Wise looks like. Click the Go to site button to visit Wise's site and get a quote for your transfer.
Check if there are any Wise promo codes available
What are the ways I can send money abroad with Wise?
Wise only supports bank account transfers, but the transaction is easy to complete online.
How to send money transfer online with Wise
Follow these 6 steps to have money sent in as little as a few minutes:
Case study: Katia's experience

Katia Iervasi
Writer
I began using Wise when I moved to the US from Australia a few years ago. I tested a few money transfer services and Wise was—and still is—my favourite for a couple of reasons:
It's transparent. As soon as you enter the amount of money you want to send, you'll see the real, mid-market exchange rate as well as Wise's fees. The rate changes so much that if I get distracted and come back to the site a few minutes later, it may have already changed. That's how I know it's current.
The fee is small. Especially compared to the traditional banks—as someone who regularly transfers money between two continents, I appreciate this. The funds usually appear in my account in 24 hours, but it can take longer if I hit send just before the weekend.
What are Wise's payment options?
Customers using Wise in Canada can pay using the following methods:
Interac e-Transfer
Bank transfer
Debit card
Credit card
Online bill payment
Wire transfer
The funds are deposited directly into your recipient's bank account once Wise receives your payment. Wise allows you to make secure one-off transfers but currently has no option to set up recurring transfers.
How long does an international transfer with Wise take?
Wise's money transfer speeds are dependent on how much you are willing to pay in fees and when you send your transfer.
When using a credit or debit card, you'll pay more in fees, but your money can arrive instantly in your recipient's bank account. However, keep in mind that your credit card might charge you an additional cash advance fee, further increasing the cost of your total transfer.
Making a bank transfer is typically the cheapest way to send money through Wise, but it's almost always the slowest. It typically takes 2 working days for Wise to receive your money. Then it's usually another 2 working days to transfer the funds to your recipient's bank account.
Transfers typically take

2 business days
Is Wise safe to use?
Wise was founded in 2010 and serves millions of customers a year. It is fully registered and accredited by many global agencies, using the following global standards to protect your money:
Follows regulatory guidelines. In every country where Wise operates, it is registered with the appropriate regulatory agency and follows the strict rules that are set out.
Bank-level data security. Encryption and data storage at Wise are handled in the same way as your bank.
Two-factor authentication. Protect your account with 2FA and with optional biometric locks on the Wise mobile app.
In-house 24/7 digital security team. A security team works around the clock to monitor transactions for suspicious activity and accounts for fraudulent logins.
Does Wise have an app?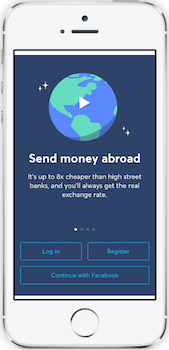 Wise has a mobile app on both the Google Play and Apple App stores. The app makes it possible to do the following:
Quickly repeat a transfer. See a complete list of past money transfers and send to past recipients in a few taps.
Log in with biometrics. On phones that support face scanning and thumbprint reading, use these features to lock your Wise account.
Get rate updates. Waiting for the perfect exchange rate? Set up rate tracking to get updates when the price is in your favor.
Ratings current as of August 26, 2022.
| | |
| --- | --- |
| Google Play Store | 4.2 out of 5 — based on 211,253 customer ratings |
| Apple App Store | 4.6 out of 5 — based on 25,639 customer ratings |
Want to compare Wise with other services side-by-side?
Compare Wise to other transfer services
Our table below lets you compare services you can use to send money abroad. Compare fees, exchange rates and discounts from different money transfer services, and when you have made your choice, click Go to site.
Frequently asked questions
You are about to post a question on finder.com:
Do not enter personal information (eg. surname, phone number, bank details) as your question will be made public

finder.com

is a financial comparison and information service, not a bank or product provider
We cannot provide you with personal advice or recommendations
Your answer might already be waiting – check previous questions below to see if yours has already been asked
Accept and continue