Compare Canadian credit union savings accounts
Competitive interest rates, minimal fees and more perks of banking at a nonprofit institution.
Are credit unions better than banks for building up your savings? Credit unions in fact often offer higher interest rates on their products than for-profit banks. Established in the mid-1800s as a way to give workers more affordable banking services and products, credit unions operate all over the world and oversee more than $1 trillion in assets.
Canadian credit unions alone hold billions of dollars in assets. You might've heard of some of the biggest players in the game: Vancity, Coast Capital Savings, Servus, Meridian and Assiniboine, among many others.
With higher interest rates and a members-only structure that gives each customer more power over their money, there are plenty of reasons why you might want to use a credit union savings account to help build your wealth or to simply set aside funds for a rainy day.
What is a credit union and how is it different from a bank?
Credit unions operate a lot like traditional banks, offering both credit and savings products. Sometimes referred to as "cooperative banks" or "people's banks," these institutions were initially created to take away high fees and barriers to banking. Balances held in credit union accounts are not insured by the Canada Deposit Insurance Corporation (CDIC), but they're similarly insured by provincial institutions or non-governmental entities.
Credit unions offer a full range of banking products and services for both individuals and businesses. However, compared to big banks, there is often less variety in the number of options to choose from for each product or service.
Nevertheless, credit unions offer just about everything that regular banks do such as:
Chequing accounts
Savings accounts
Debit and credit cards
Investment accounts

Retirement accounts
Student loans and student accounts
Auto loans
Mortgages
Lines of credit
Both secured (with collateral) and unsecured (no collateral) loans
Refinancing

Rewards programs
There is no credit check required to join a credit union, but usually you must purchase a small number of "shares" in the union to become a member. The number often falls between 1-5, with shares costing around $5-$25 each.

Low-income individuals may be accommodated if they can't meet the minimum purchase requirement.
Some credit unions are made only for certain groups of people (such as agricultural workers or teachers) or for people living in specific regions. And some accounts – including some types of savings accounts – may require a minimum deposit, but not all do. Requirements vary between credit unions.
Historically, collectives of professionals from various industries as well as both middle class and poorer people flocked to credit unions when they had trouble getting service from traditional banks. Today, however, credit unions are made to suit anyone's financial needs and over 5 million Canadians prefer these institutions over big banks.
As a matter of fact…
The first credit union was created in 1852 in Germany, and by 1901, the first credit union in North America had opened its doors in Quebec. This union – named the Caisse Populaire de Lévis – was created by Alphonse Desjardins who co-founded the Desjardins Group, the largest federation of credit unions in the world.
Though credit unions may vary in the savings solutions offered, you can often find such options as Tax-Free Savings Accounts (TFSAs), Registered Retirements Savings Accounts (RRSPs), Guaranteed Investment Certificates (GICs), and savings accounts with competitive interest rates.
Credit union savings accounts
Savings account
Interest rate
Minimum balance

Account highlights

Steinbach Credit Union Tax-Free Savings Account

2.75%
$0

Interest earned is tax free, calculated monthly and paid annually
Option to have a fixed interest rate option
Contribution limits apply as per federal regulations
$3.00 per withdrawal
Mobile app available for Android and iOS

Steinbach Credit Union Regular Savings Account

2.50% on balances less than $100,000

---

2.60% on balances between $100,000 – $250,000

---

2.80% on balances over $250,000

$0

Interest earned is tax free, calculated monthly and paid annually
First monthly withdrawal is free, but afterwards you pay $1.00 per withdrawal.
Mobile app available for Android and iOS

Parama Daily Premium Savings

1.50%
$0

Interest paid monthly
Unlimited deposits and withdrawals
First 10 e-transfers are free, then each one costs $1.50 (incoming e-transfers are free)
Mobile app available for Android and iOS

Meridian Credit Union Good to Grow High Interest Savings Account

1.30%
$1,000

No monthly fees
Unlimited transactions.
Can be placed within a TFSA or RRSP.
Mobile app available for Android and iOS

Innovation Credit Union Savings Account

1.05%
$0

No monthly fee
6 free debit transactions each month, then $5.00 per transaction afterwards
Interest calculated daily and paid monthly.
Mobile app available for Android and iOS

Vancity Jumpstart High Interest Savings Account

0.75%
$0

No monthly fee
Unlimited online and mobile transactions (excluding e-transfers, which cost $0.90 each to send but are free to receive)
In-person transactions, debit card purchases, ATM withdrawals and pre-authorized payments cost $5 each
Can be placed within a TFSA or an RRSP.
Full-service mobile app available for Android and iOS
Compare with bank savings accounts
*The products compared on this page are chosen from a range of offers available to us and are not representative of all the products available in the market. There is no perfect order or perfect ranking system for the products we list on our Site, so we provide you with the functionality to self-select, re-order and compare products. The initial display order is influenced by a range of factors including conversion rates, product costs and commercial arrangements, so please don't interpret the listing order as an endorsement or recommendation from us. We're happy to provide you with the tools you need to make better decisions, but we'd like you to make your own decisions and compare and assess products based on your own preferences, circumstances and needs.
What are the benefits of joining a credit union?
Multiple options. Most credit unions offer multiple savings account options to suit the varying needs of its customers. Options can include regular savings account, high interest savings accounts, TFSAs, RRSPs and GICs.
Lower fees. Since credit unions are nonprofit institutions that reinvest profits back into the business rather than distributing them to stakeholders, fees for services and accounts are often lower than banks.
Competitive rates. Many credit unions offer interest rates that are comparable – if not beyond – rates offered by traditional banking institutions.
Personalized experience. Credit unions are smaller and sometimes more localized than big banks, allowing them to offer a more personal approach to banking.
What are the risks of joining a credit union?
While credit unions may not be as familiar to the public as big banks and may therefore lack the widespread public acceptance and trust that big banks enjoy, credit unions are still provincially regulated and insured so that your money is safe. Still, there are a few disadvantages that you might want to consider when deciding whether to open a savings account with a credit union:
Limited presence. Due to the smaller size of most credit unions, you might experience some inconvenience when you want to visit a physical location and can't find one that's very close to you.
Membership fees. Most credit unions require you to pay a membership fee or purchase shares of the credit union in order to join.
Less tech-savvy. Some credit unions may not have the resources to invest in expensive technology like well-designed mobile banking apps. However, most do offer online banking, and some of the bigger, more established credit unions like Vancity, Meridian and Capital Coast have invested in making full- or nearly full-service apps that are comparable to mobile apps made by big banks.
Compare the best online savings accounts
What are the advantages of a credit union over a bank?
Since credit unions are owned by customers, you might find that the fees are lower than what a bank offers. Minimum deposit requirements are often lower and interest rates are often higher, making it easier to start growing your funds.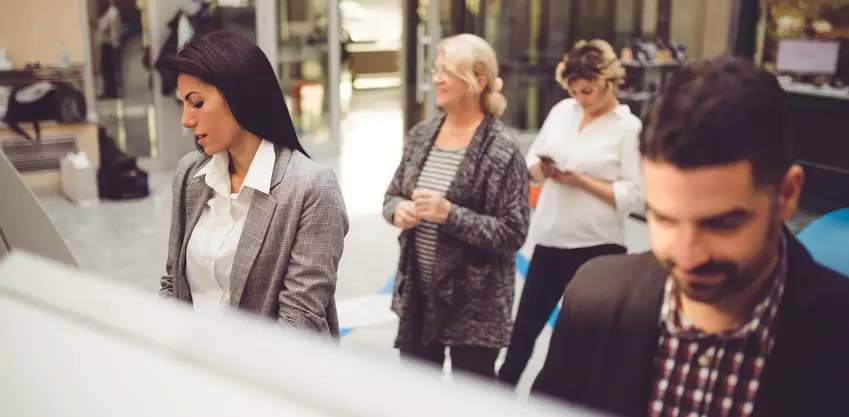 How to compare credit union savings accounts
Before you can compare savings accounts offered by credit unions, you'll need to make sure you're eligible to become a member. Some credit unions have membership requirements based on your location or occupation, while others may allow anyone to become a member. Once you narrow down your choices, you can begin to compare features of each savings account.
Eligibility
Make sure you're eligible to open an account at the credit union you're considering. Eligibility requirements vary by institution and can include age, occupation and the location of your residence. Shop around to find one that's right for you.
Membership fee
Credit unions will often require you to purchase shares of the union or pay a membership fee to join and open an account. Shares typically cost no more than $5 – $25 each, and you are usually required to purchase 1-5.
Interest rates
Once you've narrowed down your options, check the interest rates for the savings accounts you're interested in and ensure they're competitive with what you'd find at a traditional bank. Note any aspects such as minimum balances or tiered interest rates that would affect your plans to save.
Also remember that promotional/introductory rates will not last forever – if a credit union promises a great interest rate that only lasts for a limited time, make sure you know what the long-term rate is and that you're comfortable with it.
Fees
Check for any fees that might come with the account, including monthly maintenance, penalties for not maintaining a minimum balance, ATM charges or excessive withdrawal fees. Credit unions may also charge for Interac e-transfers, cheques, in-person service at physical locations, wire transfers and other banking functions, although the terms of your savings account may permit some or all of these charges to be waived.
Accessibility
Some credit unions offer online banking or mobile apps to give you greater access to your account. You should also consider how many branches and ATMs you'll have access to, and how far the nearest location is. Many credit unions partner with existing banks or other financial institutions to allow you to use a network of ATMs across the country.
Option for a linked account
It's common to link savings accounts to a standard cheqing account so that you can easily transfer funds from one to the other. If you don't want to open a chequing account at the same credit union, you'll need to check if you're allowed to link your savings account to an account at another institution.
Minimum balance requirements
To avoid minimum balance fees, look at accounts that have no requirements for how much money you must keep in your savings account. If you decide to open an account that requires a minimum balance, be sure to keep your balance above that level to avoid charges.
Questions to ask when choosing a credit union
If you're thinking about joining a credit union, consider the following factors when making your decision:
Does the credit union have a branch that's close to you?
Does it offer the accounts, credit cards and services you require?
Does it charge many fees and/or expensive fees on its products?
How long has it been established? Does it have a good reputation?
Does it offer online banking? If so, is it easy to use?
Does it have a mobile app? Does the app have all the functionality you need on the go? Does it get good reviews?
Can it offer prompt and friendly customer support whenever you need help?
Is it regulated by any outside institution? Are your finds insured?
The biggest credit unions in Canada
Below is a list of the top 10 largest credit unions in Canada by assets as of December, 2018. Collectively, these credit unions have over 2.6 million members and hold over $115.98 billion in assets – almost half of the total assets held by all credit unions in Canada.
Vancity (Vancouver City Savings Credit Union, BC) — $22.89 billion
Coast Capital Federal Credit Union (BC) — $19.62 billion
Meridian Credit Union Limited (ON) — $17.90 billion
Servus Credit Union (AB) — $16.14 billion
First West Credit Union (BC) — $10.28 billion
Conexus Credit Union (SK) — $6.26 billion
Steinbach Credit Union (MB) — $5.92 billion
Connect First Credit Union Limited (AB) — $5.69 billion
Affinity Credit Union (SK) — $5.67 billion
Alterna Savings and Credit Union Limited (ON) — $5.61 billion
Bottom line
If you're looking for a personalized, no-frills banking experience or just want an alternative to big banks, then a credit union may be just the ticket. Most offer products with competitive rates and minimal fees, allowing you to grow your savings and reach your financial goals faster. Eligibility requirements are stricter than with traditional banks, however, and branch availability is often limited.
Before making a final decision, compare your options with our guide to savings accounts.
Frequently asked questions about credit unions
Read more on this topic