Send money to Vietnam
Compare fees and exchange rates to get the best deal on your next money transfer to Vietnam.
If you need to send money to Vietnam, but don't have a ton of time to compare money transfer services individually, we're here to lend a helping hand. This handy comparison guide is designed to help you figure out which money transfer service offers the most competitive exchange rates and lowest fees while being the best fit for your needs.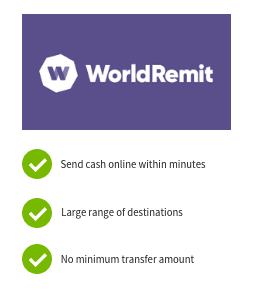 Send money to Vietnam with WorldRemit

WorldRemit can help you get your money where it needs to go in minutes, with upfront exchange rates and low fees.
Use promo code FINDERCA on your first transfer and pay zero fees. T&Cs apply.
Transfers to 150+ countries
Send to bank account, cash pickup, mobile money, airtime top up
Pay with card, Interac or Apple/Android Pay
Compare money transfer services that send to Vietnam
Disclaimer: Exchange rates change often. Confirm the total cost with the provider before transferring money.
Banks versus money transfer companies
Whether you need to send some spare change to family and friends or you have a portfolio of business expenses to manage in Vietnam, there are a number of banks and money transfer services that can help you get the job done.
Bank. Banks are notorious for offering less than desirable exchange rates on top of high fees (often between $20 and $100) on wire transfers, so even a small transfer can end up putting a big dent in your pocketbook.
Case study: Hoang sends money to Vietnam
Hoang has been living and working in Vancouver for three years and he intermittently sends money home to his elderly parents, who live in Ho Chi Minh City. Hoang has always used his bank to facilitate wire transfers, but he's been less than impressed with their sub-par exchange rates and a steep $35 fee per transfer. Hoang decides to compare two online money transfer providers to see if he can track down a better deal. The comparison below is based on exchange rates in the spring of 2018, so check current rates before making your choice.
Money transfer service
Bank
Exchange rate

CAD

$1 = VND

17,200

CAD

$1 = VND 17,600
Transfer fee
$15
$25
Amount received for $500
VND

17,200,000

VND 17,600,000
Transfer time
2 days
3-5 days
Transfer options
Online transfer only
Wire transfer to bank account
Huang is pleased to discover that he can save VND 400,000 (around $22) in the exchange rate with the first money transfer option, with an additional $10 in fees. If Huang sends money every month, this amounts to almost $384 over the course of one year.
How to compare transfer companies when sending money to Vietnam
Comparing fees and delivery speeds is important when considering money transfer options. When making a transfer, you should consider the following factors to find the best deal.
Exchange rates. Look for a service that will transfer your money at the most competitive exchange rate while also offering low to no fees.
Fees. Many transfer companies offer lower fees than the bank,

and a select few even provide zero-fee services. The best way to be sure you're getting the best deal is to compare 3-4 services.

Pick-up methods. If you need a transfer in minutes, settle on a cash transfer service like Western Union or Moneygram. If you have a more flexible timeline, you can opt for a bank-to-bank transfer.
Delivery speed. Depending on the transfer service and method you choose, delivery time can take as little as a couple of minutes or as many as six business days. Choose a money transfer service that will get your money to where it needs to be on time.
Customer service. Make sure you can easily access a 24/7 customer support team if you have questions about your transfer.
How to send money to Vietnam from Canada
Bank. Many Canadian banks can facilitate wire transfers to Vietnam, but will charge exorbitant fees and exchange rates for the service. Your bank can also supply an international money draft that you can send to Vietnam through the mail. Keep in mind that this is the slowest way to send money overseas.
Money transfer services. Money transfer services can carry out cash, mobile top-up and bank-to-bank transfers with top-notch exchange rates and fees. Transfers typically take between 1 – 3 days.
Emergency cash transfers in Vietnam
If you're travelling through Vietnam and run into an emergency, there are a couple of ways to get your hands on some fast cash. The following services offer quick and hassle free delivery.
Insurance coverage. In the case of a lost or stolen purse or wallet, your insurance policy might be able to provide you with emergency assistance. If your money was stolen, you will likely need a police report in order to access cash via your insurance provider.
Cash pickups. Ask a friend or relative to send you money with a cash transfer service like MoneyGram or Western Union.
Credit Cards. If you booked some of your trip through your credit card, they may be able to help you access emergency funds. Contact your credit card provider for details.
Emergency cash transfers to Vietnam
In the event of an emergency, cash pick-up options like MoneyGram and Western Union can facilitate a transaction to hundreds of agent locations across Vietnam in as little as 10 minutes. Just beware that while these companies can be a lifesaver when you're in a tight spot, they can cost much more than a bank-to-bank transfer. If you have time to spare, it can pay to look at companies like TransferWise or WorldRemit to complete your transaction.
Tips for picking up cash
The Government of Canada recommends that Canadian visitors to Vietnam exercise a high degree of caution (as of 01 September 2018) due to an increase in petty crime. Pick-pocketing is common in tourist areas, including markets and shopping centres and crowded buses and trains. Motorcyclists also commonly grab bags and other valuables from pedestrians. If you do need to collect cash, look for an agent location in a safe neighborhood and call ahead to make sure they'll have cash on hand. Visit during daylight hours in the company of a good friend and return to your hotel to stow your cash in a safe place as quickly as possible.
How to send money to Vietnam
You can send money to Vietnam via a bank or through a specialist money transfer service. Depending on the service you choose, you'll likely need to provide the following information:
Your identification (passport, etc.)
Your email address
The recipient's name, address and bank account details
The amount you'd like to send
The bank or money transfer service will send you a confirmation email or give you a receipt if you've made the transfer in person.
Read more on this topic
Ask an Expert
You must be logged in to post a comment.