How to send money to Switzerland
Find out how you can save money and enjoy fast transfers when you send money to Switzerland from Canada.
Thousands of Canadians head to Switzerland every year to explore the beautiful country. With high levels of tourism, immigration, banking and business between Canada and Switzerland, there is a need to send money between the two nations.
Using a bank to send money to Switzerland can be an expensive option. With the emergence of specialist online money transfer services, there are cheaper and faster ways to send money overseas. Read on to find out how you can get competitive exchange rates, low fees and fast transfer speeds when sending money between Canada and Switzerland.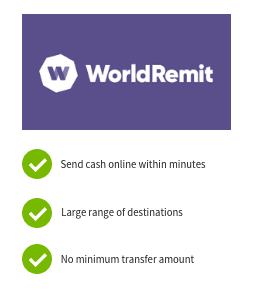 WorldRemit International Money Transfers

WorldRemit can help you get your money where it needs to go in minutes, with upfront exchange rates and low fees.
Use promo code FINDERCA on your first transfer and pay zero fees. T&Cs apply.
Transfers to 150+ countries
Send to bank account, cash pickup, mobile money, airtime top up
Pay with card, Interac or Apple/Android Pay
Disclaimer: Exchange rates change often. Confirm the total cost with the provider before transferring money.
Bank vs money transfer service
Case study: Helène Sends Money to Switzerland
After completing her studies in Geneva, Helène celebrated her graduation with a trip to Quebec, and after three weeks, she knew she wanted to find a job in Canada and stay. After joining an accounting firm, she started looking for cheap, easy ways to send money to Geneva to help maintain the apartment she co-owns with her sister.
Before making a transfer, Helène takes the time to weigh the costs and foreign exchange benefits of different money transfer options. She compares the cost of sending $1000 Canadian dollars via a specialist money transfer service and via a bank.
| | Money transfer service | Bank |
| --- | --- | --- |
| Exchange rate | CAD$1 = 0.72 CHF | CAD$1 = 0.70 CHF |
| Transfer fee | CAD$10 | CAD$25 |
| Amount received for $1000 | 720.51 CHF | 700.20 CHF |
| Transfer time | One to two days | Three to five days |
| Transfer options | Online | Online |
| Difference of | 20.31 CHF | |
In the above comparison, it's clear that transferring via a bank incurs both higher transfer fees and poorer exchange rates, as well as a longer delivery time. Besides a better exchange rate, the money transfer service doesn't charge very high fees and delivers up to three days earlier than the bank.
While some agencies in Switzerland might accept Euros, they'll charge fees to convert the euros to Swiss francs. Keep this in mind when choosing a transfer service.
Factors to compare when sending money to Switzerland
The Swiss franc is one of the world's strongest currencies, so you'll be looking for a service that can give you the best value for your Canadian dollars. Compare the following factors:
Exchange rates. Finding the best deal starts with a good, competitive exchange rate. While some companies offer a relatively good exchange rate for your dollars, be wary of additional fees – transfer or receiving fees – that they may levy. High fees can offset any savings from a good exchange rate.
Fees. The cost of making a transfer varies from service to service. While some offer completely free transfers, others charge a transfer fee for their service. Some might only charge a receiving fee in the destination currency. Some companies charge both a transfer and a receiving fee, but then offer competitive exchange rates to attract customers.
Pick-up methods. Choose a service that offers direct deposits or that has pick-up locations close to where your recipient lives. Always make sure that the method of pick-up is the best option for your recipient.
Transfer methods. Most money transfer services, whether a bank or a specialized service, offer online transfers, cash deposits or transfers over the phone.
Transfer time. Depending on how quickly you need the money to reach your recipient, you can choose between services that offer instant transfers or those that deliver between one and three business days. With that said, banks can sometimes take up to five business days to send money overseas.
Minimum transfer amounts. Most services stipulate a minimum transfer amount, some higher than others. This is an important factor if you're looking to transfer a small amount. Some companies also have maximum transfer amounts, so ensure that these work for you.
Customer service. A service that promises to deliver your money to its recipient should have a good customer service department. They should be available and efficient, and able to keep you updated on where your money is at any time during the transfer process.
The options for sending money from Canada to Switzerland
Given the country's status as a first world country and the stability of the Swiss franc, most money transfer services allow for transfers between Canada and Switzerland. You could easily send money from your Canadian bank account, but the quickest and most cost-effective method may be a specialized money transfer service.
Here are a few providers to consider:
World First. A reputed online money-transfer service, this company doesn't charge any transfer or receiving fees. Money is deposited directly into your recipient's account.
CurrencyFair. Compared to the standard fees charged by most Canadian banks, Currency Fair charges a very low transfer fee and delivers within one business day for a priority transfer.
TransferWise. With low fees, you can send money online to your recipient in a variety of different countries worldwide.
OFX. A popular forex exchange, OFX allows you to send a certain amount of money overseas for a flat $15 fee.
Currencies Direct. This company can send your money overseas for low fees and competitive exchange rates.
TorFX. This provider offers bank beating exchange rates and low fees. You can send money to a variety of different countries around the world.
WorldRemit. With very low fees, WorldRemit allow you to send money to plenty of countries around the world.
FairFX. This company offer a variety of services, including international money transfers, with low fees and competitive exchange rates.
PayPal. As long as both you and your recipient have PayPal accounts, you can send money using the online service. PayPal accounts are easy, quick and free to sign up for.
MoneyGram. You can send funds from Canada by visiting a MoneyGram location in person. You can send transfers directly to a bank account or for cash pickup at a branch location.
Western Union. You can send funds online or in person at a Western Union branch. Western Union allow you to send direct bank account transfers or transfers that are availalbe for cash pickup.
Do you need access to emergency cash in Switzerland?
If you need to send or receive cash in a hurry, there are a few options available to fast track a transfer. These options include:
The priority option. Some transfer services offer a priority sending option that delivers money more quickly than their standard option. Usually, this takes one business day to arrive and you will pay higher fees with a priority option.
Instant cash transfer. Services like MoneyGram and Western Union have agencies all over the world, sometimes several in one city. They offer instant deposits that arrive within minutes or an hour of transferring.
Travel insurance. If you've suffered a medical emergency or have been robbed while on vacation, you can file a claim to your travel insurance company. This will likely require proof of identity, police reports, hospital records, etc. If a quick cash boost is what you need, this may not be the solution for you.
Cash pickup locations for Western Union and MoneyGram in Switzerland
Below, you'll find a few locations for Western Union and Moneygram agencies in Geneva and Zurich. Be sure to take along some valid identification. If you're planning to receive a particularly large transfer, it's a good idea to call ahead and make sure that they're able to give you all of the cash. Although Switzerland is relatively safe, try to take someone along with you when you go to collect your money. Always exercise caution when withdrawing money.
Western Union
Geneva
Mobilezone

Rue De Carouge 18

Geneva 1205

+41 22 7163280

Open Monday to Friday 9am to 7pm, Saturday 9am to 5pm
Geneve CFF Hall

Gare Cff De Cornavin

Geneva 1201

+41 22 3080777

Open Monday to Saturday 5:30am to 11pm, Sunday 6am to 11pm
Zurich
Travelex Zurich Airport

Landside Between T1 And T2

Zurich Airport

Zurich 8058

+41 43 2119811

Open Monday to Sunday 6am to 9:30pm
Ruemlang
Reisebuero SbbBahnhofplatz 10

Ruemlang 8153

+41 51 2226219

Open Monday to Friday 7am to 5:45pm
MoneyGram
Geneva
General Money Trading GMT SA

Rue Rousseau 30

Geneva 1201

+41 22 7388777

Open Monday to Saturday 8am to 7pm
Intertours Geneve

Rue de la Servette 43

Geneva 1202

+41 22 7346324
Stay safe when picking up cash in Switzerland
The Government of Canada advises that you should exercise normal safety precautions when travelling in Switzerland. Although it's a developed, relatively low crime country, you should still be vigilant when collecting money, particularly if it's a large amount. If you're alone, try and get someone from your hotel or group to accompany you.
What do you need to do to send money to Switzerland?
Most money transfer services require that you register and become a member first. Signing up is quick and usually free. To make a transfer, most services will require some, or all, of the following information:
Your name, email address and contact number
The recipient's name, address and bank details
You can generally process the transfer online or visit an agency and do it in person. In most cases, you'll receive a reference or tracking number. If collecting cash at an agency, your recipient will have to present the reference number as well as their ID to collect the funds.
---
Getting the best value for your Canadian dollars means finding a transfer option that combines low transfer fees, competitive exchange rates and fast transfer speeds.
Ask an Expert
You must be logged in to post a comment.