Send money to Lebanon
Shop around for the best money transfer service for sending money to Lebanon.
Whether you own property in Lebanon or you simply want to send money to friends or relatives travelling overseas, our handy guide is designed to help you find the best deal on your next transfer.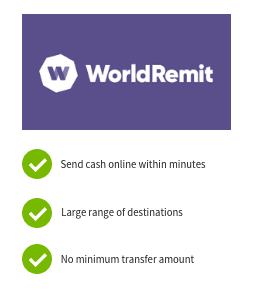 Send money to Lebanon with WorldRemit

WorldRemit can help you get your money where it needs to go in minutes, with upfront exchange rates and low fees.
Use promo code FINDERCA on your first transfer and pay zero fees. T&Cs apply.
Transfers to 150+ countries
Send to bank account, cash pickup, mobile money, airtime top up
Pay with card, Interac or Apple/Android Pay
Transfer services that send to Lebanon
Disclaimer: Exchange rates change often. Confirm the total cost with the provider before transferring money.
Banks versus money transfer companies
If you want to send money to Lebanon, there are a number of options at your disposal. Two notable ways to send money to Lebanon include your bank or an online money transfer company.
Bank. Banks are a convenient choice but cost much more than a dedicated money transfer service. They typically offer sub-par exchange rates and charge astronomical fees (typically between $20 and $100) on international transfers. This means that even a small transfer can costs a significant amount to send overseas.
Money transfer company. Most money transfer services are a more affordable choice with faster turnaround times to boot. These companies offer much lower fees than the bank (typically between $0 and $20) and can usually deliver your transfer in 1 – 3 business days.
Case study: Dasia sends money to Lebanon
Dasia has been studying in Toronto for a couple of years and she intermittently sends money home to her sister in Lebanon. Dasia has always used her bank to facilitate wire transfers, but has grown tired of their abysmal exchange rates and steep $55 fee per transfer. She decides to compare two online money transfer providers to see if she can track down a better deal. The comparison below is based on exchange rates in the spring of 2018, so check current rates before making your choice.
Money Transfer Service 1
Money Transfer Service 2

Exchange rates

CAD$1 = LBP 1,320


CAD$1 = LBP 1,300


Transfer fees

Amount received (for $1,000)

LBP 1,320,000

LBP 1,300,000

Transfer speed

2 – 5 days

1 – 2 days

Options available

Bank-to-bank transfer

Bank-to-bank tranfer
or cash pick-up
Dasia realizes that she can save LBP 20,000 (around $17.50) in the exchange rate with the first money transfer option, but will need to pay an additional $15 in fees. Despite the added $2.50, Dasia decides to send money with the second money transfer option since it will take much less time to process the transaction and the money can be picked up in cash.
How do I compare service companies when transferring money to Lebanon?
Exchange rates.

Some companies will offer less competitive exchange rates but charge lower fees while others may offer more competitive exchange rates alongside higher fees. Track

down a company that offers the best of both worlds to save a significant amount of money.

Transaction fees. Some transfer companies offer low to no fees in combination with competitive exchange rates. The best way to make sure that you're getting the best deal is to compare 3-4 services.
Transfer methods.

Many companies will offer different options for transferring funds, including cash pickups, bank-to-bank transfers and even mobile wallet top-ups. Track down a company that offers the right solution for you and your recipient.
Bonus features.

Bonus features can include forward contracts and limit orders, which allow you to book a lower exchange rate in advance of your transfer. Ask about cost-saving features before booking your transfer to make sure you're getting the best deal.
Fast transfer times.

Banks can take up to 5 business days to process transfers while some money transfer services can process in a matter of minutes. Choose a provider that works well for your budget and your timeline.

Customer service.

Make

sure to pick a company with 24/7 customer service and a proven commitment to customer satisfaction.
How do I send money to Lebanon from Canada?
Banks. Lebanese pounds are considered an exotic currency, which deters some Canadian banks from making transfers to Lebanon. Most banks will exchange your money into a more common currency like USD, which will then be exchanged into Lebanese Pounds by the receiving bank. This means you can get dinged with the costs of two exchange rates which can end up costing an arm and a leg.
Money transfer services. Many dedicated money transfer services can offer convenient and affordable international transfers to cities across Lebanon. These services are typically the best of the bunch if you're looking for big savings.
Cash transfer services. Cash transfer services like Western Union and MoneyGram offer easy and fast cash transfers to Lebanon although you'll typically need to pay more for cash delivery in minutes. These services are typically the best choice if you're looking for fast service.
PayPal. As long as both you and your recipient have PayPal accounts, you can send money to Lebanon using this peer-to-peer service. PayPal accounts are free of charge and only take minutes to set up.
Emergency cash transfers in Lebanon
If you are travelling in Lebanon and run into an emergency – such as losing your wallet or purse – you may be able to get your hands on fast cash using the following methods.
Cash pick-up. Send money to a service like WorldRemit or Western Union and collect cash at one of many agent locations across Lebanon (provided you have valid photo identification and a reference number).
Credit card provider. If your credit card goes missing, your credit card provider may be able to send you a small amount of emergency cash to tide you over until you receive a replacement card.
Travel insurance. Some travel insurance plans may have provisions to provide cash in the event of an emergency. Make sure you file and save a copy of a police report to use in your claim.
TIPS FOR PICKING UP CASH
The Government of Canada recommends that Canadian travellers exercise a high degree of caution when visiting Lebanon (as of 05 September 2018) due to the volatile security situation in the region. Street crime such as purse snatching, pick pocketing, car thefts and residential break-ins can occur. If you do need to collect cash at an agent location, be sure to do so in a safe neighborhood before dark and in the company of a trusted friend.
How to send money to Lebanon
As your options for sending money to Lebanon from Canada are mostly cash transfer service companies, it's important that you and the recipient are prepared with the following:
Full name. The full name of your recipient's ID should match exactly with the name listed on the transfer order.
Reference number. You will be given a unique reference number at the conclusion of the transaction. This number must be given to the pick-up agent by your recipient along with their identification.
Your name. For verification, the agent may ask for the recipient to give your full name and location. Normally a city name is enough, instead of a full address.
Transfer amount. The amount of money sent will also be verified by the pick-up agent.
Save the paperwork that is given to you at the end of the transaction. This will serve as your proof in the event that there is a dispute with the transfer company, or in case there are any problems with your transaction.
Read more on this topic
Ask an Expert
You must be logged in to post a comment.