How to send money to Latvia
Take advantage of low fees and competitive exchange rates when sending money to Latvia.
Located on the shores of the Baltic Sea, Latvia boasts a diverse culture, world-renowned architecture and a beautiful Old Town that dates back to medieval times. If you ever need to send money from Canada to Latvia or vice versa, there's no shortage of banks and specialist money transfer providers who can manage the transaction for you. Banks frequently offer poor exchange rates and charge high transaction fees, so it pays to shop around to find better value for money with the services of a specialist transfer provider.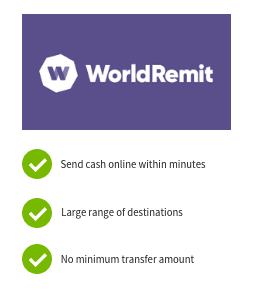 WorldRemit International Money Transfers

WorldRemit can help you get your money where it needs to go in minutes, with upfront exchange rates and low fees.
Use promo code FINDERCA on your first transfer and pay zero fees. T&Cs apply.
Transfers to 150+ countries
Send to bank account, cash pickup, mobile money, airtime top up
Pay with card, Interac or Apple/Android Pay
Compare money transfer services below
Disclaimer: Exchange rates change often. Confirm the total cost with the provider before transferring money.
Banks versus money transfer companies
Many people just go to their bank when they need to send money overseas and don't do the research to see if there might be a better deal around. Banks are known to give customers lower exchange rates and to charge higher fees. They are a long way down the list of the most affordable money transfer providers. The poor exchange rates and typically high fees offered by banks mean that your transaction could end up being a whole lot more costly than you might expect. That's why it's an excellent idea to shop around for better value for money, and there's a fair chance you'll find it from a specialist money transfer company.
These providers are experts when it comes to sending money around the world, offering safe and convenient transfers that are also affordable. Their exchange rates are higher and their fees lower than those you will get from the banks, so even a quick comparison between transfer providers can save you a ton of cash.
Case study: Lukas sends money to Latvia
Lukas wants to send money from Canada to his parents in his home country of Latvia. He wants them to spoil themselves for their anniversary and wants to give them $1,000, but he doesn't want the transaction to cost him any more than it has to. Instead of using his bank to send the money overseas, which charges a $25 transfer fee, he contacts two specialist transfer companies to check out whether they offer better value for money. As the table below shows, Lukas can save $6 in transfer fees by using the second company. His parents will receive around one euro less, however it's worth it for the cheaper fees.
| | Money transfer company 1 | Money transfer company 2 |
| --- | --- | --- |
| Exchange rate | $1 CAD = 0.65 Euro | $1 CAD = 0.65 Euro |
| Transfer fee | $10 | $4 |
| Transfer method | Online transfer | Online transfer |
| Processing time | Two days | Two days |
| Amount received (in euro) | EUR647.32 | EUR646.69 |
How do I compare service companies when transferring money between Canada and Latvia?
Exchange rates. Even a seemingly minor difference in the exchange rate can equate to a much larger amount of money reaching your recipient. Shop around for the transfer provider that regularly has the best exchange rates.
Transfer fees. Compare how much each company will charge you when you need to send a transfer. Also, check to see whether there are any hidden fees you should be aware of.
Transfer methods. Do your research to find out whether the company offers convenient transfer methods for you, including online, phone or in branch transfers.
Flexible options. Does the company offer flexible transfer options such as forward contracts, market orders and the ability to set up a recurring payment plan?
Turnaround time. Transaction processing times range from a few minutes to multiple business days, so make sure the turnaround time suits your needs.
Transfer limits. Some companies impose minimum and maximum limits on the amount of money you can send, which can be restricting if you need to send small or large amounts.
Pick-up options. Some providers offer bank account transfers, while others offer cash pick-up transfers.
Customer service. If you ever have a problem or a question, how will you be able to access customer service? Make sure help is available during convenient hours for both you and your recipient.
How do I send money to Latvia from Canada?
Specialist transfer companies. TorFX and World First are two companies that offer this service.
Cash pickup transfer providers. Western Union and MoneyGram are the two largest cash pickup transfer companies in the world.
PayPal. Both you and your recipient must have PayPal accounts in order to send and receive money.
Bank transfers. Banks can help you send transfers all around the world, but they usually don't offer great value for money.
International guaranteed cheques. Speak to your bank about the cost involved in obtaining an international cheque and mailing it to Latvia. This is the slowest way to send money overseas.
How do I receive money from Latvia in Canada?
Specialist transfer companies. Start researching now to find out which companies offer transfers from Latvia to Canada.
Cash pickup transfer providers. Both Western Union and MoneyGram have locations in Latvia and Canada. Visit a location or send a transfer online.
PayPal. Check out the fees and features of PayPal international transfers to see if this service is right for you.
Bank transfers. Another option is to receive a transfer from a Latvian bank account to your Canadian bank account.
International guaranteed cheques. Make sure you're aware how much your bank will charge in fees when you cash an international cheque. Keep in mind this is the slowest way to send money overseas.
Emergency cash transfers in Latvia
If you need to send cash to Latvia in an emergency, there are some companies who can get the money to your recipient in as little as 10 minutes. Be warned however, that urgent transactions generally cost a lot more. They attract higher transfer fees and lower exchange rates than normal, so it's essential that you double check all of the details of the transaction before you hand over your cash.
Cash pick-up at Western Union/MoneyGram branches in Latvia
If you want to send cash that your recipient can access from a nearby transfer branch in Latvia, Western Union and MoneyGram can help. Both companies run large international transfer networks and offer fast and secure transfers. The details of some popular cash pick-up locations in Latvia are listed below. Your recipient will need to present their photo ID and a transaction ID number when collecting the funds.
Western Union
Riga
Banknote Merkela Str 9Riga, Centrs +371-20259778 Open 8am to 8pm seven days
Banknote Marijas Str 1 Riga, Centrs +371-2546356 Open 9am to 8pm Monday to Friday, 10am to 7pm Saturday and Sunday
Daugavpils
Banknote Viestura Str 70a Daugavpils, Latgale +371-20258388 Open 8am to 8pm Monday to Friday, 9am to 8pm Saturday and Sunday
Latvijas Pasts Viestura 2 Daugavpils, LV 5405 +371-67608347 Open 9am to 7pm Monday to Friday, 9am to 1pm Saturday
MoneyGram
Riga
AS Privatbank Muitas Iela 1Riga, LV-101067852350 Open 9am to 6pm Monday to Friday
Valutas Maina Marika (1st floor)Brivibas Iela 30Riga, LV-101067286760 Open 24/7
Daugavpils
AS Privatbank Rigas Iela 40Daugavpils, LV-540365410600 Open 9am to 6pm Monday to Friday
Money Express Latgales Iela 15/2Rezekne, LV-460127700442 Open 8am to 8pm Monday to Saturday, 9am to 5pm Sunday
Tips for picking up cash in Latvia
Although Latvia is classified as a safe country for Canadian travellers to visit, you should still take a few basic steps to ensure your safety when picking up cash.
Take one or more friends along with you to deter thieves
Keep your money hidden and avoid displaying it in public
Don't pick up cash anywhere you feel unsafe
Avoid high-crime areas
Don't carry the money around with you for any longer than is completely necessary
What are the steps to send money to Latvia?
Register for an account. Most companies offer free online accounts that you can sign up for within minutes. You'll need to provide your name, contact details and bank account information.
Provide full transaction details. The next step is to provide information such as how much money you're sending, in what currency and where to. You'll also need to provide your recipient's name and contact details.
Pay for your transfer. Once you've reviewed the cost of your transaction, you can pay for your transfer. You'll usually be given a reference number that you can use to monitor the progress of your funds. Keep the number handy in case there are any issues with your transaction.
Ask an Expert
You must be logged in to post a comment.