Send money to Germany
Learn how to send money to Germany with an international money transfer service.
Most Canadian banks will allow you to send money quickly and easily to Germany, however they tend to charge high transfer fees and give poor exchange rates. Specialist money transfer companies on the other hand generally offer more competitive exchange rates, alongside faster transfer speeds and lower transfer fees.
If you need to send money from Canada to Germany or vice-versa, read our guide to find out more.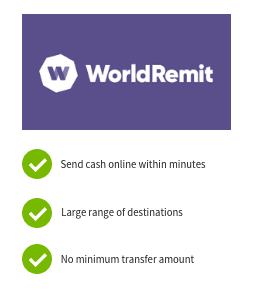 Send money to Germany with WorldRemit

WorldRemit can help you get your money where it needs to go in minutes, with upfront exchange rates and low fees.
Use promo code FINDERCA on your first transfer and pay zero fees. T&Cs apply.
Transfers to 150+ countries
Send to bank account, cash pickup, mobile money, airtime top up
Pay with card, Interac or Apple/Android Pay
Compare services that send money online to Germany
Disclaimer: Exchange rates change often. Confirm the total cost with the provider before transferring money.
Banks versus money transfer companies
Case study: Marie transfers money to Germany
The company Marie works for in Germany have asked her if she would like to oversee their operations in Canada for two years. Marie is looking forward to the experience, but would like to keep her small house in Hamburg. This requires her to pay a monthly mortgage, which she estimates is around $500 Canadian dollars a month.
In order to keep up with the payments, Marie decides to look into her options to transfer the money to her mother each month, who would then make the deposit for her. She starts by comparing a bank to a money transfer company on the assumption that she would need to send CAD$500 to make her monthly payment. You can see the results of her comparison below, using the exchange rate between Canadian dollars and euros at the time of writing. Check current exchange rates before making any decisions.
| | Money transfer company | Bank transfer service |
| --- | --- | --- |
| Exchange rate | CAD$1 = €0.62 | CAD$1 = €0.60 |
| Fee for transfer | CAD$4 | CAD$25 |
| Amount received in Euro (EUR) | €309.11 | €300.10 |
| Transfer time | One day | Three to five days |
| Transfer options | Bank deposit | Bank deposit |
| Difference | + €10.01 | |
As you can see from the table above, the money transfer service is much cheaper in terms of fees and can deliver the money much faster. Offering a better exchange rate, Marie will also be able to send €10.01 more each month.
How to compare transfer companies when sending money to Germany
Important factors to take into account when comparing companies include:
Exchange rate. Compare the offered exchange rate to the fees charged in order to determine how much your recipient will receive. Avoid considering only the fees or only the exchange rate since they can off-set one another. Some companies will hide high transfer fees inside a seemingly competitive exchange rate, while others may charge low fees and give a less competitive rate.
Pick-up methods. Some companies allow cash pick-ups, while others may only offer direct deposit to another bank account.
Transfer time. In the event of an emergency, some companies can send money within minutes. Others may take anywhere from hours to five days.
Minimum transfer amounts. Some companies will not allow a transfer of less than a certain amount of money, which may be anywhere from $5 to $1,000, or even higher. This is something to consider if you think that you may be sending smaller amounts of money. Furthermore, some companies set maximum transfer limits.
Transfer fees. Fees vary from company to company and in some instances will be on a sliding scale depending on the amount of money you are sending to Germany. Some companies will completely waive transfer fees if you send over a certain amount of money.
How to send money to Germany from Canada
The euro is a popular and well known currency, making it relatively easy to find a service provider that will allow you to send money to Germany from Canada.
Below is a partial list of the companies you can consider when comparing your money transfer options:
OFX. OFX is an online transfer service provider that allows you to set up an online account. You can lock in your transfer rate and the money transfer is completed upon receipt of your payment.
TransferWise. With low fees, you can transfer money online quickly and easily between Canada and Germany.
WorldRemit. Much like TransferWise, you can send money to Germany for low fees and have the money reach your recipient relatively quickly.
PayPal. If both you and your recipient have PayPal accounts, you can send money online using their services.
MoneyGram. You can send money in person from Canada and have it made available to your recipient as a cash pick-up in Germany.
Western Union. With Western Union, you can arrange for a cash pick-up in Germany or a bank deposit. You can send the funds online in Canada or visit a branch and send the money in person.
Emergency cash transfers in Germany
If you are visiting Germany and lose your wallet or have your cash stolen, there are a few ways for you to acquire some cash. These include:
Your credit card. Some credit card companies will send you cash while travelling to help you until your replacement card arrives if your credit card is reported lost or stolen.
Travel insurance. Your travel insurance policy should provide you with cash if your wallet is lost or stolen. Make sure that you file a report with the local police and keep a copy of the police report when filing your claim.
Cash transfer to a transfer service provider. Your Canadian passport or driver's licence will serve as valid ID for you to pick up cash sent to you from friends or family in Canada. If you use a service like MoneyGram or Western Union, you will be able to receive cash within minutes of the transfer being sent from Canada.
Cash pick-up locations in Germany
Below you will find a number of Western Union and MoneyGram locations that can be used for a cash pick-up in Germany. Before leaving to pick up your money, make sure that you have the reference number and a valid photo ID.
Western Union
Berlin

Deutsche PostBank AG

Torstr 105 107

Berlin, Berlin 10119

+49-22855003737

Open Monday through Friday 9am to 7pm. Saturday 9am to 1pm.
ReiseBank AG

Bahnhof Friedrichstrasse 141 142

Berlin, Berlin 10117

+49-3020455096

Open Monday through Friday 7:30am to 8pm. Saturday and Sunday 8am to 8pm.
Hamburg

Deutsche PostBank AG

Hamburg, Hamburg 20457

+49-22855003737

Open Monday through Friday 9am to 6:30pm. Saturday 10am to 1pm.
BB Tabakwaren

Moenckebergstr 7

Hamburg, 20095

+49-4032526403

Open Monday through Friday 9am to 7pm. Saturday 9am to 6pm.
MoneyGram
Berlin

Eurochange AG

Alexanerplatz IM S-BHF

Berlin, 10178

302415097

Open Monday through Saturday 8am to 8pm
DenizBank AG Berlin

Friedrichstr, 56

Berlin, 10117

8004886600

OPen Saturday through Wednesday 8:30am to 5pm. Thursday 8:30am to 5:30pm. Friday 8:30am to 4:30pm.
Hamburg

Reisebuero Clip – Hamburg

Willy – Brandt- Str 30

Hamburg, 20457

Phone. 4072005050

Hours. Monday through Friday 9:30am to 6pm. Saturday 10am to 2pm.
Sher-E-Punjab-Hamburg

Bremier Reihe 26

Hamburg, 20099

Phone. 16093331958

Hours. Monday through Friday 10am to 8pm. Saturday 10am to 7pm.
Tips for picking up cash in Germany
The Government of Canada recommends that Canadian travellers to Germany should exercise normal safety precautions. When picking up cash at an agency, you should ensure that you have a reliable mode of transportation and avoid public transportation. You should also make sure to go back to your hotel after completing the transaction to secure any excess cash in a safe place. If you are picking up a lot of money, call ahead to ensure the location has enough funds to give you all of the cash.
How to send money to Germany
Many specialist transfer services require that you register for a free account online. To open the account, you may need to supply your:
Full name as shown on your photo identification.
Home address, email address and phone number.
Your bank or credit card information that will be used to pay for transfers. You will also likely be asked to verify this before each transaction in the event that your information changes.
Driver's licence number or passport number for verifying your identity.
Once your account is established, the process of sending money to Germany will be made easier as you will only need to verify your details and input your recipient's information. This information may also be stored, which is a useful option if you are sending money to the same person consistently.
Ask an Expert
You must be logged in to post a comment.