Send money to France
Shop around for the best money transfer service for sending money to France.
With business, tourism and immigration, there is a need for affordable and quick ways to send money between the two countries. While most Canadian banks allow transfers to France, there are specialist money transfer companies that provide customers with more competitive exchange rates and lower fees.
Read our guide to find out how to send money between France and Canada quickly and affordably.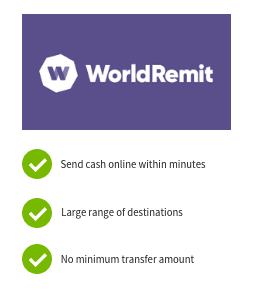 Send money to France with WorldRemit

WorldRemit can help you get your money where it needs to go in minutes, with upfront exchange rates and low fees.
Use promo code FINDERCA on your first transfer and pay zero fees. T&Cs apply.
Transfers to 150+ countries
Send to bank account, cash pickup, mobile money, airtime top up
Pay with card, Interac or Apple/Android Pay
Compare options for sending money to France below
Disclaimer: Exchange rates change often. Confirm the total cost with the provider before transferring money.
Case study: Guy travels to Canada
Before settling down after university, Guy, a Paris native, would like to spend some time in the French speaking province of Quebec. Hearing of the working holiday visa offered in Canada, he decides that this is a good opportunity to learn how to ski, while working at the same time.
Guy still has student loans to pay back home in France and needs to find out an affordable and reliable way he can send money back home to France. He does some research online to see how much it would cost to send $1,000 CAD to France monthly, and how many Euro (EUR) that would exchange to. You can see the results of his research below.
| | Bank | Money transfer company |
| --- | --- | --- |
| Exchange rate | $1 CAD = 0.61 EUR | $1 CAD = 0.64 EUR |
| Fee | $25 | $4 |
| Amount for $1,000 CAD | 602.50 EUR | 635.50 EUR |
| Transfer options | Bank transfer | Bank transfer |
| Transfer time | Three to five business days | One to three business days |
| Difference | | + 33 EUR |
Guy finds out that sending money through the specialist money transfer service will not only send his money to France quicker, but it will also save him 33 EUR per month, which is over 396 EUR in a year.
Keep more of your money by comparing transfer options effectively
There are a number of things to consider when transferring money from Canada to France. To ensure that you are getting the service you want at the best value, look closely at the following factors:
Exchange rate. Exchange rates will fluctuate with the market, so this is something you will need to look at frequently. Apply the exchange rate to a larger amount of Canadian dollars to see the true difference in value. While some companies may offer much more competitive exchange rates, you must be wary of any high fees hidden inside the offer.
Fees. As you can see from the above example, there could be a significant difference in the amount of fees you're charged. This amount may also change if you send higher dollar amounts. Some companies will completely waive their fees if you send over a certain amount of money, which is usually around the $5,000 or $10,000 mark.
Transfer options. Banks and some transfer companies offer the convenience of completing an international transfer online, while some transfer companies require you to go into their office. For example, you must visit a MoneyGram branch in Canada to send money.
Pick up options. Some transfer companies can send money directly to a bank account, while others may offer a cash pickup option.
Turnaround time. If you are sending money in an emergency situation, a transfer company is the best option, since some companies, like Western Union and MoneyGram, can send the money in a matter of minutes. Banks generally take three to five days to send the money, while some other transfer companies take anywhere from minutes to three or four days.
Choose the right transfer option to France depending on your situation
With the Euro being a highly recognized currency, you are going to find a few options available when choosing a money transfer company:
WorldRemit. WorldRemit allows you to transfer money online to a bank account in France. Offering some of the lowest fees around, WorldRemit also provide customers with competitive exchange rates.
Western Union and MoneyGram. Both of these providers give you the option to send money between Canada and France and have it available for cash pick up.
Travelex. If you're sending a minimum of $500, you can use Travelex to send money to France. They have a $15 (or equivalent) fee for transfers under $10,000, with transfers above this being free.
Use our comparison table to find out what options you have when transferring money to France.
Get your hands on emergency cash in France
France is one of the most visited countries in the world. If you are travelling in France and are robbed of your cash, you have a few ways of replacing at least a portion of it for the rest of your trip. These ways include:
Money transfer company. With a valid ID and the tracking code, you will be able to pick up cash from a money transfer agency in France. Have a friend or relative send you money from Canada using a company like Western Union or MoneyGram.
Emergency cash from your credit card. One of your credit cards may have international travel insurance that will cover you for lost cash while traveling overseas. They will make arrangements for you to receive money at a local bank or pick up location.
Travel insurance. You should always purchase travel insurance when travelling overseas. In the event that you are robbed or you lose your money, your insurance policy may cover the cash that was lost and send you replacement funds. If you are robbed, file a report with the local police and get a copy of the report to submit to your insurance company.
Cash pickup locations in France
Western Union
Paris

La Banque Postale

9 Place De L'hotel De Ville

Paris, 75004

+33-825009898

Open Monday through Friday 8am to 6:30pm, Saturday 8am to 11:30am, Closed on Sunday.
La Banque Postale

4 Rue De Moussy

Paris, 75004

+33-825009898

Open Monday through Friday 8am to 7pm, Saturday 8am to 12pm, Sunday closed.
Lyon

La Banque Postale

3 Rue Du President Edouard

Herriot

Lyon, 69001

+33-825-009898

Open Monday through Friday 8am to 6:30pm, Saturday 8am to 11:30am, Sunday closed.
Global Cash Sud

3 Rue De La Republique

Lyon, Lyon 69001

Phone. +33-4-78273545

Hours. Monday through Friday 9am to 6pm, Saturday 10am to 1pm, Sunday closed.
MoneyGram
Paris

MGF Agence Paris – Sebastop

45 Boulevard De Sebastopol

Paris, 75001

+014-0289439

Open Monday through Saturday 9am to 7pm, Sunday closed.
Tabac Saint Michel

22 Rue Saint Andre Des Arts

Paris, 75006

+331-46330808

Open seven days a week from 6am to 8pm.
Lyon

Tabac Presse De La Bourse –Lyon

55 Rue De la Bourse

Lyon, 69002

+047-8371318

Open Monday through Saturday 8am to 2pm. Sunday closed.
Terreaux GSM – Lyon

31 Rue Romarin

Lyon, 69001

+095-4380240

Open seven days a week from 10am to 10pm.
Pick up cash the right way when in France
If you are visiting France and need to travel to a cash pick up agency, call ahead to confirm their hours and to ensure that they have enough cash available. The Government of Canada recommends that tourists practice normal safety precautions, but when picking up cash, you should heighten your awareness of your surroundings and avoid taking lots of cash on public transportation or in busy areas where you may be a target for pickpocketing.
Send money to France effortlessly in four steps
If you are using a money transfer service to send money to France from Canada, the company you choose will dictate whether the transaction is completed online or in person at an agency. Either way, you are going to need to provide the following information:
Recipient name. When picking up cash, your recipient is going to have to show valid photo ID. The name on that ID must be exactly the same as the name on the transfer request.
Complete address. You will be asked to give the mailing address of your recipient.
Contact information. You will need to provide the phone numbers of both you and your recipient.
Security question. For added security, you can request that your recipient be asked a question created by you. They will provide the correct answer to receive the funds.
Once you have lodged the transaction, you will be provided with a reference number that you can use in case of any issues or simply to track the transfer. Make sure that you save the reference number or receipt in the event of a dispute.
As business, tourism and immigration continue to flourish between Canada and France, the need for affordable money transfer options will continue to grow. Do your research and consider all of your options when sending money overseas.
Ask an Expert
You must be logged in to post a comment.