Send money to the Czech Republic
Understand what your options are when transferring funds to the Czech Republic.
So you want to send money to the Czech Republic from Canada, but have no idea where to start? Luckily for you, we've compiled this handy-dandy guide to give you the tools you need to find the very best deal for you.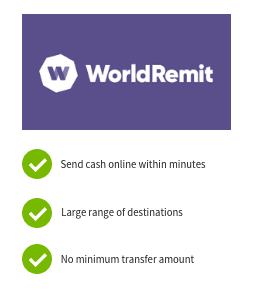 WorldRemit International Money Transfers

WorldRemit can help you get your money where it needs to go in minutes, with upfront exchange rates and low fees.
Use promo code FINDERCA on your first transfer and pay zero fees. T&Cs apply.
Transfers to 150+ countries
Send to bank account, cash pickup, mobile money, airtime top up
Pay with card, Interac or Apple/Android Pay
Compare transfer options for sending money to the Czech Republic
The table below is designed to allow you to peruse some of the options available for transferring funds to the Czech Republic.
Disclaimer: Exchange rates change often. Confirm the total cost with the provider before transferring money.
Banks vs money transfer companies
When it comes to sending money to the Czech Republic, your friendly neighborhood transfer company is often better-equipped to offer competitive exchange rates and lower fees than the bank. Why might that be? Unlike banks, which offer a wide range of financial services, dedicated transfer companies focus solely on currency exchange, meaning they can charge a lower margin on a larger number of transactions to turn a profit.
Case Study: Marek sends money to the Czech Republic
Marek is a second-generation Czech-Canadian living and working in Saskatchewan. Recently, Marek's brother and sister-in-law moved back to the Czech Republic to work with a prominent law firm in Prague, and just announced that they are in their third trimester of pregnancy, with a baby boy due in a little over 8 weeks. Marek, who has never been an uncle before, is elated and wants to send $1,000 as a gift for his nephew. Eager to ensure that as much of his money makes it to his brother as possible, Marek compares the fees and exchange rates of his bank against an online money transfer company. The results of his comparison are shown in the table below.
| | Canadian Bank | Money transfer service |
| --- | --- | --- |
| Exchange rate | CAD1 = CZK15.95 | CAD1 = CZK16.06 |
| Transfer fee | CAD15 | CAD10 |
| Amount received for CAD1,000 | CZK15,950 | CZK16,060 |
| Transfer time | 1 to 4 working days | 10 minutes |
| Transfer options | Online transfer, bank transfer | Online transfer |
| Additional funds received | | +CZK110 |
Marek realizes that he can save approximately CZK110 (around $7) in the exchange rate offered by the money transfer service, with an additional savings of CAD5 in fees, in comparison to what his bank would charge.
How do I compare transfer companies when transferring money to the Czech Republic?
Marek's experience goes to show how much money can be saved when you compare your money transfer option. He might recommend that you consider the following features when trying to decide which service is best for you.
Competitive exchange rates. Look for a service that offers bank-beating exchange rates, as close to the mid-market rate (the rate you can find by conducting a simple Google search) as possible.
Minimal fees. Many online transfer services will charge a flat fee, while others will charge a percentage of the amount you plan to send. Take the time to do the math and it will likely pay off in big savings.
Various transfer methods. Some services are all about direct bank-to-bank transfers while others deal mainly in cash pick-ups. Figure out what works best for you and your recipient and plan accordingly.
Fast transfer times. Cash pick-up services are often more reliable for fast transfers while banks will typically take a couple of days to process a transaction. Figure out how long you're willing to wait before settling on a service.
Reliable customer service. Reputation means a lot when it comes to currency exchange, and let's face it, some services are a cut above the rest. Search for customer reviews online and make sure that you will have 24/7 access to a knowledgeable service agent before you sign on the dotted line.
Back to top
Compare money transfer services to exchange CAD1,000
| | | | |
| --- | --- | --- | --- |
| Money Transfer Service | Transfer Fee (CAD) | Exchange Rate Markup(CAD) | Total in CZK minus fees (from $1000.00) |
| TransferWise | $10 | $15.8714 | CZK15,712 |
| Canadian Forex | $15 | $15.7375 | CZK15,500 |
| XE Money Transfer | $0 | $15.8741 | CZK15,874 |
| Currency Solutions | $0 | $15.8704 | CZK15,870 |
| WorldFirst | $10 | $15.8740 | CZK15,715 |
Rates current as of 13 March 2018
How do I send money to the Czech Republic from Canada?
Bank transfers. Certain Canadian banks can send money to the Czech Republic on your behalf, but chances are they will offer less competitive exchange rates and charge much higher fees than a dedicated money transfer service.
Online money transfer providers. Online money transfer services are a safe bet when it comes to sending money to the Czech Republic, especially if you have a hankering to save a few bucks.
Money transfer companies with cash pickup options. Dedicated cash pick-up services like Western Union and MoneyGram can help you to organize a transfer in minutes, directly into the hands of your recipient.
Back to top
Cash pick-up locations in the Czech Republic
If you or a loved one manage to find yourself in the Czech Republic, take a look around and you might be surprised to see a number of cash pick-up locations (specifically Western Union and MoneyGram) in your vicinity. While these transfer options are often a little bit more expensive, they can also prove handy if you (or your recipient) need fast access to cash in the event of an emergency. If you can't manage to track down a suitable agent location, feel free to access the links below for a more comprehensive list. If you do plan to use a cash pick-up service, just make sure you have identification, as well as a confirmation number and transfer details on hand when you go in to claim your money.
Western Union
MoneyGram
Back to top
Tips for picking up cash in the Czech Republic
If you're lucky enough to visit the Czech Republic, the Government of Canada website recommends that you exercise a normal degree of caution (as of 13 March 2018). If you do go to retrieve cash, whether from a bank machine or a cash pick-up location, be mindful of petty crime like pick-pocketing and purse snatching, particularly in and around popular tourist attractions, as well as in major hotels and at the Prague main railway station (Praha hlavní nádraží). Find a companion to accompany you to pick up cash during daylight hours, and return to your hotel if possible to stow that cash in a safe place before continuing your day.
Ask an Expert
You must be logged in to post a comment.