Send money to Austria
Learn how to send money to Austria with an international money transfer service.
Austria is one of the most stable countries in the European Union. The capital, Vienna, serves as headquarters for several international organizations concerned with maintaining security, atomic energy and peaceful relations.
There are many ways to send money between Canada and Austria. Most Canadian banks will allow you to transfer funds to the European nation, however they tend to charge high fees and give poor exchange rates. On the other hand, specialist money transfer companies tend to offer competitive exchange rates, while charging lower fees and having faster transfer speeds.
Read our guide to find out ways to send money overseas to Austria and save time, money and effort.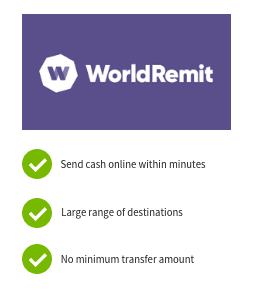 WorldRemit International Money Transfers

WorldRemit can help you get your money where it needs to go in minutes, with upfront exchange rates and low fees.
Use promo code FINDERCA on your first transfer and pay zero fees. T&Cs apply.
Transfers to 150+ countries
Send to bank account, cash pickup, mobile money, airtime top up
Pay with card, Interac or Apple/Android Pay
Disclaimer: Exchange rates change often. Confirm the total cost with the provider before transferring money.
Banks versus money transfer companies
Sophia left Toronto to accept a position with the Vienna Philharmonic. Besides playing with the orchestra and waiting tables twice a week, she also teaches the violin in the evenings. However, making ends meet is difficult, so she's grateful when her parents offer to help with rent and other living expenses.
Her parents are hesitant to try the services of a specialist online transfer company, so they always send money via their bank, usually for high fees and slow delivery speeds. Sophia decides to compare the services of two money transfer companies in order to save her parents and herself time and money. She compares the cost of sending $1,000 Canadian dollars, and considers how many euros she would receive.
| | Money transfer service 1 | Money transfer service 2 |
| --- | --- | --- |
| Exchange rate | CAD$1 = €0.61 | CAD$1 = €0.61 |
| Tranfer Fee | CAD$10 | CAD$4 |
| Amount received for $1000 | €613.53 | €613.78 |
| Transfer time | One day | One to two days |
| Transfer options | Online transfer only | Online transfer only |
| Difference | | €0.25 |
As you can see, it's more cost-efficient for Sophia's parents to send the money using the second transfer company since it charges lower fees. Compared to a bank, which will likely charge fees of around $25 and give a poor exchange rate, her parents will be able to save money and send more.
How do I compare service companies when transferring money between Canada and Austria?
When comparing money transfer companies, it's important to consider the following factors:
How do I send money to Austria from Canada?
There are several transfer methods from which to choose, including:
How do I receive money from Austria in Canada?
Compare the following companies:
You can also use the following companies:
Emergency cash transfers in Austria
Whether you're vacationing in Austria and need cash in a hurry, or a family member needs an emergency transfer, money transfer companies offering delivery within minutes would be your best bet to send emergency funds. Even in an emergency, take the time to compare exchange rates and transfer costs, as faster delivery generally comes at a much higher cost.
If your bank has a branch close to where you are, you can visit it in person and explain your situation. In the case of theft or an accident during a vacation, you can make a claim to your travel insurance company, but this may take too much time. Consider using a cash money service like Western Union or MoneyGram to send emergency funds.
Cash pick-up locations in Austria/Western Union/MoneyGram branches in Austria
Below are a few pick-up points for money sent through Western Union and MoneyGram in major cities across Austria.
Western Union
Interchange
Stephansplatz 9 Wien,
Vienna 1010
+43 1 5339622
Open Monday to Sunday 8am to 8pm
Postamt 1037
Marokkanergasse 17,
Vienna 1037
+43 1 5140032986
Open Monday to Friday 8am to 5pm
International Telephone Discount
Schoenaugasse 12 Graz,
Styria 8020
+800 3344 3355
Open Monday to Saturday 9am to 9pm,
Sunday 1pm to 9pm
Can Internet Café
Jakoministrasse 29 Graz,
Steiermark 8020
+43 650 9938590
Open Monday to Saturday 9am to 9pm, Sunday 12pm to 9pm
MoneyGram
Denizbank AG
SCHOTTENRING 10
Vienna, 1010
800886600
Open Monday to Friday 8am to 6pm
Phone Express Service
Mariahilfer Strasse 20
Vienna, 1070
676843367210
Open Monday to Saturday 12pm to 7pm
MS Finance Office
LAZARETTGASSE 3
Graz, 8020
6646379655
Open Monday to Sunday 9am to 8pm
Merlin Handy Shop
Ungergasse 13
Graz, 8020
6645816050
Open Monday to Friday 9am to 7pm, Saturday 9am to 6am
Tips for picking up cash in Austria
Austria is a relatively safe country, however you should be vigilant, especially in the bigger cities and at nighttime. Look out for suspicious individuals and don't flash any cash around. When receiving money, pick a location in a well-frequented area and make sure to get there during office hours. If possible, ask someone to accompany you, especially if you're collecting a large amount of cash. Avoid public transportation with large sums of money.
What are the steps to send money to Austria?
Most online services require that you register as a member before allowing the transfer. You'll need to provide your contact details, the amount you'd like to send and the recipient's account information. Select the transfer method and the pick-up option most convenient for your recipient, and hit send. The transfer service will confirm your transaction with an email. A tracking number helps you to keep an eye on your money as it makes it way to your recipient's account.
Ask an Expert
You must be logged in to post a comment.