Finder is committed to editorial independence. While we receive compensation when you click links to partners, they do not influence our content.
6 types of furniture financing
Need cash to upgrade your home decor? Here are your furniture financing options in Canada.
Furnishing a new home can be one of the most expensive aspects of moving. Even replacing a sofa or getting more clothing storage can be costly. Fortunately, there are several options for furniture financing in Canada that make it easier to get the items you want.
Promoted for
Flexible Terms
Promoted for
Excellent Credit
Promoted for
Fast Financing
6 furniture financing options
Depending on what you're buying and your financial circumstances, there are different ways to finance furniture in Canada.
1. In-store furniture financing
Many furniture stores offer in-store financing, partnering with a lending company to finance your loan. If approved, you can get a low or zero-interest rate for a set number of months. Popular stores that offer online or in-store furniture financing include: The Brick, Leon's, Wayfair, Furniture Depot, Urban Barn and Stoney Creek Furniture.
Pros:
Easy to sign up for
Many stores offer financing promotions with low or 0% interest for the first 6 to 24 months
What to watch out for:
Interest, which often ranges from 20% – 30%, may be deferred during the promotional period. You're saddled with the full cost if you don't pay back the loan within the promotional period.
There may be a minimum purchase requirement
You may be charged an admin fee
2. Personal loans for furniture financing
A popular alternative to in-store financing, personal loans are offered by banks, credit unions and online lenders. Online lenders have faster turnaround times and more flexible lending requirements. Banks and credit unions tend to have more competitive interest rates.
Apply for a specific amount, and get an offer that includes your interest rate and term length. The best rates and terms are offered to borrowers with strong credit scores and low debt-to-income ratios. Some lenders offer bad credit loans, but you'll pay high interest rates.
Pros:
Many lenders offer from $500 to $50,000, although some offer up to $100,000.
Interest rates often range from 6% to 47%, and terms are often between 6 months and 5 years.
Get funds within 1 – 3 business days with an online lenders
What to watch out for:
Early repayment fees may apple
If you fail to repay a secured loan, (requires collateral), you could lose assets.
Get a personal loan for furniture financing
Loan type
Loan amount & term
Min. credit score
Interest rate
Apply online
Loans Canada Personal Loan

$300 – $50,000
4 - 60 months

300
6.99% - 46.96%

Spring Financial Personal Loan

$500 – $35,000
6 - 60 months

500
9.99% - 46.96%

LoanConnect Personal Loan

$100 – $50,000
3 - 120 months

300
6.99% - 46.96%

SkyCap Financial Personal Loan

$500 – $15,000
9 - 60 months

600
19.99% - 39.99%

Mogo Personal Loan

$200 – $35,000
6 - 60 months

500
9.90% - 46.96%

Fairstone Secured Personal Loan

$5,000 – $50,000
36 - 120 months

560
19.99% - 24.49%
Overall representative example
If you borrowed $20,000 over a 5-year term at 9.50% APR (variable), you would make 60 monthly payments of $420.04 and pay $25,202.23 overall, which includes interest of $5,202.23. The overall cost for comparison is 9.50% APR representative.
3. Layaway
Not offered by every furniture retailer, layaway lets you make a deposit on the items you want and have the store set it aside for future pick-up. Make small payments until you've paid off the entire balance. Once your furniture is paid for, you can take it home.
Pros:
Usually interest-free
Customizable payment plans
What to watch out for:
You may be charged a service fee
Hefty cancellation fees often apply if you change your mind
Can't take furniture home until it's paid in full
You can't take advantage of sales that happen while you're paying off your furniture
Not offered by every retailer
4. Credit cards
Credit cards are useful when you're making small purchases. Borrow up to your credit limit by paying with your card, and pay zero interest during the grace period — usually 21 days.
What to watch out for:
If the balance isn't repaid within the grace period, your credit score may be hit and you'll pay interest.
Your credit score will be hurt if you use more than 30% of your limit
Scotiabank Value Visa Card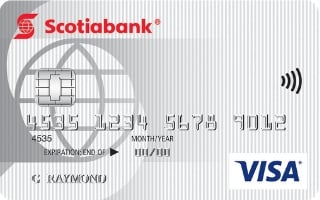 Credit recommended (660-)
Apply now
on Scotiabank's secure site
0% for 6 months, 12.99% thereafter
Cash Advance Rate
The Scotiabank Value Visa Card is a no-frills low-interest card that can help you save on Black Friday financing. You can use this card well beyond the holidays for more affordable cash advances and debt consolidation.
Low-interest rate. Low purchase and cash advance interest rates of 12.99%.
Balance transfer option. You can transfer other balances to this card and pay an interest rate of 12.99% with a 0% balance transfer fee..
Other perks. Get up to a 25% discount at participating Budget and AVIS car rental locations in Canada and the US.
Annual fee. This card has an annual fee of $29.
Limited benefits. No cash back or rewards.
Foreign transaction fee. This card has a foreign transaction fee of 2.5%.
| | |
| --- | --- |
| Annual fee | $0 intro annual fee for the first year ($29 thereafter) |
| Purchase APR | 12.99% |
| Balance transfer APR | 12.99% |
| Balance transfer fee | $3.50 |
| Rewards | Get an on-going low interest rate of 12.99% on eligible purchases. |
5. Rent-to-own plans
Not sure if you're ready to buy new furniture? Some stores let you rent furniture and return it any time with no fees.
Pros:
Doesn't usually require a credit check
Good if you only need furniture for a limited time (you're hosting a party or having guests live with you for a few months)
What to watch out for:
If you rent for a long time, you could pay more than the furniture is worth.
Some stores charge a large, final payment if you want to buy when the rental period is up.
6. Home equity loans and home equity lines of credit (HELOCs)
Home owners can borrow using their home as collateral. If you do this instead if getting an unsecured loan, lenders will likely offer more favourable rates and terms. A home equity loan comes in fixed amounts. A HELOC lets you borrow as much as you want up to a limit.
Pros:
Affordable financing option for borrowers with poor credit
Get competitive rates using your home as collateral
What to watch out for:
New home owners may not have enough equity built up to borrow against their homes' value
Risk of losing your home if you can't repay the loan
How do you get furniture financing in Canada with bad credit?
If you have bad credit and need furniture financing in Canada, personal loans from online lenders are an option worth considering. Some online lenders specialize in bad credit loans, although you'll pay high interest rates since lenders are taking on more risk.
Usually, you can fill out an application and find out if you're preapproved in around 10 minutes.
Martha wants to replace her master bedroom furniture with a new king-sized bed frame, mattress, dresser, wardrobe and 2 bedside tables. The set will cost $19,000 in total. Her husband wants to go on vacation, so they don't want to use up all of their savings on the new furniture. They decide to use $9,000 in savings and get a loan for the remaining $10,000. In-store financing is expensive, so they compare other lenders and settle on a personal loan with a competitive APR from their local bank.
Cost of furniture: $19,000
Loan type: Personal loan
Loan amount: $10,000
Interest rate: 5%
Loan term: 2 years
Additional fees: Origination fee of 3% ($300)
Monthly payment: $438.71
Total loan cost: $10,729.13
The information in this example, including rates, fees and terms, is provided as a representative transaction. The actual cost of the product may vary depending on the retailer, the product specs and other factors.
* This is a fictional, but realistic, example.
The drawbacks of in-store financing
Getting a loan with a 0% promotional period might seem logical, but there are some drawbacks to keep in mind.
Missed payments
If you miss a payment, the deferred interest clause could kick in and you could be stuck with high interest payments.
Consumer finance loans
If you have a term loan, it shows up on your credit report as a consumer finance loan, which is designed for poor-credit borrowers. If lenders see this on your credit report, they might not want to offer you good financing terms in the future.
Revolving accounts
Some furniture stores offer revolving credit, giving you constant access to a pool of funds. If you use all your available credit when buying furniture, your credit utilization ratio will go up, damaging your credit score.
How much does new furniture cost?
Knowing how much furniture may cost can help you decide on the right furniture financing option for you. The cost depends on the type and quality of furniture that you want. While you can get a dining room set for as little as $100 at IKEA and similar stores, you can easily spend 20 times that amount at a high-end retailer. Here are some common prices for various pieces of furniture from Wayfair Canada.
6 tips for saving before you finance furniture
Buy direct from the manufacturer. Wholesale prices from the manufacturer are often less than retail prices you find at the store or online.
Go to warehouse sales. It's common for furniture stores to open their warehouses to push out overstocked items, sell floor samples, returned or damaged furniture – often at a big discount.
Shop secondhand. Not only are secondhand items less expensive than new furniture, a well-made used item often lasts longer than its cheaply made counterpart.
Shop at the end of the month. Salespeople often have a monthly quota to meet and are sometimes more willing to budge on the price if they're short on sales.
Wait until January or July. New showroom styles usually come out in February and August, meaning that salespeople might be pushing to get rid of older styles the month before.
Sign up for sales alerts. If you don't need furniture now, signing up for sales alerts could help you find a deal you might have otherwise missed.
Bottom line
In-store financing is easier than taking out a personal loan and could be a good deal if you're able to make repayments on time and before the financing period is up. However, personal loans come with less risk and could end up saving you money if you have good or excellent credit. Compare personal loans.
Frequently asked questions about furniture financing