Finder is committed to editorial independence. While we receive compensation when you click links to partners, they do not influence our content.
Compare fair credit loans in Canada
Learn about personal loans for people with fair credit and compare the best options for you.
If you're struggling with less than perfect credit, you may want to check out fair credit loans in Canada. These loans are reserved for borrowers with credit scores between 560 and 660. While fair credit personal loans come with higher interest rates than traditional loans, they are usually still affordable and can even help you build your credit with on-time payments.
Compare personal loans for fair credit in Canada
| Loan provider | APR | Loan amount | Loan term | Min. monthly income | |
| --- | --- | --- | --- | --- | --- |
| | 6.99% - 46.96% | $100 – $50,000 | 3 - 120 months | No min. income | |
| | 5.4% - 46.96% | $300 – $50,000 | 4 - 60 months | $1,000 | |
| | 19.99% - 39.99% | $500 – $15,000 | 9 - 60 months | $3,333 | |
| | 9.99% - 46.96% | $500 – $35,000 | 6 - 60 months | $1,800 | |
| | 8.00% - 54.00% | $1,000 – $35,000 | 36 - 60 months | $15,000 annually | |
| | 9.90% - 46.96% | $200 – $35,000 | 6 - 60 months | $13,000 annually | |
| | 18.90% - 46.93% | $500 – $15,000 | 6 - 60 months | $2,000 | |
| | 15.99% - 39.99% | $500 – $15,000 | 6 - 60 months | Not disclosed | |
Is a fair credit loan right for me?
A fair credit personal loan comes with slightly higher interest rates than a traditional loan in return for more flexible eligibility requirements. See a quick breakdown of how fair credit loans in Canada stack up against other loan types to decide if they're the right fit for you:
Good credit loans. You'll usually need a minimum score of 660 (and sometimes 700) to qualify. These loans come with the most competitive rates.
Fair credit loans. You can apply for fair credit loans in Canada with a score between 560 and 660. Expect to pay slightly higher interest rates than with good credit loans.
Bad credit loans. For scores below 560, you may want to explore bad credit loans. These loans often come with very high interest rates, so compare your options carefully. Compare the best bad credit loans in Canada.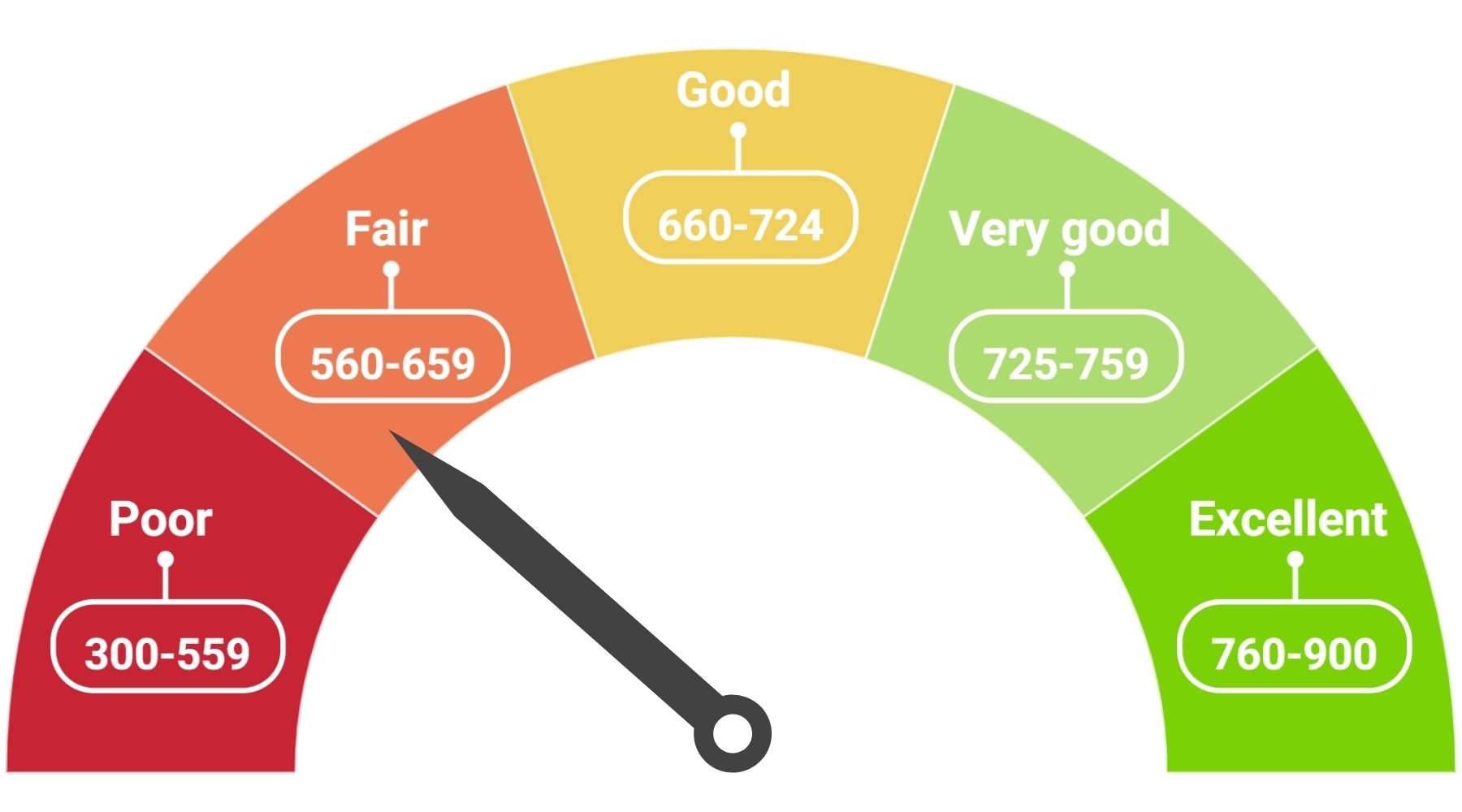 Why do fair credit personal loans come with higher interest rates?
Lenders need to carefully select who they loan money to, and they use a borrower's credit score to help them determine who is most likely to pay them back. If you have fair credit, it usually means you've been late on a payment or two or have fallen behind on small debts.
What this tells lenders is that there's a small chance you might miss or default on payments with them. To account for this risk (and make their reward higher), they increase your interest rates. This is why your rates will be higher with fair credit loans and bad credit loans.
Where can I find personal loans for fair credit in Canada?
You can find fair credit personal loans in Canada through online and in-person lenders:
Online lenders
Private lenders. Private online lenders often accept lower credit scores than banks, with some relying more heavily on factors such as your income to get you funded.

Examples: Mogo, Fairstone, LendingMate and Flex Money

Online brokers. Online loan brokers can help you prequalify with multiple lenders at once. They also let you compare rates, fees, loan amounts and terms side-by-side.

Examples: Loans Canada, LoanConnect and Lend for All

Peer-to-peer lenders. These innovative online platforms can connect you with everyday Canadians willing to fund your loan – usually with lower interest rates than the bank.

Examples: goPeer and Reddit (r/borrow)
In-person lenders
Banks. You may be able to get a personal loan from a bank if you have a credit score close to "good", a stable job, a low debt-to-income ratio and a net worth that's higher than the amount you're looking to borrow. You'll also increase your chances of approval if you put up collateral.

Examples: National Bank and HSBC

Credit unions. Credit unions are not-for-profit, member-run financial institutions. You'll need to meet the same requirements as those from banks to get a credit union personal loan.

Examples: Vancity, Meridian, Coast Capital, Servus, First West, Desjardins and Alterna
How much does a fair credit loan cost?
The cost of a fair credit personal loan will depend on your APR (interest rate plus the fees you must pay to get the loan), the amount you borrow and your loan term.
Interest rate. The interest rate you pay is the single most important factor that will affect your loan cost. Fair credit loans tend to come with higher interest rates (usually 15% to 35%) so be sure to compare lenders to get the best deal. Compare personal loan rates in Canada.
Fees. Your costs will be higher if you choose a lender that charges administration fees, early repayment fees, late fees or insufficient funds fees. Learn more about personal loan costs.
Loan amount. The more you borrow, the more you'll pay in interest over time. Only borrow what you need and try to pay it back as quickly as you can wherever possible.
Term. The shorter your loan term, the higher your monthly payments will be, but the less you'll pay in interest over time. Avoid longer term loans if possible since they're much more expensive in the long run, even if it seems like you're paying less.
Eligibility requirements for fair credit loans
While eligibility criteria vary between lenders, you'll usually need to meet some version of the following criteria to apply for fair credit loans.
Be a Canadian citizen or resident. You'll need to prove you're Canadian, are a permanent resident or have a valid visa in Canada. You can do this by showing ID such as your passport or driver's licence.
Be the age of majority. You have to be 18 or 19 years old, depending on the age of majority for your province. Again, submit documents such as your passport or driver's licence to prove your age.
Meet minimum income requirements. Some lenders require a minimum monthly employment income of around $1,800–$2,000. Others accept forms of government assistance. Prove your income with bank statements, pay stubs or tax returns. Learn more about minimum incomes for personal loans.
Have consistent employment. A lender may require you to show proof of your employment through a letter from your employer or by contacting your employer directly. Online lenders want to see three to six months minimum. Banks and credit unions will want to see at least three years at your current job, but if you don't have this, they'll also look at your previous jobs.
Meet the minimum credit score. Online lenders are more accepting of fair credit scores than banks and credit unions.
Have an active bank account. You'll typically need an active bank account to receive your funds and to set up loan repayments. You'll also need a valid Social Insurance Number to apply in many cases.
Steps to apply for a fair credit personal loan
Here's a step-by-step guide on what to expect when you get a personal loan with fair credit:
1. Get your credit report
If you haven't already, get a free copy of your credit report from Equifax or TransUnion. Check for any discrepancies that may be bringing down your credit score. Filing a dispute and correcting these discrepancies will increase your credit score and get you more favourable rates.
2. Compare lenders and check eligibility criteria
Zero in on lenders that accept borrowers with fair credit or use a broker to help you find a provider and compare rates. You may end up with several options, so decide which features are most important to you, including loan amounts, interest rates and flexibility with repayments.
3. Apply to your top choices and wait for pre-approval
Fill out a quick online form with the lenders you're interested in to apply for personal loan pre-approval. This step lets you compare the actual rates and amount you'll receive based on your credit score and personal financial situation, rather than what's advertised on a lender's website.
4. Pick a lender and complete the application
Pick the fair credit personal loan with the best rate and terms. Provide your identity, income and employment verification documents or go through instant bank verification and wait for approval.
5. Review and sign your final loan offer
Once your lender verifies your identity and your income, you'll receive your final loan offer. Read through your loan agreement, taking factors such as your loan amount, interest rate and fees into account. Once you sign, you should receive funds in your bank account within one to two business days.
6. Make sure you have a solid repayment plan
Set money aside and think carefully about how you plan to stay on top of your bills. This might involve setting up automated repayments or a detailed budget to keep yourself on track. If you make on-time payments, it can help rebuild your credit score. If you think you might miss a payment, be proactive in reaching out to your lender to discuss your options.
How do I compare personal loans for fair credit?
Compare the following features when comparing fair credit loans in Canada:
Interest rates. Rates will usually start on the slightly higher end, and you can expect to pay 15% to 35% on average. Make sure to compare lenders to find the best rates and terms for your loan.
Loan terms. Loan terms can vary from 6 to 60 months (or they can be more if you use your house as collateral). Look for the shortest term to save money on interest, but make sure your payments will be manageable.
Turnaround time. Think about how fast you need the money. Private online lenders will usually have a turnaround time of one to two days while peer-to-peer lending, bank and credit union loans can take one to three weeks. Learn more about fast personal loans.
Fees. Some lenders may charge administration fees, NSF fees, late fees and early repayment fees on your loan. Read the fine print to make sure you don't end up with hidden charges.
Eligibility criteria. Check which eligibility criteria are required to apply. You may need to meet specific credit score and income requirements in addition to basic age and residency requirements.
Lender reputation. Look for a lender that has a solid reputation for customer service by searching for reviews on Google, Trustpilot and the Better Business Bureau. A solid social media presence and a modern website also help to prove a lender's legitimacy. Learn more about personal loan scams and legit lenders.
4 ways to improve a fair credit score
Besides fixing errors on your credit report, you can take the following actions to help repair your credit if you're struggling to qualify for fair credit loans in Canada:
Make on-time payments. Always pay your bills on time. This will help to show that you're a responsible spender. Many fair credit lenders will report on-time payments to the credit bureaus to help build your score.
Pay off open balances. Your credit score will go up if you have credit available on revolving funds such as credit cards or lines of credit. Pay off your balances or spend only a small portion of your available credit to increase your score.
Avoid closing unused accounts. If you close an old account, you lower your available credit. This affects your credit utilization score and can lower your rating. Keep old accounts open, but avoid taking on new "immature" debt as this is viewed unfavourably.
Don't overspend your credit card. Don't spend more than 30% of your credit card limit every month.
What are some alternatives to personal loans for fair credit if I don't qualify?
If you're struggling to get a personal loan for fair credit, and you don't have time to improve your score, you may want to consider the following options.
Payday advance apps. Payday advance apps use your income, not your credit score, to determine your loan eligibility. The downside is that you can usually only borrow a few hundred dollars at a time.
Auto title loans. Auto title loans use your car title as collateral. This means your fair credit score likely won't prevent you from qualifying, but it also means you pay higher interest rates. And if you default, you may have your car repossessed.
Cosigned loans. Cosigned loans let you apply alongside a friend or family member who has a good credit score. Their credit score will be used to determine your loan eligibility, but they have to agree to be on the hook to pay off your loan if you default.
Bottom line
Many lenders offer fair credit loans, and you can qualify with a credit score as low as 560. However, watch out for high interest rates. If you have time, take steps to improve your credit score first so you can get better offers.
Frequently asked questions about loans for fair credit
More guides on Finder
Ask an Expert
You must be logged in to post a comment.