Find out how to borrow money fast
There are safe and reliable ways to get money fast if you need it.
Do you need money quickly, to pay a bill or an unexpected expense? The process to find quick money can often be daunting and frustrating and you may not know where to begin. Our guide covers the different ways you can borrow money fast so you don't have to worry about being short of cash in between paycheques.
⚠️ Warning: Be cautious with payday loans
Payday loans are expensive. If you're experiencing financial hardship and would like to speak to someone for free financial counselling, you can call Credit Counselling Canada from 8:00am to 5:00pm Monday to Friday at +1 866-398-5999. Consider alternatives before applying for a payday loan:
Local resources. Government agencies, nonprofits and local charities often offer free financial services and help with food, utilities and rent for those in need.
Payment extensions. Talk with your bill providers about a longer payment plan or extension on your due date if you're behind on payments.
Side jobs. Today's digital marketplace offers the ability to more easily sell unwanted items, sign up for food delivery or drive for rideshare services.
Cash Money Payday Loan
Apply online
and get approved for up to
$1,500
. Receive your funds in as little as
15 minutes
with INTERAC e-Transfer®.
Loan amount: $100 - $1,500
Loan term: 12-14 days (varies by province)
Borrowing costs: Varies by province (Between $15-$19 per $100 borrowed)
Bad credit borrowers: OK
Key requirements: 18+ years old, min. $1,000 net monthly income
Go to site
More info
3 ways to borrow money fast
Credit card cash advances
A credit card cash advance is a cash loan that you take out through your credit card. You can typically get a same day credit cash advance one of three ways: by visiting your bank branch in person, by withdrawing money from an ATM or by having the money deposited into your chequing account.
The total amount you can borrow from a credit card advance is usually a percentage of your credit limit.
Fees can be charged as either a lump sum or a percentage of the amount being borrowed. Although you can repay the cash advance over a long period of time, interest accrues on the balance immediately and tends to sit around 24.99%, sometimes higher and occasionally lower.
You will need to have available credit on your card to take out a cash advance.
Getting a credit card cash advance
Short term loans
An online short term loan, also known as a payday loan, is an option that gives you access to money quickly and typically comes with a brief repayment period, which is generally 2 weeks to one month, depending on your next pay day. This is why they are known as payday loans, because you generally pay it back when you receive your next paycheque.
Online short term loans tend to have less strict requirements than a traditional loan, but they often come with much higher interest rates too.
The best way to minimize how much a short term loan will cost you in interest is to only borrow the exact amount of money you need to cover your expenses and choose the shortest repayment period you can afford. For example, you may just need $200 to last you until your next payday.
Borrowing a smaller amount of money and paying it back quickly will help you afford the repayments and pay the loan off without getting yourself into a vicious cycle of debt.
Compare short term cash options
Check the websites of any lenders you're interested in to confirm they operate in your province or territory of residence.
Maximum borrowing costs
You should always refer to your loan agreement for exact repayment amounts and costs as they may vary from our results. The table below shows the maximum allowable cost of borrowing under a payday loan for each province:
| Province | Maximum allowable cost of borrowing |
| --- | --- |
| Alberta | $15 per $100 borrowed |
| British Columbia | $15 per $100 borrowed |
| Manitoba | $17 per $100 borrowed |
| New Brunswick | $15 per $100 borrowed |
| Newfoundland and Labrador | $21 per $100 borrowed |
| Northwest Territories, Nunavut & the Yukon | $60 per $100 borrowed |
| Nova Scotia | $19 per $100 borrowed |
| Ontario | $15 per $100 borrowed |
| Prince Edward Island | $25 per $100 borrowed |
| Quebec | Limit of 35% annual interest rate (AIR) |
| Saskatchewan | $17 per $100 borrowed |
Personal loans
A personal loan is a form of credit offered by many lenders and financial institutions like banks. They generally come with lower interest rates and higher maximum amounts than a credit card cash advance or a payday loan.
If you don't need cash right away and are able to wait a few days to receive the money, a personal loan may offer you a more affordable option for borrowing money.
The eligibility criteria for personal loans is usually more strict than payday loans and credit card cash advances, requiring good to excellent credit and a regular income. However, there are options available for personal loans if you have bad credit as well.
Options for borrowing online
You can turn to an online lender for a variety of different loan products, including:
Online short term loans. Some lenders offer same day or even instant approval online. Your repayment terms will vary depending on the lender, but it could be as short as one week or as long as one month.
Online auto title loans. If you own a car, you can use it to get a secured online loan. You maintain full use of the car while paying the loan off. Since the loan is secured, you'll usually get a lower interest rate.
Online personal loans. You can apply online for a personal loan through many lenders. Be sure to check the eligibility criteria to make sure you qualify for the loan before applying for it.
How do you compare online loans?
The following features can help you narrow down your search and find the right loan for you:
Interest rates and fees. This is one of the primary features you should look for when comparing online loans, especially if they are short term loans. Depending on the province/territory you live in, annual percentage interest rates (APR) and fees can differ and typically have maximum limits, so ensure the lender is operating within those restrictions. If they are not, this should be a red flag.
Application and turnaround time. Check to see how long it takes to apply for and receive your loan. If you need funds deposited into your bank account within the same day or by the next day, a lender who takes three or more days to approve your loan won't suffice.
Eligibility. Lenders have different eligibility criteria, with some stricter or more flexible than others. Check to see if you meet the eligibility criteria before applying for the loan.Back to top
What are the benefits and drawbacks of borrowing money online?
Benefits
Compare a range of options. There are many lenders operating online, and you can compare them all in one place. This is easier than driving to separate lender locations and comparing the costs in person.
Easy applications. Once you've found the loan you want to apply for, you can complete and submit your application in a few minutes without having to print or fax any documents.
Receive the loan directly into your account. When you apply online for a loan, the money is sent directly into your bank account. Some lenders will also give you the option of picking up your loan in person at a store or kiosk, or having the money deposited onto a prepaid debit card.
Drawbacks
High fees. Expect to see high interest rates, especially with credit card cash advances and payday loans. Short term loan options typically end up costing you double or triple the amount you borrow.
Untrustworthy lenders. There are predatory lenders who work to capture you in a spiral of debt. Be careful who you borrow money from and always check that they are operating legally and are a reputable lender.
Short repayment terms. If you decide a payday loan is the best option for you, make sure you have the ability to repay it on the due date. A late or missed payment can end up costing you a lot in extra charges and may result in you entering the vicious cycle of debt.
What you need to borrow money online
Once you have found a reputable lender and the loan you wish to apply for, you'll need some of the following details ready:
Personal. Your name, date of birth and other contact information.
Financial. Your income, employment details or government benefits.
Banking. Details of your bank account and your bank's transit number and address may be required.
Alternatives to borrowing from a lender
If you're concerned that you won't qualify for a loan or you are looking for a way to get fast cash without affecting your credit score, there are other ways.
Look into picking up side work, borrowing money from a friend or simply requesting more time to repay your debts. These will help you avoid costly interest rates and the potential spiral of debt some people get into with short term loans.
| Alternative | What you can do |
| --- | --- |
| Ask for more time | If you have a bill and you know you're just not going to be able to pay on time, give the company a call and ask for an extension. You'll be surprised that many companies will work with you to come up with a repayment timeframe that works for both of you. If you can't pay the bill at all, you may have less negotiating power. You can try asking to speak with a repayment representative and see if they can waive the late fees, give you more time or even work out a more flexible repayment schedule. |
| Ask your family or a friend | Ask your family or a good friend to lend you some money. They may be willing to offer you a cash loan with no interest. Make sure you agree to repayment terms. Nothing can kill a great relationship like never repaying borrowed money. |
| Ask your employer | Some employers may give you an advance on your wages, and some big companies have employee loan assistance programs. If you speak with your manager, you might even be able to discuss ways in which you can earn some more money with the company, or you may be given a bonus if you have been going above and beyond. Take a moment to think about any ways you could quickly earn some more money with your employer because they already trust you and they can pay you quickly. |
| Sell something | Perhaps you have some things in your house that you no longer need and could sell. Some examples are: baseball cards, stamps, rare coins, an old cell phone and an old stereo or tv. Look around your house and try and to find something you don't use but has value. You could quickly put it on Kijiji or a local reselling app and get some quick cash. |
| Do some side gigs | Check online for some quick cash jobs. Sites like Craigslist and Kijiji have jobs sections which generally include part time gigs like writing, manual labour, event coordination, creative or design work, database work, pet sitting or even housesitting. Try to find a few similar gigs and compare compensation so that you can get the most money for your time. |
Online loan vs. other lenders repayment costs
As an example, your estimated repayments if you borrowed $1,000 are:
| Type of Lender | Estimated repayment cost | Turnaround time |
| --- | --- | --- |
| Short-term loan without a credit check | ~$1,450 if paid back within 3 months | Next day |
| Cash advance on your credit card | ~$1,150 if paid back within 3 months | Instant (ATM withdrawal) |
| Online bad credit personal loan | ~$1,600 if paid back in 12 months | 1-5 business days |
What determines how much my loan costs?
Your interest rate and loan term determines how much you pay for your loan in the short and long run. Lenders typically determine your interest rate based on your credit score and income compared to your debt — the better your credit score, the lower your interest rate, though it varies by the type of loan you take out. A longer loan term makes for smaller monthly repayments, though you'll end up paying more in the long run.
Payday loans are regulated differently by each province or territory, so the cost will depend on where you live. Provinces and territories that regulate short term loans have restrictions on the APR, the cost you can be charged per $100, the loan term and the amount you can borrow.
Are payday loans available in my province or territory?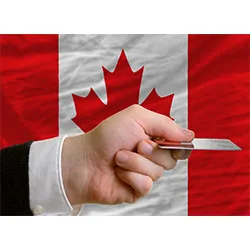 Payday loans are available in all provinces and territories across Canada. You should be aware that payday loans are regulated by individual provinces, meaning costs and fees can vary between.
Ensure that any lender you choose abides by the laws of the place you live.
Find out how much lenders can charge across Canada
At the time of writing in June 2018, the Yukon, Nunavut and the Northwest Territories do not have legislation regulating payday loans.
What are the payday loan regulations in my province or territory?
Hover over your province or territory in our interactive map to see if payday loans are regulated on the provincial or territorial level and the maximum cost per amount borrowed – darker shades correspond with a higher cost. You can also click on a province or territory to see its short term loan options.
Frequently asked questions
More guides on Finder