How to get a $500,000 business loan
Get the funds you need to expand, support and invest in your small business.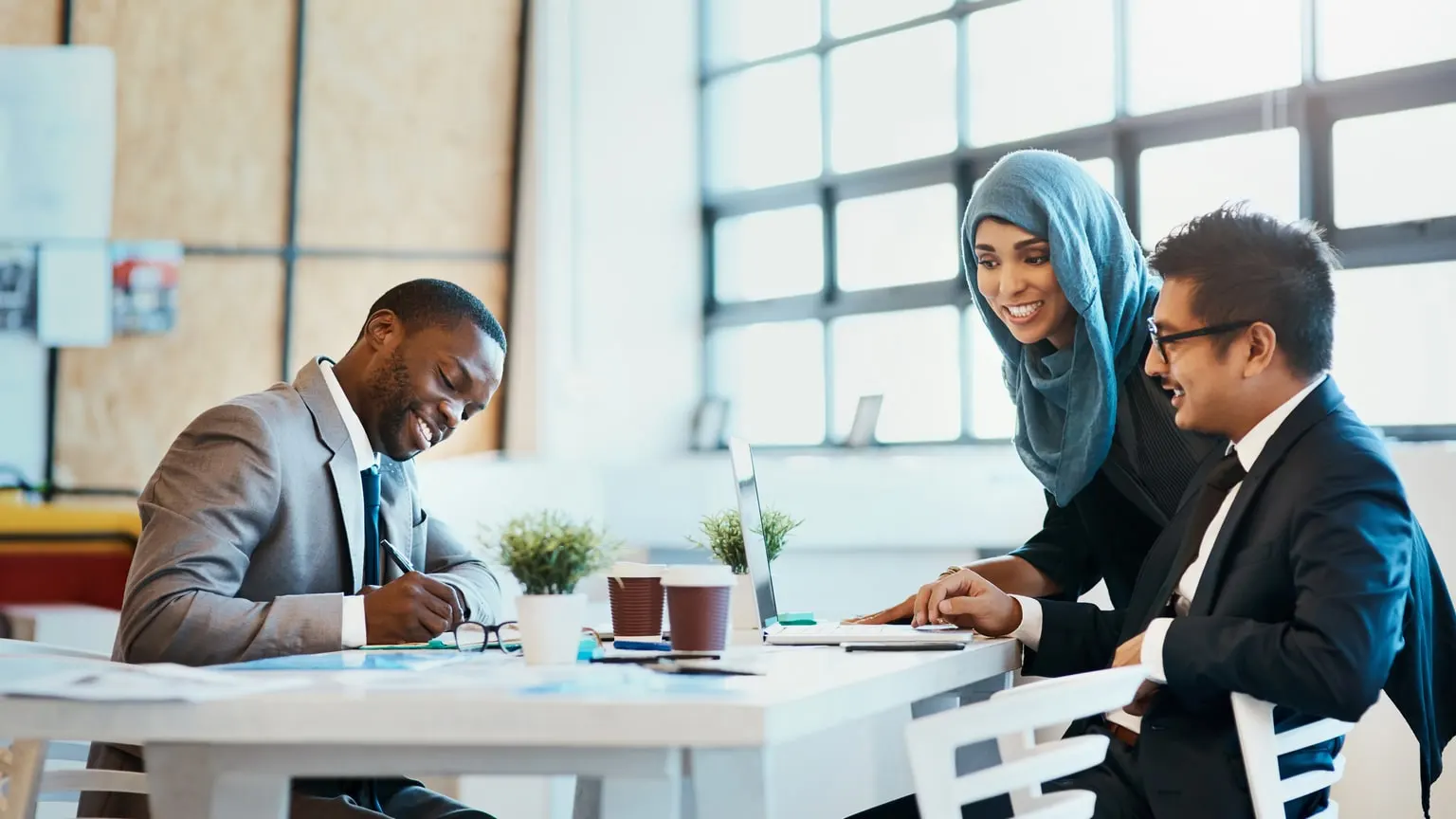 A successful business can outgrow its office space, equipment and even its workforce, and when this happens, you'll likely need access to more capital. While a $500,000 business loan isn't easy to get approved for, there are some banks and online lenders that offer this kind of money. But you'll need to meet minimum annual revenue and time in business requirements in order to be eligible.
$500,000 business loans
How to get a $500,000 business loan
To qualify for a business loan of this size, you and your business must typically meet criteria that includes:
Time in business. Most lenders require that you've been in business for at least a year.
Annual revenue. Your business will likely need to bring in at least $100,000 annually in revenue.
Personal credit. Lenders tend to rely on personal credit scores rather than business credit scores. You'll likely need a good credit score of 650 or higher to qualify. It's also common for business lenders to ask for a personal guarantee from the owner.
Where to get a $500,000 business loan
Many Canadian financial institutions such as banks, credit unions and online lenders offer $100,000 business loans. You may even qualify for a CSBFP loan, which is primarily backed by the government and comes with favourable terms designed to support small- and medium-sized businesses.
These loans can be applied for through a chartered bank, credit union or a caisse populaire and are at least 75% backed by the Government of Canada. Your business must make under $10 million in revenue annually to be eligible for this program. You can access up to $1,000,000 in funding, but you'll need to be a for-profit business, use the loan funds for specific approved purposes, earn less than $10 million in revenue annually and operate a business in Canada.

BDC Small Business Loan

With a small business loan from the BDC, you can get up to $100,000.00 online to fund any business expense. There are no application fees, and no personal assets are used to secure the loan (but you will have to provide a personal guarantee). Repayment terms are 5 years, and you can postpone capital payments for 6 months. There are no penalties for paying off your loan early. Eligibility requirements include:

You must be a Canadian citizen or permanent resident
You must have a Canadian-based business
Your business must be generating revenues for at least 24 months

You must have a good credit history
You must be at least the age of majority in the province or territory where you live (either 18 or 19 years old)

The BDC offers a very competitive rate on small business loans. The interest rate is normally the BDC's Floating Base Rate of 4.55% plus a variable rate of 1%-12%. However, as of March 31, 2020, the BDC has temporarily lowered the interest rate to 2.80% in light of COVID-19. (The interest rate is subject to change without notice).

Banks and credit unions

Although all of Canada's major banks can help you apply for a CSBFP loan, Scotiabank offers its own in-house business loans of up to $1 million and BMO offers commercial mortgages of up to $1 million to buy or refinance business real estate. You can also get financing from credit unions such as Coast Capital, which offers short-term loans of up to hundreds of thousands of dollars as well as term loans and lines of credits in varying amounts.

Online lenders

You might be able to find a $500,000 business loan from an online lender – but most don't offer this amount. If you do find such a lender (like Lending Loop), you'll likely need an annual revenue of at least $100,000, a good to excellent credit score and your business needs to have been operating for several months to several years.

Secured and unsecured business loans for $500,000

Secured business loans must be backed by an asset and sometimes require a specific purpose — such as buying a vehicle, equipment or real estate. This means you'll need to offer up collateral – whether it's something you already own or a tangible item that you plan to buy with your loan funds. A secured loan is far less risky for the lender, since if you default on the loan your collateral could be seized.

It may be possible to get an unsecured business loan of $500,000 from major banks or online lenders. To qualify, you typically need a high personal credit score, your business needs to have an annual revenue of more than $500,000 and it needs to be well established.
Best* small business loans of 2020
Steps to get a $500,000 business loan
Major banks may offer loans of up to $500,000 for qualifying businesses, but you can also turn to the Canada Small Business Financing Program (CSBFP) to get this type financing on competitive terms. Although each lender has its own process, these steps can serve as a general guide to finding the right loan option for your business:
Compare lenders. Your first step should be to compare business loan lenders. Each lender has its own requirements that can make the difference between approval and rejection.
Prepare financial documents. Lenders want to see your business plan, annual revenue projections, bank statements, tax documents and other information that demonstrates your business's ability to repay a loan.
Speak with a financial advisor. Loop a financial advisor into your plan for a $500,000 business loan to ensure your business can afford it and develop a plan to repay it.
Apply for preapproval. This allows you to see your loan's potential terms before your personal or business credit is officially checked. Not all lenders offer preapproval, but if it's available, take advantage of it.
Review and sign the loan contract. If approved, review your loan contract with your partners and financial advisor to ensure the terms are beneficial for your business.
Costs of a $500,000 loan
How much you'll repay on a $500,000 business loan depends on two main factors: your loan's APR and the loan term.
The APR is an expression of your loan's interest rate and fees as a percentage. The lower the APR, the less you'll pay in interest over the life of the loan.
The loan term is how long you have to pay back the loan in full. The shorter your loan term, the higher your monthly repayments will be – but a longer loan term means you'll end up paying more in interest.
Let's take a look at an example. Say your business takes out a $500,000 loan with an APR of 18% and a two year term. With this loan, your business can expect to pay $24,962.05 monthly for a total of $99,089.22 in interest and fees.
Business loan calculator
If you have multiple loan or refinancing offers on the table and aren't sure which one to choose, calculate the total cost of each loan option to decide which one will best meet your business's financial needs:
How do I use the business loan calculator?
To determine how much your business loan will cost you, simply fill out the following fields in the calculator:
Loan term and amount. Select how long you need to repay the loan and enter the amount you intend to borrow.
Bank name. Enter the names of your lenders.
Fixed rate and period. If your loan comes with a special introductory fixed rate, enter the rate and how long the intro period lasts.
Ongoing rate. Enter the ongoing rate you'll pay for your loan here.
Upfront fees. If your loan has an origination or application fee, add it here.
Fees. If the loan comes with any ongoing fees, you'll need to add them here and select how often they're charged.
Prepayment penalty. If you're charged a prepayment penalty for paying off your loan early, enter the amount here.
Calculate. Click the Calculate button to see which lender costs less and each lender's fixed, ongoing and total repayments.
If a section in the calculator doesn't apply to you, leave it blank. You can adjust the loan amount, term length and any other variables to help you get an accurate idea of how much you can borrow and what sorts of terms to look for when applying with different lenders.
Bottom line
When applying for a $500,000 business loan, you'll need to consider more than whether you meet the eligibility requirements. $500,000 is a lot of money – and you'll need to be sure that you can afford the monthly repayments and that the loan is going to help your business in the long run.
Want to learn more? Head to our comprehensive guide to business loans, where you can compare lenders and learn more about the world of business financing.
Frequently asked questions
Ask an Expert
You must be logged in to post a comment.