Finder is committed to editorial independence. While we receive compensation when you click links to partners, they do not influence our content.
Review: Veem business transfers
Veem uses blockchain technology to cut costs on international business transfers.
Quick verdict
Good for
Business transfers
Low-cost international payments
Transfers in a wide range of currencies
Both large and very small transfers
Not so good for
Same-day transfers
USD transfers
Non-bank transfers
Personal transfers
Veem exchange rates and fees
Veem aims to offer cost-effective international money transfers with zero fee transfers, barring a few exceptions such as the following:
USD to USD international transfers cost US$20
Domestic transfers in USD cost US$1
Veem also offers competitive exchange rates, normally adding 1.5% to 1.9% as a margin to cover its own fees.
Available currencies
Veem claims to offer every single currency, including the following:
USD: United States dollar
PHP: Philippine Peso
AUD: Australian dollar
JPY: Japanese yen
NZD: New Zealand dollar
GBP: British pound
ZAR: South African rand
EUR: Euro
However, the countries available are different depending on whether you're sending or receiving funds.
You can send money to over 90 countries, but can only send money from 25 countries.
What types of transfers can you make with Veem?
Veem only supports transfers from bank account to bank account, but as a business-focused payment provider, it offers a range of additional features, including the following:
Accounting tools. You can connect QuickBooks, Xero and NetSuite to Veem, so you can switch payment providers with minimal disruption to your existing systems.
Financing. You can finance invoices on a case-by-case basis to improve cash flow.
Rewards programs. Veem offers rewards programs, such as $1 cashback for every $2,000 converted to a foreign currency and more.
Mass upload. Save time by creating multiple payments at once.
Multiple users. You can create a single account for multiple users, with different permission levels for each.
You cannot use Veem for personal transfers yet. It only accepts business transfers, such as payments to overseas freelancers or remote workers.
How long does a transfer with Veem take?
Veem takes 1-3 days to process payments from the time a transfer is initiated.
Transfers typically take
1-3 days
Is Veem safe to use?
Security and regulation: Government-regulated and licensed, 2-factor authentication (2FA), certified by Comodo cybersecurity service
Established: 2014
Reviews: Trustpilot gives Veem a 6.8 out of 10, based on over 540 reviews*
Investors: Goldman Sachs, National Australia Bank (NAB)
*According to Trustpilot on 19 July 2019.
How does Veem make money?
Although Veem claims not to have any fees for many of its transfers, it does add a margin to mid-market exchange rates. Mid-market rates are the "official" exchange rates at any given time, so you can think of the margin difference as being a fee paid through exchange rates.
Veem may also have additional revenue sources, such as referral programs for business credit cards and loans as well as interest charged on invoice financing.
How to register an account
Veem says users can create an account in under 20 minutes.
How do I make an international money transfer with Veem?
There are two ways to send or receive payments through Veem. The first is to simply send or receive a one-off payment.
You do this by submitting a payment request to another Veem member, who can then check and confirm your request.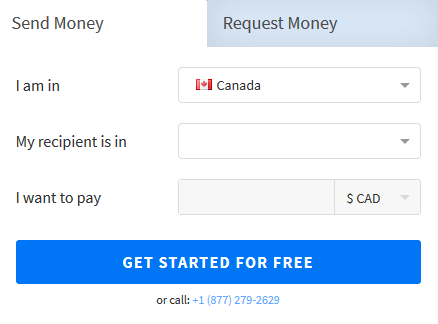 The second way is to submit an invoice:
Log in to your Veem account, enter the email address and the details of the business you are invoicing and upload your invoice.
The party you are invoicing will receive an email from Veem with payment instructions, including the amount of payment requested in their local currency. Once this email is sent, your invoice status will change to Invoice sent.
The other party then makes a payment to Veem. At this point, your invoice status will change to Funds received.
Veem will then send the funds to your bank account, at which point the invoice status will change to Funds sent.
What is Veem?
Veem is a San Francisco-based fintech company. It was built to start using blockchain architecture as a next-generation payment infrastructure.
Veem aims to replace the old wire payment methods used by banks, similar to how voice over Internet protocol (VoIP) has largely replaced telephone lines.
In a nutshell
Pros
Cost-effective transfers. Competitive exchange rates and minimal fees make Veem a more cost-effective option than using a bank.
No limits. Once your account is all set up, there is no limit on how much you can transfer. It's suitable for both high- and low-volume transfers.
Feature-filled. Rewards programs, batched payment functions, multiple users and accounting software integration cement Veem's value as a business payments provider.
Cons
No high-speed transfers. It will take several days for payments to go through. The first payments can take even longer as Veem needs to verify identities.
Bank transfers only. Both the sender and receiver must have a bank account since there is no credit card or other payment option.
Business only. You cannot use Veem for personal transfers. It's for business use only.
How does Veem compare to other business providers?
Looking for other options? See how Veem stacks up to other business payment providers.
Disclaimer: Exchange rates change often. Confirm the total cost with the provider before transferring money.
FAQs
More guides on Finder
Ask an Expert
You must be logged in to post a comment.