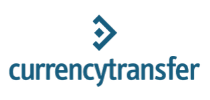 Minimum Transfer Amount

£5,000

Maximum Transfer Amount

No limit

Fastest Transfer Speed

24 hours

Receiving Options

Bank account

Available Currencies

AED, AUD, BGN, CAD, CHF, CNY, CZK, DKK, EUR, GBP, HKD, HUF, ILS, JPY, MUR, MXN, NOK, NZD, PLN, QAR, RON, SAR, SEK, SGD, THB, TRY, USD, ZAR
Our verdict
This unique international money transfer service lets you shop around for the best exchange rate on a single platform.
Forget about paying transfer fees with CurrencyTransfer as there aren't any, no matter what the transfer amount. You'll also have spot contracts, market orders and forward contracts to help you get the best rates.
But no fees means there'll be a markup to the exchange rates. And while there's no minimum or maximum limit to transfer, Currency Transfer accepts that it can't add much value to transfers under £5,000 or equivalent so you'll want to check the rates carefully for smaller transfers.
Only a limited number of currencies are supported, transfers can only be made during the week and there's no mobile app to use.
Pros
Good for sending large international money transfers with competitive exchange rates.
Cons
Look elsewhere if you need to send less than £5,000 GBP (around $8,000 CAD).