Finder is committed to editorial independence. While we receive compensation when you click links to partners, they do not influence our content.
CAD 2,000
Min. Transfer Amount
No limit
Max. Transfer Amount
Details
Min. Transfer Amount
CAD 2,000
Max. Transfer Amount
No limit
Transfer Methods
Online, Phone
Transfer Speed

Minimum transfer time

2 days
Online Transfer Fee
CAD 0
Available Currencies
AED, AUD, BGN, BHD, CAD, CHF, CZK, DKK, EUR, GBP, HKD, HRK, HUF, ILS, INR, JPY, MAD, MUR, MXN, NOK, NZD, PLN, RON, RUB, SAR, SEK, SGD, THB, TRY, USD, ZAR
| | |
| --- | --- |
| Online Transfer Fee | CAD 0 |
| Branch Transfer Fee | CAD 0 |
| Phone Transfer Fee | CAD 0 |
Why should I consider using Currencies Direct?
Currencies Direct has many features that make it appealing:
90% of its transactions are free, and those that aren't have terms that are clearly spelled out ahead of time.
All users have access to forward contracts, limit orders and similar advanced features.
Rate alerts can be set to notify you when the market reaches your ideal transfer rate.
Transparent exchange rates will clearly show you how close the rate you've locked in is to the wholesale rate, best rate you could get.
What to watch out for
Currencies Direct has limitations, including:
Only supports 60 global currencies, so your currency of choice may not be supported if it isn't commonly traded.
Currencies Direct doesn't offer any type of cash transactions so you must pay and receive by bank account.
Is Currencies Direct expensive?
Creating a personal account with Currencies Direct is free, and you won't pay any account maintenance or transfer fees down the line. Occasionally you may face a third-party fee when using Currencies Direct, but this fee can sometimes be avoided by picking a different third party for your transfer.
Currencies Direct exchange rates
Currencies Direct provides live exchange rates 24/7. When you exchange funds through it, the rate will be slightly different from the mid-market rate.
Because it doesn't charge any fees, Currencies Direct has to make its money another way. In this case, it goes a route that's typical of online international transfer services — it takes a margin on the exchange. This means you won't exactly get the mid-market rate, but it's still competitive when compared against other transfer services.
Case study: Sending funds to a friend in Finland
Let's say you're looking to get some money to a friend living in Finland but you're not in a particular hurry. Using Currencies Direct, you can set up a rate alert to let you know when the interbank — or mid-market — rate hits what you're looking for. Here's what the process would look like:
Set your target rate through Currencies Direct.
You're alerted by email or text if/when your target rate is hit.
Log in to your account and start your transfer.
Complete your transfer using the stronger rate you set, instead of the weaker rate the banks were offering when you first decided to send money.
Where banks may come out ahead are transfer times. Because you're sending the money to Currencies Direct and it's then sending the money to your recipient, it may take longer than directly wiring it from one bank to another. It may take 2 or more business days to make the transfer with Currencies Direct, whereas a bank wire may go through in as little as one business day.
Fees explained
Although Currencies Direct typically doesn't charge any fees for transfers sent through its platform, your transfer may still end up costing you more than you expected. Keep in mind that:
Currencies Direct will notify you if it's going to charge you a fee.
Your bank may charge you a fee for outgoing and incoming transfers, and receiving bank may charge your recipient to accept your transfer.
These fees can often be avoided by calling your bank ahead of time to discuss free transfer options.
Currencies Direct reviews and complaints
Currencies Direct enjoys excellent reviews on TrustPilot, with 93% of reviews giving it 5 stars. Only 2% of reviews on Trustpilot are 1 star, and Currencies Direct has responded to 70% of the negative reviews it has received. Many customers leave glowing reviews about how informative the staff is, for example, "The transfer was smooth, quick and very efficient. Both gentlemen were extremely helpful and always available to answer any questions we had… I wouldn't hesitate to use Currencies Direct again and highly recommend them."
However, some common complaints on the negative side touched on the frustration of opening an account and the frequency of which Currencies Direct contacts its customers. Many of the negative reviews on Trustpilot have responses directly from the company offering to fix the problem at hand however possible.
Currencies Direct reviews accurate as of May 25, 2021.
| | |
| --- | --- |
| Trustpilot | 4.9 out of 5 — based on 5,586 customer reviews |
| iCompareFX | 84 out of 100 — based on staff reviews |
| MoneyTransfers | 3 out of 5 — based on staff reviews |
What types of personal transfers does Currencies Direct support?
Payments can be made to Currencies Direct in two ways:
Bank-to-bank transfer
Debit card (GBP and EUR cards only)
These payments can be made over the phone, online or if you live close to a physical branch, in person. Unfortunately Currencies Direct doesn't accept credit card payments at this time.
How do I send money through Currencies Direct?
You can send money a variety of ways using Currencies Direct. Follow these steps to get your funds where they need to be:
Register for an account online.
You'll need to supply identifying documents when you apply, including a copy of government-issued ID — such as your passport — and bank statements.
Initiate the transfer.
Start the process online, over the phone or in person. You'll agree upon the exchange rate before committing to the transfer.
Fund the transfer.
Use a bank transfer or debit card to pay Currencies Direct.
Your funds are delivered.
Typically your funds will be transferred to Currencies Direct the same day you send them. Delivery times can vary based on where you're sending the funds and how long they take to clear with Currencies Direct.
How do I track my Currencies Direct transfer?
You can track your transfer online using the website on your desktop or mobile app on your smartphone. Log in to your account to track your transfer.
You'll also be sent an email as soon as your funds are sent from Currencies Direct.
How does Currencies Direct compare to other services?
Our table lets you compare the services you can use to send money abroad. Compare services on transfer speeds and fees, then click Go to site when you're ready to send.
Disclaimer: Exchange rates change often. Confirm the total cost with the provider before transferring money.
Is Currencies Direct safe to use?
Currencies Direct has been in business since 1996 and is licensed and regulated in many countries around the world:
Canada
South Africa
Spain
United Kingdom
USA
In addition to these licenses, Currencies Direct maintains a Level 1 Dun & Bradstreet credit rating, the highest possible through the agency, and transferred more than £7.5 billion pounds in 2019.
Does Currencies Direct have a mobile app?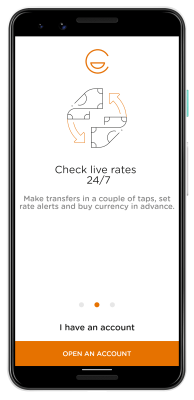 Yes, Currencies Direct has an app available on both the App Store and through Google Play. Through the app, you can do the following:
Set rate alerts. Create and monitor rate alerts to stay on top of your transfers wherever you are.
Send money. Create transfers and send them directly through your mobile phone.
Manage transfers. See a history of your transfers and track transfers currently in progress.
Access customer support. Find phone numbers and customer service emails if you have any issues.
| Reviews accurate as of May 25, 2021 | |
| --- | --- |
| Google Play Store | 4.1 out of 5 — based on 327 customer reviews |
| Apple App Store | 3.7 out of 5 — based on 73 customer reviews |
Bottom line
Currencies Direct has years of experience in the international money transfer game, and with its promise to beat the banks, it's a strong contender for getting your funds to friends and family worldwide. Before you sign up, make sure Currencies Direct services your state.
You can also use our guide to compare international money transfer services if you find Currencies Direct doesn't meet all your needs.
Frequently asked questions
Can I make a forward contract?
Yes. Forward contracts can be held for up to a year, but require a deposit.
Are international money transfers safe?
Currencies Direct transfers money the same way a business or bank would.
Federal protections are also in place to hold banks, credit unions and money transfer companies to certain standards when it comes to international transfers. For example, it must disclose all fees upfront.
How long will it take for my money to reach its destination?
Most transfers arrive within 48 hours, depending on where you're sending the funds and how long it takes your money to clear with Currencies Direct.
Can I arrange a transfer over the phone?
Yes. Currencies Direct also allows you to submit a transfer request via phone.
How do I know when my payment has been sent?
Currencies Direct will send you a confirmation email as soon as your funds have been sent to your recipient's account.
Can I cancel a transfer with Currencies Direct?
No. Once you have confirmed a transfer it cannot be cancelled.