Swoop Funding Business Loan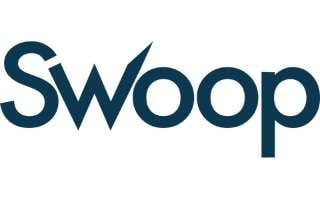 Interest Rate

4.00% - 25.00%

Loan Amount

$1,000 - $5,000,000

Loan Term

3 - 60 months

Minimum Revenue

$10,000 /month

Minimum Time in Business

24 months
All information about Swoop Funding Business Loan has been collected independently by Finder. Finder is not connected with Swoop products, and this page is not sponsored, endorsed or administered by, or associated with, Swoop. All product names, logos, and brands have been used for identification purposes only and are property of their respective owners.
Our verdict
Access from $1,000 to $5,000,000 in business funding with a business loan from Swoop.
Swoop partners with banks and alternative lenders to match your business with the right funding options. Register and browse your offers for free without affecting your credit score.Swoop's virtual business finance platform gives businesses of all sizes access to the funding they need from the lenders that are best suited to them.
Business loans with Swoop are typically available from $1,000 up to $5,000,000, though this will depend on the circumstances of your business and the lender that you opt for.
3 things to know about Swoop Funding Business Loan:
Rates typically from 4.00% - 25.00%
Secured and unsecured loan options available
Loan terms can last anywhere from 3 - 60 months