Linda and Grant, a retired married couple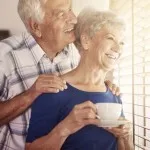 As a couple, Linda and Grant receive $1,500 in retirement income each month. They've paid off their house and have a small source of additional income from a rented-out investment property. While their payments are enough to support their lifestyle, they don't have the means to make additional larger purchases. When their car stopped working, they considered taking out a loan to buy a replacement.
Option 1: They looked into an auto title loan to purchase a vehicle. Since an auto loan is a secured loan, they found they could get a competitive interest rate.
Option 2: They also looked into an unsecured loan option so that their car couldn't be taken away in the event they fell behind on loan repayments. They looked into peer-to-peer loans, which can also come with competitive interest rates.
Ultimately, Linda and Grant decided on a peer-to-peer loan because they felt more comfortable borrowing money without having to attach collateral.