Finder is committed to editorial independence. While we receive compensation when you click links to partners, they do not influence our content.
Loan and grant options available for minority-owned businesses
Find out what types of specialized programs exist for minority-owned businesses.
Borrow from $5,000
Quick application process
Fast funding
Check eligibility
Building a successful business requires hard work, personal sacrifice and the unglamourous reality of getting the funding you need. If you're a minority, you may qualify for financial opportunities designed to help your business succeed. We'll take you through various loan and grant options, who can get them and how to apply.
What types of business loans are available for minorities?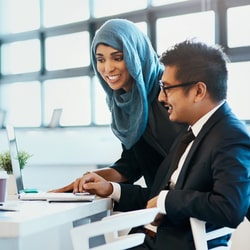 There are many business loans available to entrepreneurs in Canada – among them, offerings targeted at people who face a greater number of challenges in helping their businesses succeed.
Innovation Canada – the Canadian government department tasked with growing the economy by supporting innovators and entrepreneurs – has a large database of government funding opportunities and services. It would be worth your while to search through this database to find national and provincial/territorial financing that you could qualify for.
Additionally, you should also take a look at funding offered by the Business Development Bank of Canada (BDC), the nation's only financial institution that operates solely for entrepreneurs. The BDC has many financing opportunities and training resources for a wide range of business people including young entrepreneurs, indigenous people, newcomers to Canada, female entrepreneurs and others.
Remember that there are many business financing opportunities not specifically geared towards minority groups that minority business owners can still take advantage of.
Canada Small Business Financing Program (CSBFP) Loan.

The Canada Small Business Financing Program (CSBFP) Loan offers loans of up to $1 million to startups and small businesses that gross $1,000,000 or less per year. You can apply for this loan through many banks including TD Canada Trust, CIBC, Scotiabank, BMO and HSBC. The amount you qualify for ultimately depends on how the bank evaluates your loan application and credit score. Learn more in our detailed guide.

Futurpreneur Canada.

Canadian citizens or permanent residents aged 18-39 who are not already receiving a BDC loan could qualify for a loan of up to $20,000 from Futurpreneur Canada, a nonprofit organization dedicated to helping young entrepreneurs grow their businesses.
Non-governmental business loans.

You can also apply for loans through banks, credit unions and private lenders. Compare business loan options you might qualify for in the table below.
Compare other business loan options
The following business loans are available to both minority and non-minority business owners, so long as they meet lenders' eligibility criteria. Criteria typically centres around business-related factors (as opposed to ethnic or social factors) and can include having a minimum business income, being in operation for at least a certain number of months or years, having a minimum credit score and other factors.
What small business grants are available for minorities?
While you may be able to find some grants for minority business owners in Canada, you'll have more luck with loans. Despite the sparse availability of grants geared specifically towards minority entrepreneurs, there are many business grants on both the federal and provincial/territorial levels that minority and non-minority business owners are welcomed to apply for.
The Government of Canada has a database where you can search for available grants and contributions. (Contributions are similar to grants but often come with an agreement outlining requirements – sometimes called "performance conditions" – on how the funds will be used.) Also, check your provincial/territorial government website for more information on funding for minority business owners.
What's the difference between a loan and a grant?
Short answer – loans have to be paid back, but grants don't. A loan is usually paid back with interest, meaning you pay extra for the convenience of borrowing money you don't have at the moment. A grant is free money. You can keep it without any fees and without having to pay it back. But beware that some grants require a minimum investment from the business owner for funds to be released.
Legal protection for minority business owners
Canadian law protects minorities from being discriminated against in the process of applying, and getting approved for, business loans. Grounds for discrimination are laid out in the Canadian Human Rights Act, which makes it illegal to treat a person or group badly based on any of the following factors:
Race
National or ethnic origin
Colour
Religion
Age
Sex
Sexual orientation
Gender identity or expression
Marital status
Family status
Disability
Genetic characteristics
A conviction for which a pardon has been granted or a record suspended
Minority groups can be broadly classified by characteristics such as ethnicity, gender, physical disabilities and other social and economical designations.
According to the Employment Equity Act, the Canadian government considers visible minorities to be "persons, other than Aboriginal peoples, who are non-Caucasian in race or non-white in colour" (S.C. 1995, c. 44, current to Feb. 11, 2020).
Loan qualifications for minority-owned businesses vary by lender and program. If your business has multiple owners, some of whom are not minorities, you may have to show that the minority business owners have the primary (larger) stake in the company. Certain loans or grants may also come with limitations on the size or revenue of businesses that can qualify for funding. Additionally, lenders may want to check your personal and/or business credit history.
Other sources of funding
A merchant cash advance lets you borrow money in exchange for a percentage of your daily credit card and debit sales, so the amount you pay will be lower when you sell less. Lenders determine the amount you can borrow by looking at your historical sales data.
Often used by B2B (business-to-business) and B2G (business-to-government) companies, this option consists of lenders advancing you an amount based on what customers owe you. Factoring companies charge a small percentage of the value of your invoices as either a fixed rate fee or a tiered fee that increases based on how long customers take to pay their invoices.
Angel investors are wealthy groups or individuals who give money to promising businesses with the expectation that those businesses will grow and return a sizeable profit. This type of financing is often given to companies that specialize in software, technology, mass market consumer goods, equipment and specialist products.
An increasingly popular alternative to traditional business loans, crowdfunding allows you to advertise a new product idea or startup business and allow anyone – friends, family or complete strangers – to contribute small amounts of money to help you reach your goal. In exchange, donors get some form of compensation or gift, which varies based on your preferences and the crowdfunding platform you're using.
How to apply for a business loan or grant
It's smart to outline your business plan before applying for funding – donors and lenders will want to see that you have a solid plan for success but that you need financial help to succeed. You should also gather documentation showing the state of your personal finances, especially if you're applying for a loan based on financial need. Expect to get a hard check on your credit score as well.
Application checklist
Requirements for different loans and grants vary, but here's a quick guide to the documentation you may need:
Your business tax returns.
Financial statements for your business for the past three years.
A balance sheet for your business for the past three years.
Lease agreements.
Proof of business ownership.
Business asset transactions.
State filings.
Your personal financial information.
A detailed long-term business plan.
A prepared presentation that goes over your business plan and statement of need.
If you already have a business in another country and want to expand to Canada, check out this government hub for information and resources on how to immigrate your business and what policies apply to you.
Frequently asked questions
More guides on Finder
Ask an Expert
You must be logged in to post a comment.