Supported assets

5,500

Price (USD)

$149

Wallet type

Hardware wallet
This is not an endorsement of cryptocurrency or any specific provider, service or offering. It is not a recommendation to trade or use any services.
Our verdict
The top-tier Ledger Nano X lets you go mobile and do more with your crypto
The Nano X is one of the most secure and feature-rich hardware wallets on the market today.
If you invest in a broad range of crypto assets, you'll appreciate being able to store the private keys to over 5,500 digital assets as well as your NFTs offline.
And you can use your Nano X in conjunction with Ledger Live to buy and sell crypto with and for fiat or to swap one crypto asset for another.
Bluetooth connectivity lets you take your wallet on the go with iOS and Android. But if you're not concerned about mobile connectivity, the more affordable Nano S Plus will likely give you everything you need.
Keep in mind that Ledger's staking UI has never been its strength, but this is a small trade-off for safely storing the private keys to your digital assets offline while you put your assets to work.
Before purchasing the Nano X — or any crypto wallet for that matter — do your research on other crypto wallets in deciding which is best for you.
It bears remembering, though, that hardware wallets like the Nano X are still widely considered one of the safest ways to store your crypto, particularly if you're a high-volume investor or plan on holding for the long term.
Pros
Large screen size (128 x 64px)

Supports 5,500+ tokens

Runs up to 100 apps simultaneously

Highly secure; CC EAL 5+ rating

Native support for NFTs

Bluetooth enabled

Android and iOS compatible

Can buy and sell crypto directly from your wallet
Cons
No touch screen

Buttons can be slow to use

Can't stake many cryptos via Ledger Live

Inputting PIN repeatedly can be tedious

Ledger Live firmware updates can enable recovery phrase extraction
Our Ledger Nano X unboxing
What's in the box?
⚠️ Must read
Before using your Ledger Nano X, carefully check the shrink wrap and box for any evidence of tampering.
If someone has accessed your device, it may be vulnerable to hacking and theft of funds.
Contact Ledger support if you have any concerns about the integrity of your device.
You'll find the following items inside the box for your Ledger Nano X:
Ledger Nano X device
USB-C cable used to connect the device to your computer
A cardboard "Getting started" envelope containing

Directions.
A use, care and regulatory statement.
Three recovery phrase sheets.

A Ledger sticker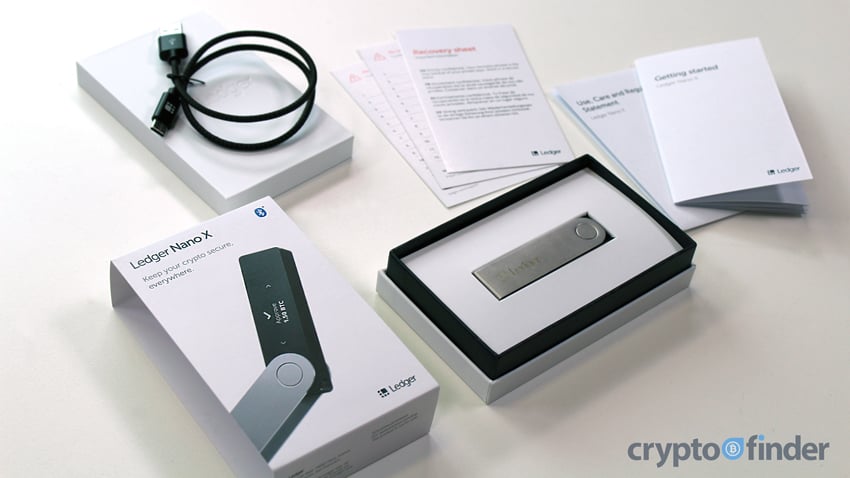 Nano X plus price
The Ledger Nano X sells for US$149 through Ledger's official website.
This price point makes it the mid-range hardware wallet in the Ledger line, which also includes the Nano S Plus (US$79) and the newly released Ledger Stax (US$279).
While the Nano X is more expensive than some other hardware wallets, it's cheaper than comparable hardware wallets from competitors, like the Trezor Model T, which retails for US$219.
Where to buy the Nano X in Canada
Purchase the Nano X directly from Ledger's website - and not from a third party - to reduce the chances of someone tampering with your device before it reaches you.
If you decide to buy from a reseller, the authorised retailers listed on Ledger's site are the only ones you should consider.
Nano X supported coins
The Nano X can store private keys to more than 5,500 digital assets, just like the Nano S Plus and original Nano S.
If being able to manage a wide range of coins is important to you, you'll be hard-pressed to find a better cold storage wallet outside of Ledger's line. Trezor's range of wallets comes in next best with support for around 1,456 assets.
The Nano X is superior to Ledger's other devices in terms of asset storage because it has 2MB of storage capacity compared to the Nano S Plus's 1.5 MB and the Nano S's 320KB. This means that the device has more capacity to run crypto apps and store the keys to more crypto assets simultaneously.
Managing NFTs on the Nano X
You can also store the private keys to your NFTs on your Ledger Nano X.
With native support from the Ledger Live app, you can view and manage your NFTs on the Ethereum and Polygon blockchains.
You can also store the private keys to NFTs on other blockchains like Solana and Cardano on your device, but you'll have to sync your Nano X with a third-party app like MetaMask.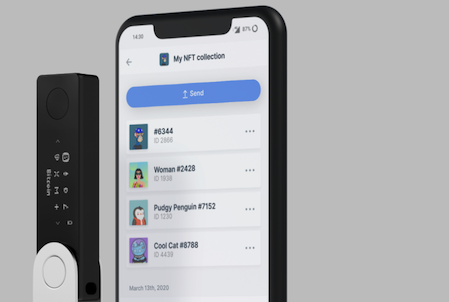 Ledger Nano X security
All Ledger hardware wallets, including the Nano X, benefit from the same top-level security rating.
As a French company, Ledger has The National Cybersecurity Agency of France conduct a range of evaluations to verify device security.
All Ledger devices use Secure Element chips, which are also used in credit cards, passports and SIM cards. This level of chip isn't a requirement for hardware wallets, but Ledger opts to use it for added security.
Ledger devices pass the Common Criteria security evaluation, an international standard for state requirements and banking cards, and earn an Evaluation Assurance Level (EAL) 5+ certificate.
An EAL 5+ certificate indicates that a device offers:
The highest level of defense against penetration — or hacking — attempts.
Protection from both remote and physical attacks.
Ledger states on its site that "going beyond EAL 5+ doesn't provide a higher assurance against attacks anymore."
Does the Nano X's Bluetooth functionality make it susceptible to a hack?
Ledger has denied concerns that the Nano X's Bluetooth functionality makes it vulnerable to data interception.
Its website states, "Only public data is transmitted via Bluetooth; critical data such as private keys and recovery phrases never leave the device."
The website also explains that critical data on the Nano X is protected by its Secure Element chip, which has never been hacked on a Ledger device.
Ledger Nano product specs compared
Ledger Nano X
Ledger Nano S Plus
Ledger Nano S

Finder rating

★★★★★

Finder rating

★★★★★


Read full review

Finder rating

★★★★★


Read full review
Dimensions
72 x 18.6 x 11.75mm
62.39 x 17.40 x 8.24mm
56.95 x 17.40 x 9.11mm
Weight
34g
21g
16.2g
Screen size
128 x 64px
128 x 64px
128 x 32px
Coin support
5,500+
5,500+
5,500+
Apps that can run simultaneously
Up to 100
Up to 100
Up to 6
Storage capacity
2MB
1.5MB
320KB
Bluetooth
✅
❌
❌
Battery life
8 hours
No battery
No battery
Connection type
USB-A to USB-C
USB-A to USB-C
USB-A to Micro USB
Native NFT support
✅
✅
❌
Security rating
CC EAL5+
CC EAL5+
CC EAL5+
Mobile phone compatibility
Android, iOS
Android
Android
Supported desktop OS
Windows 8+, macOS 10.10+, and Linux
Windows 8+, macOS 10.10+, and Linux
Windows 8+, macOS 10.10+, and Linux
Price (USD)
$149
$79
$59
Buy the Nano X
Buy the Nano S Plus
No longer for sale
Nano X vs. Nano S Plus
The Nano X and the Nano S Plus have many of the same functionalities. They both:
Support over 5,500 digital assets.
Manage NFTs.
Allow you to run up to 100 apps simultaneously.
But the two devices differ in the following ways:
The Nano X has Bluetooth functionality while the Nano S Plus doesn't.
The Nano X is iOS compatible and the Nano S Plus isn't.
The Nano X can operate on a battery — without being plugged into a computer or mobile device — while the Nano S Plus must be plugged in to operate.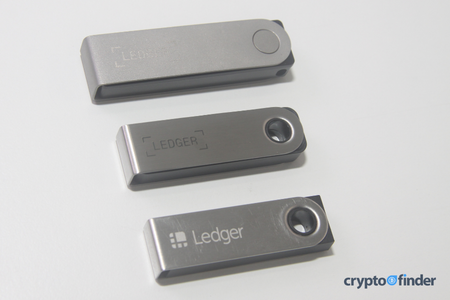 From bottom to top: Nano S, Nano S Plus, Nano X
Ledger Nano S Plus vs Nano X
How to set up the Nano X
Make sure that the box's shrink wrap hasn't been compromised before setting up your Nano X. If it has, your device may be susceptible to a hack, and you should not proceed with setup.
Follow these steps to set up your Nano X device:
Download Ledger Live software to your desktop computer. Once it's installed, open the Ledger Live app.
Read and accept the terms and conditions.
Select Nano X, then choose the Set up a new Nano X option.
Review the educational slides. Hit OK, I'm ready in the bottom right corner of the app, then connect your Nano X to your computer.
Scroll through the welcome message on the Nano X using the button at the top right.
Select both buttons at the top of the device simultaneously after you arrive at the message Set Up As New Device.
Create a four- to eight-digit PIN code. Write down and store this PIN in a safe place.
Write down your 24-word recovery seed phrase at the prompt and store it in a secure place. Confirm the phrase.
How to use the Ledger Nano X
To use your Nano X, you'll need to set up the Ledger Live app on your desktop computer or phone.
Connecting with Ledger Live:
Open the Ledger Live app on your desktop.
Input your Ledger Live password if you created one.
Plug your Nano X into your computer.
Input the PIN code for your Nano X.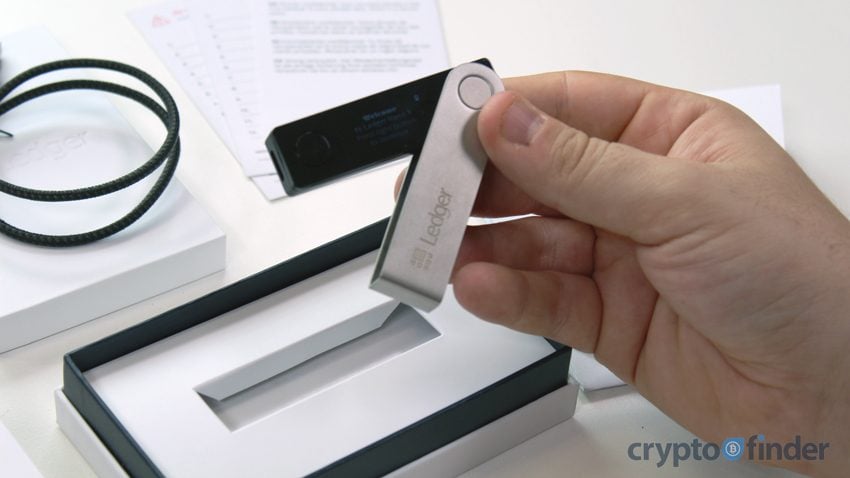 You'll see your digital asset balances via Ledger Live after following these steps.
Ledger Nano X alternatives
Nano X FAQs
Hardware wallet ratings methodology
We full rate cryptocurrency hardware wallets by scoring each wallet out of 10 for 3 components: security, functionality and cost. Each component is weighted based on importance, as follows:
Security: 50%
Functionality: 40%
Cost: 10%
These scores are aggregated and visualised as a total score out of 5 stars.
Cryptocurrencies are speculative, complex and involve significant risks – they are highly volatile and sensitive to secondary activity. Performance is unpredictable and past performance is no guarantee of future performance. Consider your own circumstances, and obtain your own advice, before relying on this information. You should also verify the nature of any product or service (including its legal status and relevant regulatory requirements) and consult the relevant Regulators' websites before making any decision. Finder, or the author, may have holdings in the cryptocurrencies discussed.
You are about to post a question on finder.com:
Do not enter personal information (eg. surname, phone number, bank details) as your question will be made public

finder.com

is a financial comparison and information service, not a bank or product provider
We cannot provide you with personal advice or recommendations
Your answer might already be waiting – check previous questions below to see if yours has already been asked
Accept and continue