What is web hosting?
You can create the greatest website in the world with the best images and coolest content, but if it's not live on the Internet, none of that matters. A web host gives your website valuable online real estate so that it can be viewed by people on the Internet.
There are different types of web hosting available that cater to a variety of budgets and needs. You can purchase shared space from a web host on a physical or virtual server, or have an entire server to yourself. The cheapest web hosting plans are easy to use, but have limits on the amount of storage, bandwidth usage and security they provide you with, while more expensive hosting services offer more flexibility but may require you to hire a dedicated specialist to manage your server.
The type of web host you choose will depend on the kind of website you are creating and the future plans you have for your site.
How do I choose the best web hosting service for me?
There are many factors to consider when choosing your web hosting service.
Figure out what kind of website you want to set up. Is it a business? A blog? An online store? A web agency? Next, think about what your website will need in terms of:

Storage. How much storage space do you need from your web hosting company?
Bandwidth. Is the maximum data transfer rate of the network or Internet connection an important factor?
Content management system (CMS). Do you have particular requirements around the creation and modification of digital content? Does your web hosting service need to be compatible with a certain CMS, such as WordPress or Joomla?
Apps. Will your website require custom apps?
Security. How important are privacy and security to you? Will you be storing sensitive data on your website?
Control of server configurations and settings. Will you need full control with the ability to change settings as needed or do you prefer an easy to use, pre-configured system?

Contemplate how you want your website to grow and change. Are you creating a blog that will eventually sell merchandise? Are you a web designer who wants to host websites for your clients down the line? Are you unsure and need lots of room for flexibility?
What is your level of technical knowledge and experience? If you've never used a web hosting service before you may want to think about using a basic plan or hiring a specialist to run your site.
The answers to these questions should help you determine which type of web hosting service will work best for you. We explore the most common types of web hosting below so you can choose the ideal service for your website.
5 types of web hosting
There are several types of web hosting services available to suit the needs and budget of every user. While cost is certainly an important factor in choosing the type of web host that's right for you, there are a few other important features to consider such as security, performance, flexibility and your level of technical knowledge. Let's review shared hosting, VPS hosting, dedicated hosting, cloud hosting and reseller hosting.
Shared hosting
Least expensive
Easy to manage, no technical knowledge necessary
Many plans available, from basic options to premium packages
Increased security risk
Websites can be negatively affected by other sites on a shared server
No ability to install custom apps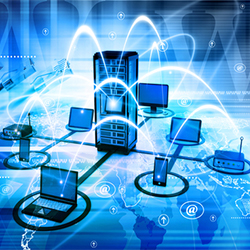 As the cheapest method of web hosting, shared hosting is an appealing option for small businesses and low-traffic blogs. Shared hosts can help you launch your website quickly by choosing from a variety of easy-to-use plans.
With shared hosting, your website is given space on a server that is shared by other websites. It's almost like staying at a hostel: you technically have your own space and everything you need, but your experience can be impacted by neighbours who use up all the hot water, play loud music or let in uninvited guests.
Just like at a hostel, with shared web hosting you have no control over other users' behaviour and your website's performance and security could be impacted by the activity of your neighbouring sites. Another site on your server with a lot of traffic could slow down your website, and a security breach or hack of a neighbouring site could affect the privacy of your business.
While shared hosting is the best choice for those with low-traffic websites and little knowledge of server management, you may want to consider other web hosting options as your business or website grows.
---
VPS hosting
Allocated CPU, RAM and storage on your virtual server
Root access to server, which gives you the ability to run custom apps
Unique IP address, which can be more secure
Some technical experience is needed to maintain the server
More expensive than shared hosting
Less security than dedicated hosting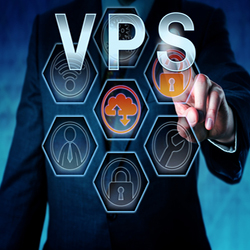 Virtual private servers, or VPS hosts, are like a hotel for your website. VPS hosts give your site a private room or virtual server within a shared system. Because you have your own private space, you won't have to worry as much about noisy or unruly neighbours.
VPS hosting will keep you from being negatively affected by the other sites in the shared system, so you will not experience the slow performance or security breaches that can happen when using shared hosting.
By taking a server and splitting it into individual isolated parts, VPS hosts give you more control, security and flexibility than shared hosting without the much higher costs associated with dedicated hosting. This allows you access to more resources including increased CPU capacity, storage, full root access and the ability to have custom apps.
Using VPS hosting does require some level of technical knowledge. If you don't have the technical experience required to maintain the server on your own you may need to hire a system administrator at an additional cost.
---
Dedicated hosting
You don't share the server with anyone
Highest level of privacy and security
Maximum reliability and stability
Most expensive
Requires a specialist to manage the server
Backups must be done regularly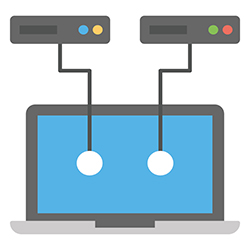 Dedicated hosting is like owning a vacation house. You get more privacy, control and the ability to customize your surroundings, but you have to shell out a lot more money and spend significantly more time on maintenance.
Where VPS hosting and shared hosting give you shared resources within a physical server, dedicated hosting gives you the whole server for a much higher cost.
Dedicated hosting is perfect for those who want complete control, flexibility and reliability, as well as the highest level of security, such as large businesses and e-commerce websites in need of high-performing servers.
By paying more for dedicated hosting, you will also get better support from your hosting company and more help choosing the right dedicated server for you.
Keep in mind that a high level of technical experience is needed to run a dedicated hosting server and you may need a specialist to do so. This person or team will also need to perform regular backups of all files and data in case there is a failure of the physical server.
---
Cloud hosting
Less expensive than dedicated hosting
Low risk of data loss
Flexibility to scale up or down as your website grows and changes
Some technical experience is required to maintain your server
More expensive than shared hosting and VPS hosting
Some risk of security and privacy breaches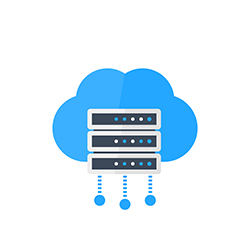 Cloud hosting is one of the newest forms of web hosting, and like Airbnb has done to the travel industry, it's starting to reshape the web hosting market and impact the future of the Internet.
Cloud hosting uses a chain of physical machines acting as a single virtual server. Like VPS hosting and dedicated hosting, cloud hosting gives you allocated space and resources on this shared network of servers.
Unlike shared hosting and dedicated hosting, cloud hosting doesn't rely on a physical server. This means in the event of a crash of one of the machines on the server, all data will be transferred to another machine.
Power outages and even natural disasters will not affect cloud servers and you won't have the risk of lost data that could occur with shared or dedicated hosting on a physical server. Cloud hosting also gives you more flexibility to scale up to accommodate growth or surges in traffic.
---
Reseller hosting
Allows you to sell web hosting plans under your business name or brand
Earn more revenue from your business
You don't have to cover server maintenance cost
Only really useful for web agencies, web developers and web designers
It's difficult to change web hosts once your clients have established hosting plans
If something goes wrong with the server, your clients will be affected and you'll have to rely on your reseller host to fix the problem
Reseller hosting is used by web agencies, web designers and anyone who wants to host their own clients. It's kind of like getting a timeshare and renting it out to other travellers.
To use reseller hosting, you or your business will purchase a certain amount of server space and resources from a web host and then sell pieces of the server as hosting plans to your clients or customers, allowing you to keep the hosting services under your own business name.
---
10 key things to consider
Web domain
Every website requires a new domain name. Some web hosting services provide this free of charge; others will charge an additional fee. This may differ from plan to plan within each web hosting company.
Compatible content management systems
A content management system (CMS) is necessary to help you create and run a website if you don't have any programming skills. If you're looking for a popular CMS, you could consider WordPress or Joomla. Some hosting services have exclusive agreements with certain CMS providers, while others offer a variety of platforms. Check whether your web host is compatible with the content management system you're planning to use.
Service support
Responsive and experienced customer service is an important factor in choosing a web hosting provider. If you encounter any problems with your service, you'll want an expert available to help you as quickly as possible. Most hosting providers offer 24/7 support service availability.
Server location
If your business is located in Canada, you should consider a web hosting service with services based in or near Canada. However, the closest server is not always the best one. Some Canadian servers could be under-powered, giving your website poor performance. There are many providers that house servers in Canada, such as HostUpon and HostHero, which can provide Canadian users with quick load times and few delays. Other providers have servers located in the US, which may provide equally fast load times, so it's important to compare your options carefully before settling on a provider.
Storage space
Typically, the more storage you pay for, the more you get. Most small businesses and blogs will only need a few GBs of storage, which you should be able to get with any web hosting service. If you're planning a larger website, you will want more storage capacity and may wish to consider moving features like email and video off-site.
Backups
While running a website, you'll need to back up your website, data and files at regular intervals. Check whether your web host provides backup and restoration services and how often they will back up your files. Some web hosts provide these services free of charge, while others require an additional fee.
Data transfer limits
Data transfer refers to the website traffic that your website generates on a monthly basis. Data transfer depends on how many visitors your site has and how large your uploaded files are. Check the limits of the web hosts you're considering before making your final decision.
Domain add-ons
Cheap web hosting plans only offer the ability to host a single domain. If you plan on hosting more than one website, you'll need to look at higher level hosting services that allow domains to be added.
Email
Most providers will offer some form of email services for an additional cost. If you need email services for your website, make sure you choose a web hosting plan that allows for the email resources you will need. Keep in mind, there will most likely be limitations on the number of email addresses you can create or emails you can send within a certain time period.
Customer service
Look for a web host with 24/7 customer service. If your website goes down in the middle of the night, you won't want to waste precious time waiting for support. Read reviews of any potential web host to see how effectively they handle server issues.
4 common mistakes to avoid
Not reading the fine print. Make sure to find out exactly what your plan includes before you sign up. You don't want to end up paying for unneeded features or missing out on resources your site desperately needs.
Choosing the cheapest plan. While it's important to keep business costs down, your website won't be successful if your web host is unreliable. It might be worth stretching your budget to make sure you get a plan that includes everything your business needs.
Underestimating the importance of speed and uptime. A slow or broken website costs money by losing revenue. Even if you can't see it, every problem might be costing you money.
Overestimating your skills. If you don't have the technical experience to maintain a server, you'll need to hire a specialist or choose a plan that includes all the management your website will need. Generally, shared hosting plans are easy to set up and require little to no maintenance on your part.