How to cut the cost of sending money overseas in 2021

Look for fee-free services and special offers for new and returning customers.
It's more important than ever to find easy and affordable ways to send support to loved ones overseas. But transfer fees and poor exchange rates can make it difficult to get the best value for your Canadian dollars. So how can you lower the cost of international money transfers? Here are some of our top tips:
This guide is sponsored by
Simplii Financial Global Money Transfer
, the no-fee international remittance service that allows clients to send money to over 120 countries. New clients can earn up to $650
†‡
with their first global money transfer.
Learn more
.
Use a transfer service with low (or no) fees
Fees can eat up a huge portion of your transfer, especially when sending large amounts. Look for a transfer service that charges low fees – or even no fees at all.
One such service is Simplii Financial Global Money Transfer, which allows you to send money to over 120 countries with zero transfer fees and zero deductions. With less money going to transaction charges, you can keep more of your hard-earned cash for yourself or send more to your loved ones overseas.
Many transfer services on the market charge either a fixed fee or a percentage of the amount being sent. Flat fees are often more suitable for large transfers, while percentage fees can help keep costs low for small transfers.
If you decide to go with a fee-free service, be aware that many of these services rely on poor exchange rates to cover their costs. So it's important to look at more than just fees when choosing the best provider for your needs.
Pay attention to exchange rates
The exchange rate you get is usually the mid-market rate minus a small margin that transfer services take as a fee to cover their costs. A higher margin means more of your money goes to cover these costs and less money ends up in your recipient's pocket.
Say you want to send money to India, for example. This table shows how much your recipient would get if you used a transfer service that charges a 1% margin on the mid-market rate versus a transfer service that charges a 3% margin.
| | Transfer service with a 1% margin | Transfer service with a 3% margin |
| --- | --- | --- |
| Mid-market rate | 1 CAD = 57.28 INR | 1 CAD = 57.28 INR |
| Exchange rate applied to your transfer | 1 CAD = 56.71 INR | 1 CAD = 55.56 INR |
| Transfer amount | CAD$2,000 | CAD$2,000 |
| Amount received | INR113,420 | INR111,120 |
If you go with a transfer service that only takes a 1% margin, your recipient gets 2,300 INR more than if you went with a service that takes a 3% margin. This is why it's crucial to compare exchange rates when choosing a transfer service provider.
Remember to consider both fees and exchange rates. You may come across a transfer provider that offers great exchange rates but charges high fees that offset any potential savings. On the other hand, you might find a provider that charges low fees offset by poor exchange rates. Keep your eye out for dual-benefit services that offer no-fee transfers and great exchange rates like Simplii Financial Global Money Transfer.
Pro tip: Some transfer services offer special exchange rates leading up to holidays like Diwali and Lunar New Year. Monitor rates, and plan to send funds during these seasonal periods to get a better deal.
Look for promotional offers to save money
There are many different money transfer services in Canada, and it can be overwhelming to figure out which one is best for you. Because the market is so competitive, many services offer special promotions and incentives for first-time customers. Using promotional offers can help you get the best deal from the service you've decided to use.
For example, you can earn up to $650 on your first transfer with Simplii Financial Global Money Transfer. First, get up to $350 when you open a Simplii Financial No Fee Chequing Account and set up eligible direct deposits. Then, get $50 cashback when you send your first Simplii Financial Global Money Transfer using promo code GMTEVENT.
You may have to take a number of steps to qualify for a special deal, but the payoff can really make it worthwhile. You could also end up getting access to extra products and services for future transfers or other financial needs. For instance, taking advantage of Simplii Financial's special offer for first-time customers doesn't just help you save up to $650, it also gives you access to an interest-bearing No Fee Chequing Account for everyday banking.
Use an online transfer service
Online transfer services have gained a lot of traction in recent years as a competitive alternative to transferring money in person with well-known providers like Moneygram and Western Union. With less overhead costs and a more focused range of services, online providers can usually offer lower fees and more favourable exchange rates than banks and in-person transfer services.
One potential downside of using an online transfer service is that you can't pay for your transfer in cash. Additionally, sending funds for cash pick-up often costs more than sending directly to your recipient's bank account. But if you can pay by card or bank transfer and you want to send funds directly to your recipient's bank account or mobile wallet, an online service could be a great option.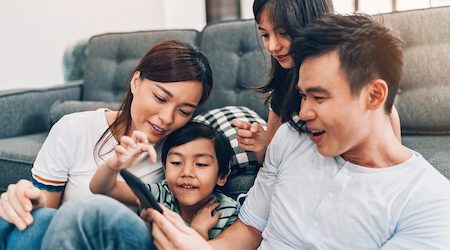 SPONSORED: Mobile money transfers provide an easy, low-cost and contactless way to send money to loved ones overseas.
Read more…
Compare money transfer services online
Don't make the mistake of thinking that all money transfer service providers are created equal. Carefully compare fees, exchange rates, transfer options, speed and safety features between different services. If you intend to send money overseas regularly, make sure you look beyond promotions for first-time customers and find a transfer service that you feel comfortable using long-term.
Some transfer providers offer ways to earn loyalty points or rewards on money transfer spending. For instance, earn 0.5% cashback when you fund a Simplii Financial Global Money Transfer with a Simplii Financial Cash Back Visa Card. The more you send, the more you earn, so a program like this is worth considering if you plan to make frequent transfers.
Consider what you value the most. Speed? Delivery options? Low costs? Keep your priorities in mind when comparing providers. Remember to look at all the fees and features offered with each service, so you're not surprised by hidden fees or unexpected transfer limits later on.
Bottom line
It's easier than ever to send money to loved ones overseas. But costs can really add up, especially if you transfer money regularly or need to send large amounts. Get more to your recipient by choosing a low-fee transfer service, keeping your eye on exchange rates, looking for special offers and carefully comparing providers to find the best one for your needs.
Discovering the best way to send money to loved ones abroad can be time-consuming and costly, but we've got you covered. Learn more about sending money abroad with our A-Z listing of country-specific money transfer guides.
†‡Conditions apply. Limited time offers. Must complete eligible activities.