Finder is committed to editorial independence. While we receive compensation when you click links to partners, they do not influence our content.
How to watch FIBA basketball live in Canada
Watch FIBA live streams in Canada with a Sportsnet NOW subscription.
The International Basketball Federation (FIBA) is the world governing body for basketball, an association with 213 national basketball federations around the world.
FIBA organizes a number of star-powered tournaments and events, including the FIBA Basketball World Cup, the Olympic Games qualifiers and 3×3 basketball.
In other words, it has plenty of exciting basketball action in store for sports fans, regardless of who you're rooting for. Here's how to watch FIBA basketball live in Canada.
How to watch FIBA basketball live in Canada
In Canada, Rogers has exclusive broadcasting rights for men's and women's FIBA basketball until fall 2025. That means you can watch FIBA basketball live through Sportsnet NOW, a streaming service owned by Rogers.
Sportsnet NOW is free if you already have a TV subscription. If not, you can sign up for $14.99 per month or $149.99 annually. You can cancel any time.
Sportsnet Now comes with a range of features including Split-screen View, Replays and Video on-Demand. On top of FIBA basketball, you get national NHL games, the Stanley Cup Playoffs, national NBA games, WWE and much more.
You can watch Sportsnet NOW on web browsers, smartphones, tablets, Apple TV, Xbox One, Xbox Series X/S, PlayStation 4, PlayStation 5, Amazon Fire TV, Android TV, Samsung TV, Ignite TV and Google Chromecast.
FIBA Olympic qualifiers
FIBA regulates which basketball teams qualify to play in the Olympics, which is to be held in Paris from July 26 – August 11, 2024. The FIBA Basketball World Cup of 2023 will directly qualify 7 teams and is scheduled to take place between August 25 and September 10 in the Philippines, Japan and Indonesia. 4 more teams will be chosen from the FIBA Olympic Qualifying Tournaments 2024, a 2-round series of qualifying tournaments taking place in Paris.
Here's the timeline for how basketball teams will be chosen to participate in the 2024 Olympic Games:
Source: www.fiba.basketball
Compare sports streaming services
Sports streaming in Canada: Learn more
You might also be interested in...
The 2022/23 season of the English Premier League is here. Here's how to stream EPL live in Canada.
Read more…
Wondering how to watch Ligue 1 in Canada? Catch all the action for the 2022/23 season on beIN SPORTS or fuboTV.
Read more…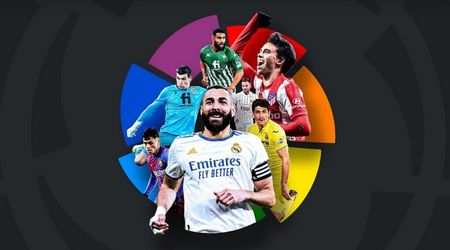 La Liga missed a potential superstar for 2022/23, but it will still be a stacked season.
Read more…