Zed Run Guide
Own, breed and race digital horses that live on a blockchain, and win crypto.
Free to try
Complete daily quests
Earn crypto & trade card NFTs
Runs on HIVE blockchain
Go to site
Disclaimer: This page is not financial advice or an endorsement of digital assets, providers or services. Digital assets are volatile and risky, and past performance is no guarantee of future results. Potential regulations or policies can affect their availability and services provided. Talk with a financial professional before making a decision. Finder or the author may own cryptocurrency discussed on this page.
Zed Run is a blockchain-based racing game that lets players own, raise and breed horses. Zed Run creators also call their digital horses a "breathing NFT," with each horse having their own breed, bloodline and other DNA attributes. However, you'll have to invest a little to get started.
Highlights
Cost to play
Race NFT horses
Breeding
Trade horses on secondary market
Upcoming utility token
Passive gameplay
What is Zed Run?
Zed Run is an NFT-powered digital horse-racing platform that hosts several race events every hour. All horses on Zed Run are entirely digital. Horse owners can easily participate, as each only costs around $2 to $15 to participate in a race.
NFT technology enables these horses to have unique and varying bloodlines, genotypes and breeds, which collectively determine the strengths and weaknesses of each stud, as well as their rarity and overall value.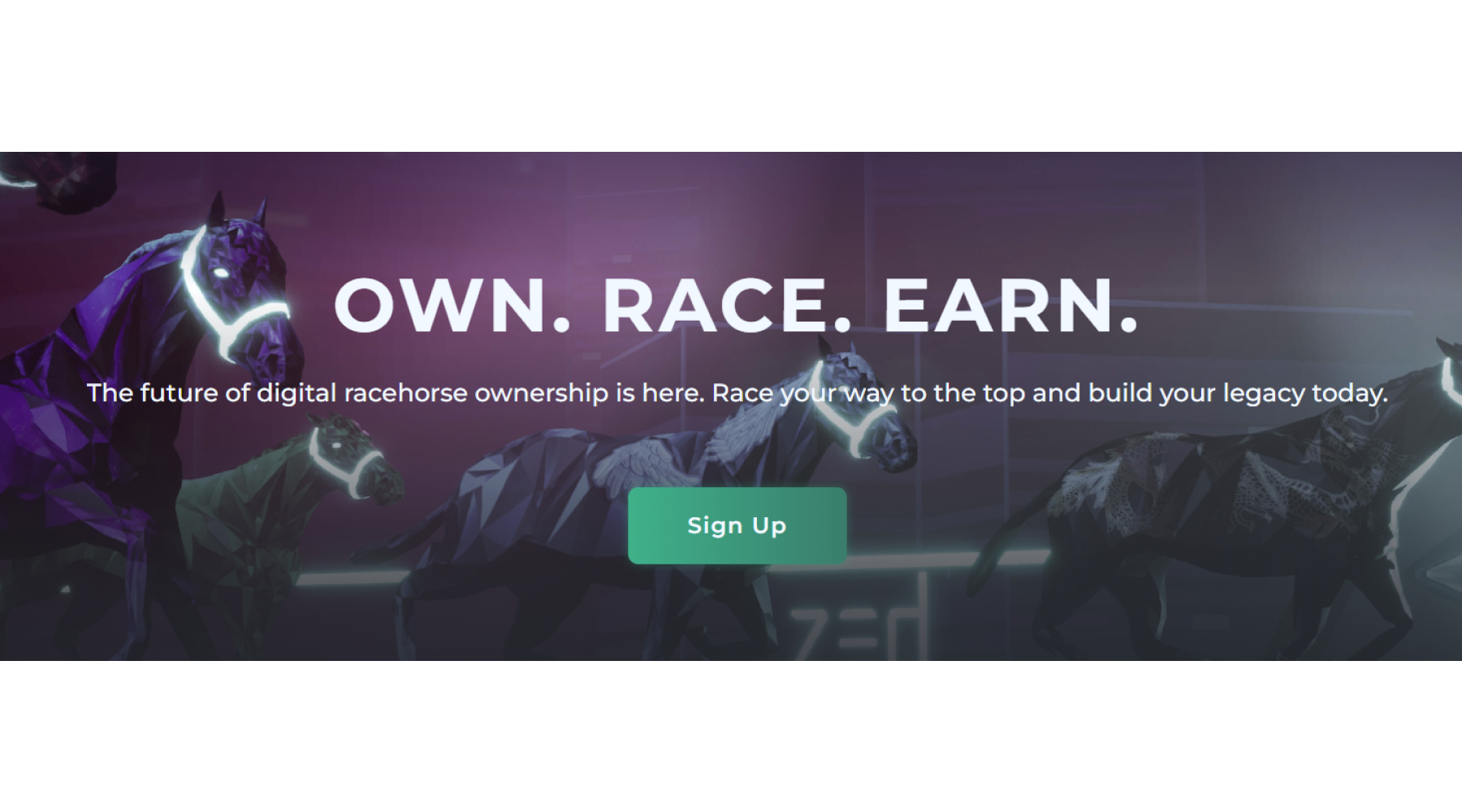 Image source: Zed Run
You could earn by winning races, and from selling and breeding valuable horses on various NFT marketplaces such as OpenSea.
The game runs on the Polygon network and uses the Zed Run Wallet, so there aren't any gas fees.
To date, Zed Run has over 40,000 members on its Discord and is going strong. In the last 30 days, Zed Run has over $15,000 in trading volume, according to DappRadar, which is on the low end. Splinterlands' 30-day trading volume is around $30K, Alien Worlds floats around $805K, and Axie Infinity's remains in the millions.
Many crypto games in the last few months have seen a marked decrease in trading volume, so considering the circumstances, Zed Run's trading volume is so-so, at the time of writing.
Playing Zed Run
Playing Zed Run doesn't require much skill — it's more strategy than anything. Races automatically play out, and your horses' stats are what determine a race's outcome. Breeding horses only takes a few clicks as well.
To get started, head to Zed.Run and select Sign Up. Choose to sign up for Zed Run with a social media account — Google, Facebook, Twitter, Discord or email — or sign in with MetaMask.
Once you create your wallet, connect it to a digital stable found on Zed Run's website. This digital stable also serves as your portfolio management tool, where you can see your thoroughbreds and their win percentages.
Next, you need to buy at least one horse. Head to OpenSea or Hawku — these are the secondary marketplaces trusted by Zed Run.
You'll need some ether (ETH) and a crypto wallet to buy horses. Prices can be as low as $5, or upwards in the thousands of dollars, depending on the horse's attributes.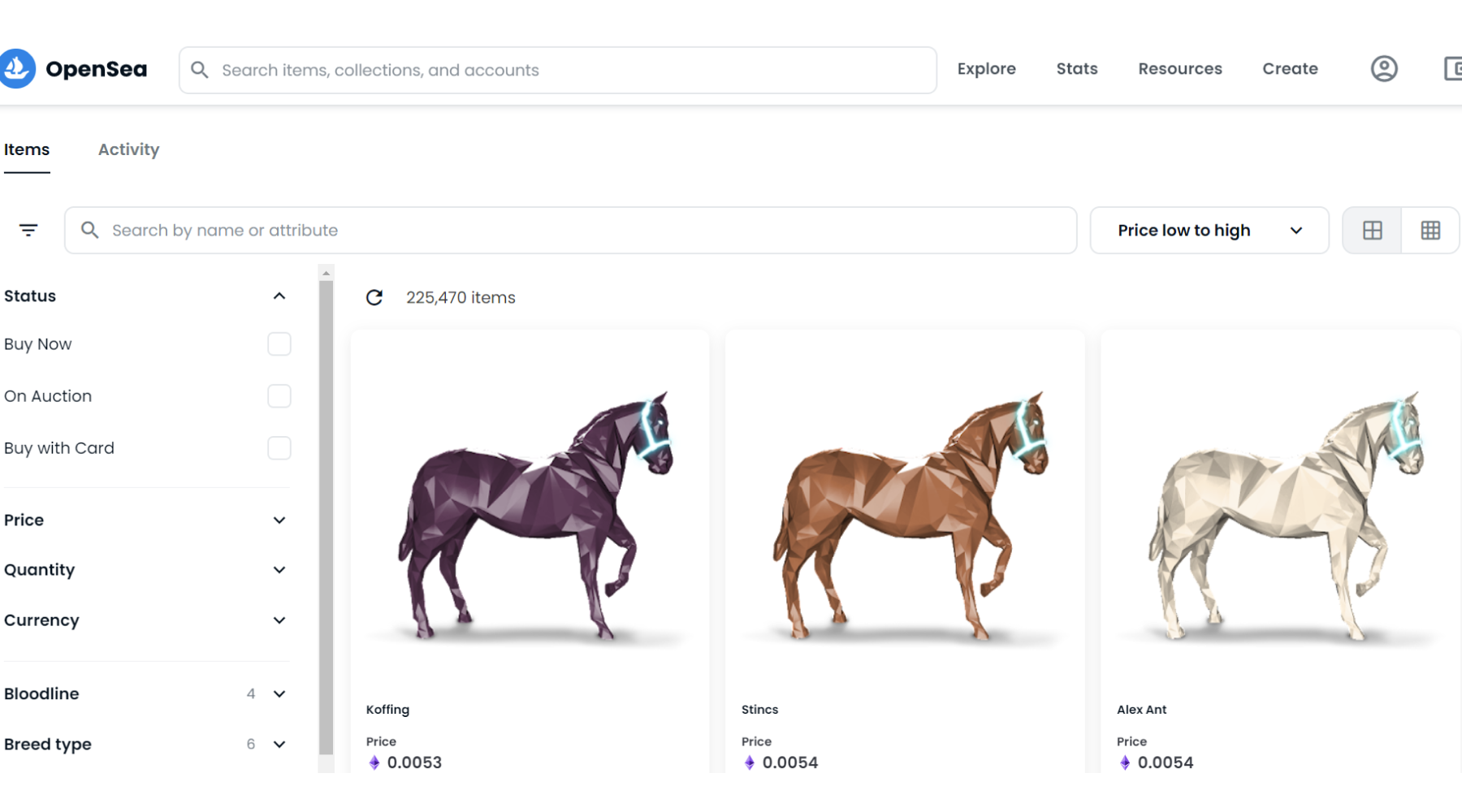 Image source: OpenSea
Racing horses
The races are divided into tiers based on a horse's "Z rating." There are six classes on these tiers:
Class 5 – Z-rating of 0-20
Class 4 – Z-rating of 21-40
Class 3 – Z-rating of 41-60
Class 2 – Z-rating of 61-80
Class 1 – Z-rating of above 81
Griffin – Unraced
The best horses and highest-rated classes belong to Class 1. The purpose of this tier is to ensure that the games remain fair among players. Newbies need to first join Griffin Class races to determine their initial base rating before they can move forward.
Once you've discovered your horse class, you can join class events.
To enter a race, head to the Events page. You'll see upcoming races, and there are free races to check out as well. There are also tournaments, which require paying a fee and feature large prize pools.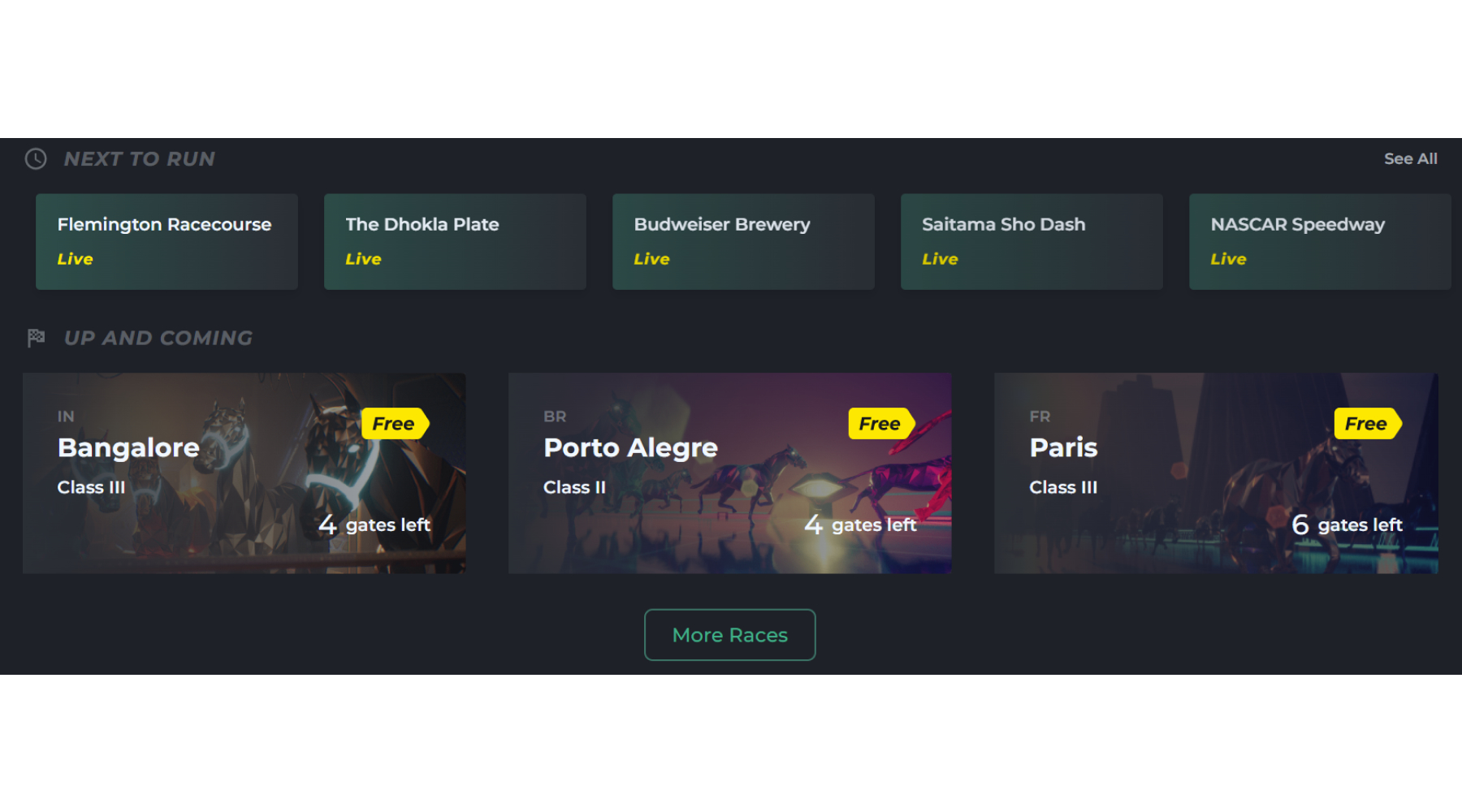 Image source: Zed Run
Breeding horses
There are multiple types of horses that you'll encounter in the game, such as:
Colt — Male horse that has yet to have any offspring.
Stallion — Male horse that has at least one offspring.
Filly — Female horse that has yet to have any offspring.
Mare — Female horse that has at least one offspring.
If you only own a female horse, you have to pay stud fees to breed. The owner of the male horse determines this fee. The proceeds are split among the owner of the male horse, the collected prize pool and the platform.
A male horse can participate in the breeding of three offspring monthly. Females, on the other hand, can have only one breeding event per month. Note that horses can't join races while they're breeding.
Moreover, there's a minimum base breeding fee of 0.075 ETH, which may vary depending on the bloodline and breed types.
To breed Zed Run horses, head to your Stable. Find your male horse and hit the breed button from the Stable interface.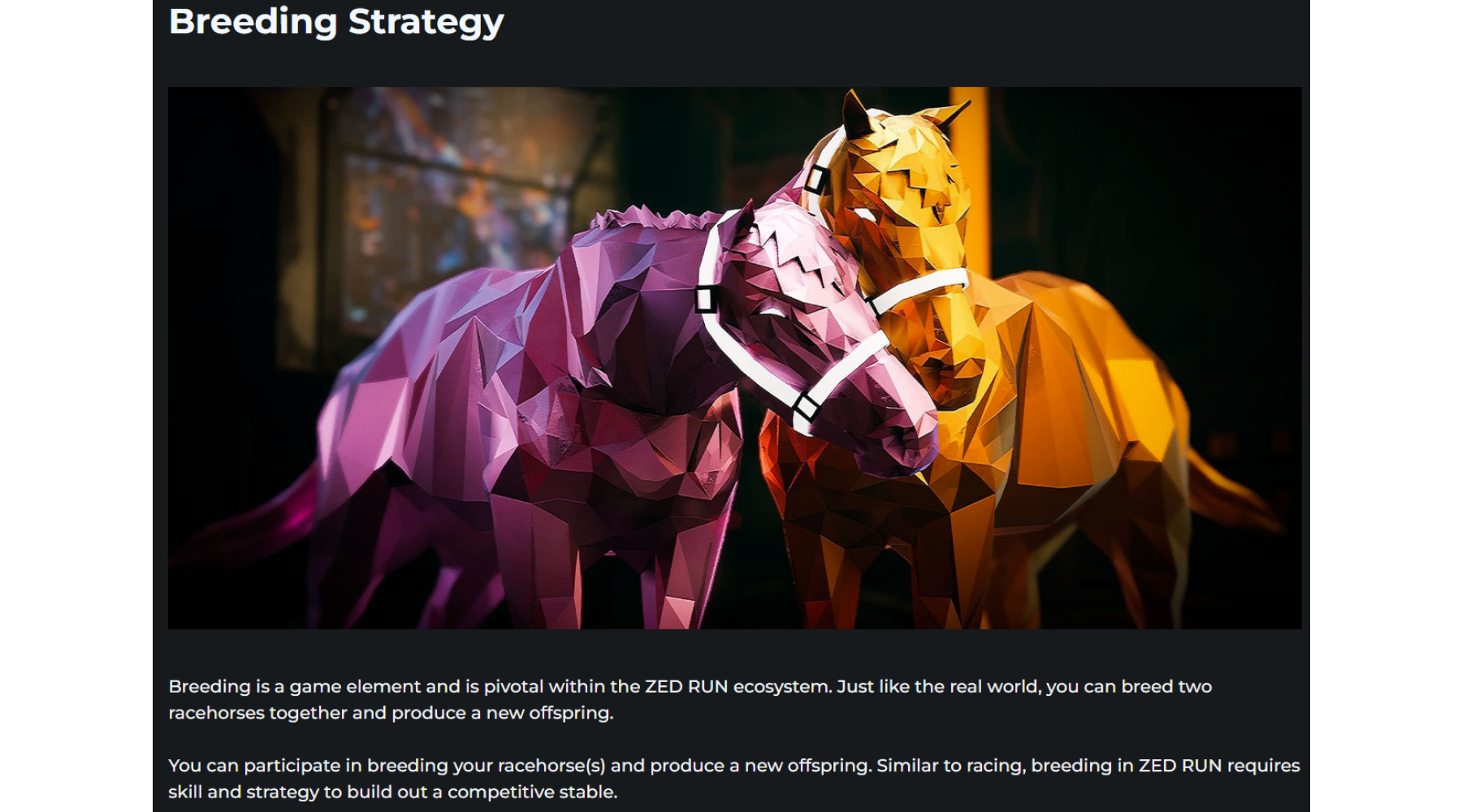 Image source: Zed Run
What's the Zed Run token?
Zed Run doesn't have its own, unique token — yet. There's an upcoming in-game utility token called ZED token allocated to users that perform well in races. It will be an ERC-20 token.
The game is built on the Ethereum blockchain, and currently uses the blockchain's native currency ETH.
How to buy Zed Run token
To purchase horses for Zed Run, you need ETH. Luckily, ETH is available on nearly every major cryptocurrency exchange — we've listed a top exchange.
Find an exchange to buy, sell and trade ZED by comparing deposit methods, supported fiat currencies and fees. Select Go to site to sign up directly with the provider.
How does play-to-earn work with Zed Run?
There are three earning methods in Zed Run:
Race horses. Winners of class races and tournaments earn cryptocurrency.
Trading horses. Sell your Zed Run horses on secondary marketplaces.
Breeding. If you have a stud, you can earn income through breeding fees, or breeding your own horses to sell on secondary marketplaces.
Like any investment, returns aren't guaranteed.
What are Zed Run NFTs?
The horses are the game's NFTs, and they have multiple attributes.
Coat color is another attribute that has no influence on their performance during races, but can affect a horse's personality.
Bloodline
The bloodline affects the performance and rarity of a digital horse. There are four bloodlines, named after cryptocurrency pioneers: Nakamoto, Szabo, Finney and Buterin.
Nakamotos are the rarest and purest thoroughbreds. They're the most expensive of all bloodlines.
Szabos are also relatively rare, but are more affordable than Nakamotos.
Finneys are common bloodlines that can be trusted to participate in races effectively.
Buterins are the most common of all bloodlines.
Genotype
The genotype affects the purity of the horse as seen in its Z rarity. The purer the horse, the lower its Z number.
Genesis bloodlines are the purest, which have Z1 to Z10 genotypes. However, note that it doesn't necessarily mean your horse is always better.
Breed
There are six breed types: Genesis, Legendary, Exclusive, Elite, Cross and Pacer. Genesis horses are distributed via airdrops and are the purest of all breeds.
How to get NFTs on Zed Run
Head to a secondary marketplace to purchase NFT horses. OpenSea and Hawku are the recommended and trusted marketplaces.
OpenSea has an official Zed Run collection. Filter horses by coat color, bloodline, breed, gender or genotype. Once you've found a horse you want to buy, select Buy now or Make offer. You'll need crypto and a digital wallet to buy and store your newly purchased NFT.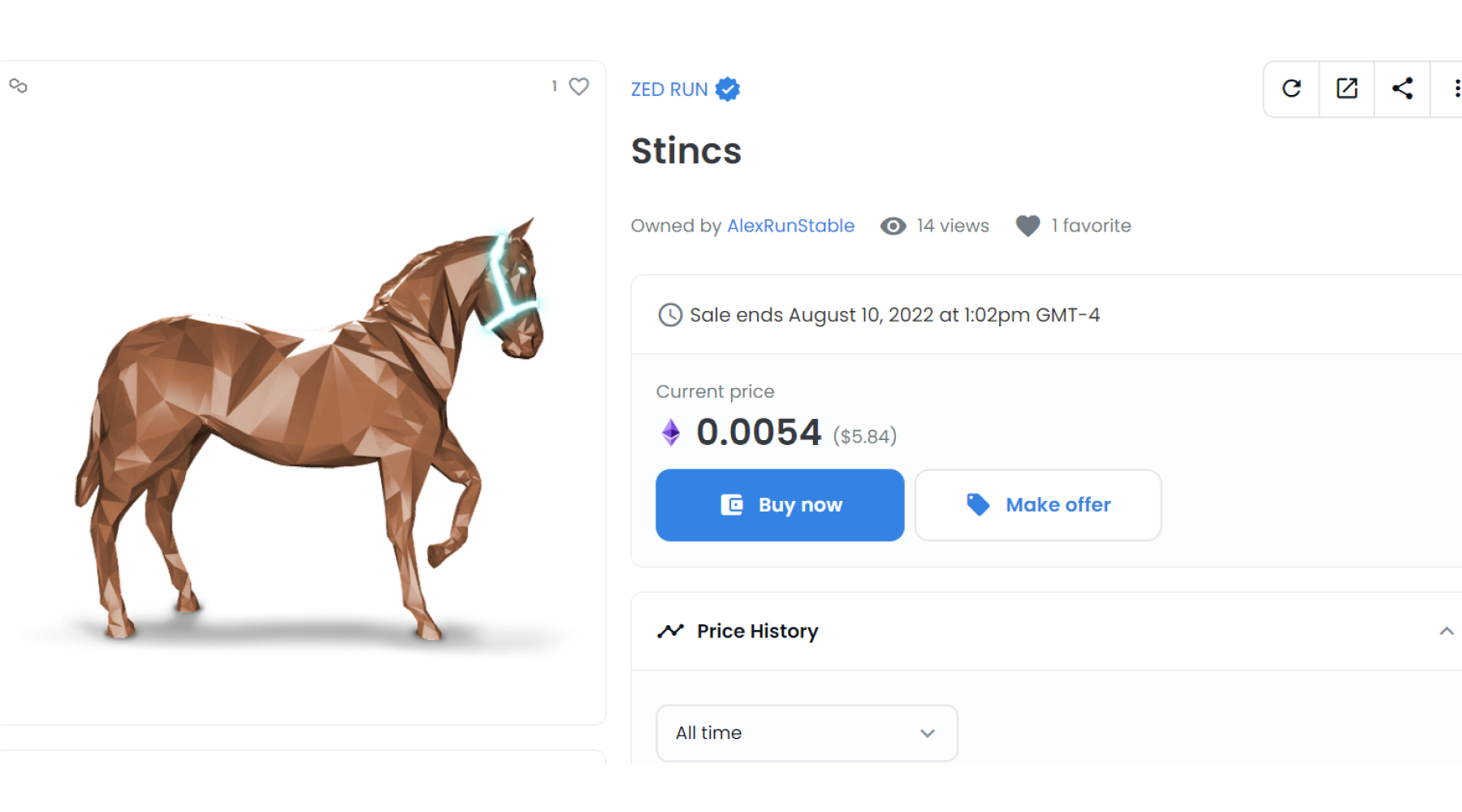 Image source: OpenSea
Other crypto games and NFT projects
How to sell NFTs from Zed Run
To sell your NFT horses, head to OpenSea or Hawku. You'll need an account to list NFTs for sale, and connect your digital wallet to the platform to access your digital assets.
To sell your Zed Run NFT horse on OpenSea, follow these steps:
Connect your wallet and sign in. You need an ETH-compatible wallet to use OpenSea, such as MetaMask or WalletConnect.
Profile page. After you've connected your wallet, head to your profile where you can view your owned assets.
Select the NFT to sell. Select the NFT horse you want to sell, then choose Sell.
Complete the listing. Choose your desired price, sales method and other details. Once done, hit Post Your Listing. OpenSea charges a one-time fee for first-time sellers. You can sell in an English or Dutch auction, Fixed price or in bundles on the platform.
You can also sell NFTs on Hawku, which is an NFT marketplace that focuses on selling NFT horses.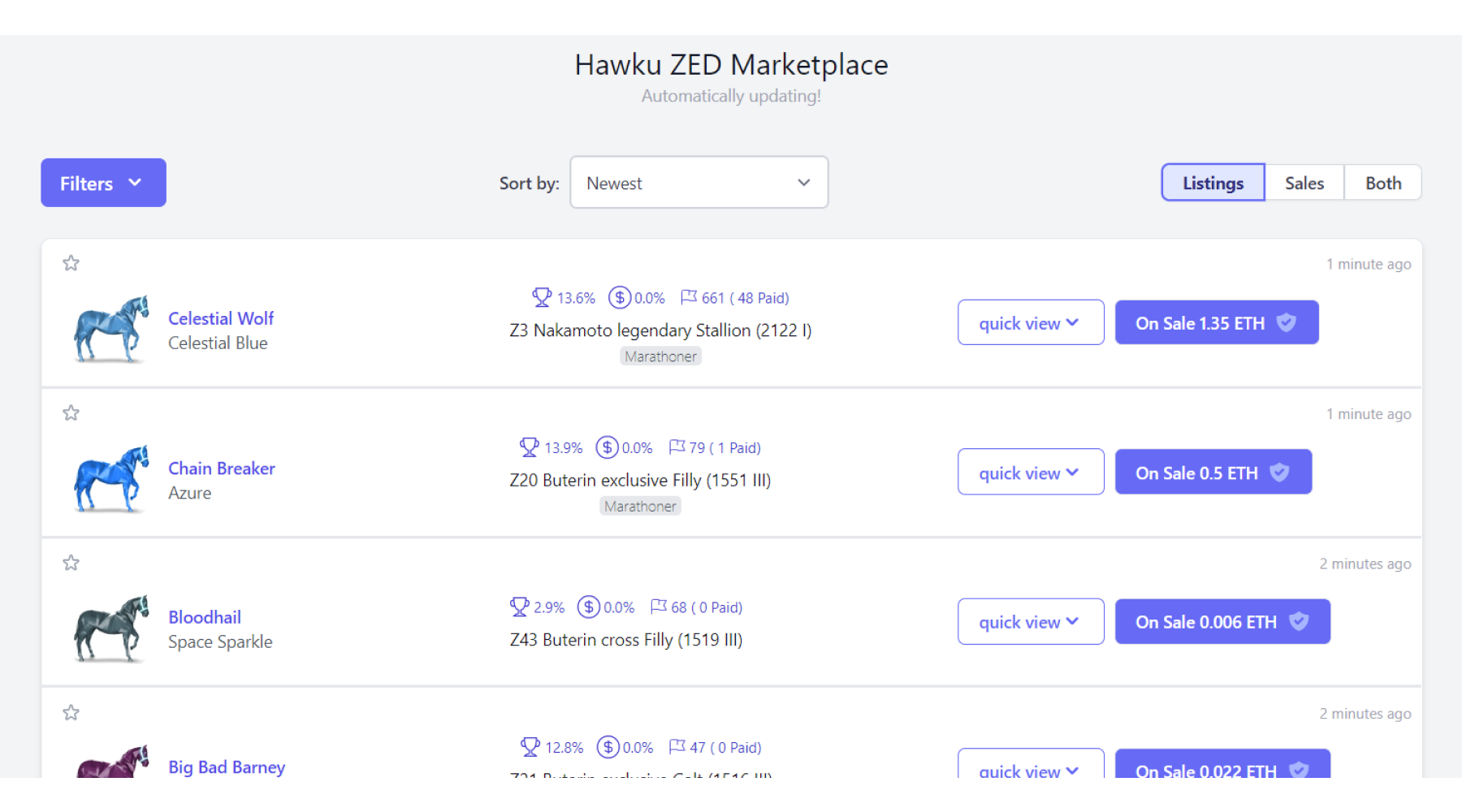 Image source: Hawku
About the Zed Run developers
The creators and founders of Zed Run are Chris Laurent, Rob Salha, Geoff Wellman and Chris Ebeling. Zed Run is based out of Australia.
Laurent and Salha are also the cofounders of Virtually Human Studio, a startup dealing with gaming and mixed-reality tech. Wellman comes from a background in software and web development, and Ebeling has a background in VR and AR projects, gaming and digital art.
Zed Run roadmap
Zed Run has an official product roadmap, where it outlines the upcoming projects and ideas under consideration for the NFT game. A few ideas under consideration include:
Betting on races
Custom races
Automated racing (racing queue)
Some updates in development include:
Leaderboards
Updating class system
ZED token
Bottom line
Zed Run has definitely established itself as one of the top NFT games. However, it's got a direct competitor: Pegaxy.