New reverse ATM lets you turn cash into prepaid debit cards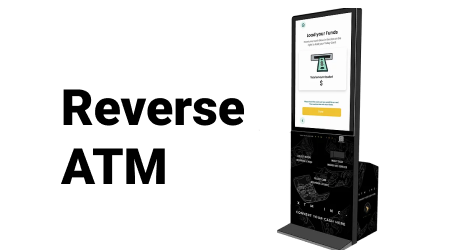 Forthcoming XTM kiosks will convert your cash into a contactless prepaid card in less than 60 seconds.
In the age of coronavirus, many businesses are looking to eliminate cash from their ecosystems. XTM, a Toronto-based fintech company that provides mobile banking and payment solutions, may have an answer. The company announced it will begin shipping and installing reverse ATMs, also known as cash to kiosks, across America in the coming weeks. These machines will convert your cash to a prepaid card in less than 60 seconds, allowing you to make contactless EMV chip-enabled payments wherever Mastercard is accepted.
At a glance
Name: XTM Kiosks
Features: Prepaid cards generated at reverse ATMs can hold anywhere from $10 to $1,000, machines feature a large 42-inch touchscreen for a quick and easy user experience, businesses can brand the reverse ATM and prepaid cards with their logo and custom brand elements, and businesses can have advertisements play on the touchscreen while the kiosk isn't in use
Fees: None disclosed yet
Limitations: It could be a while before this technology is largely available. XTM plans to roll out its reverse ATMs to stadium venues first, then other places as business owners adopt the technology.
How it works
Using a reverse ATM is a simple and straightforward process. Here's how it works:
Insert your cash into the reverse ATM. You'll see your amount appear on the kiosk screen as you insert your bills.
The kiosk will then deposit your money onto an activated EMV and contactless-enabled Mastercard prepaid card and dispense it from the kiosk within 60 seconds.
Where can I find a reverse ATM?
Most of XTM's orders are from colleges and universities or NHL, NBA and MLS stadium owners who want a fast, cost-effective way to eliminate cash handling from their ecosystem. The company announced last week that it would start delivering and installing these machines across America in the coming weeks to businesses that have already submitted orders.
How much does it cost?
There's currently not any information about how much it'll cost to use a reverse ATM. Because this is a business-to-business product, it may depend on the company purchasing the machines and what fees they want to impose. XTM plans on releasing more information as it delivers and installs kiosks across the US. We're hoping they'll announce any card purchase fees at that time.
For reference, the most common way to reload cash onto prepaid cards is at a Green Dot location, which can be found nationwide at places like Walmart, CVS and 7-Eleven. Cash reload fees vary by Green Dot location but typically hover around $4.95 per transaction.
Photo: Supplied