WorldRemit users can now transfer money to anyone with Alipay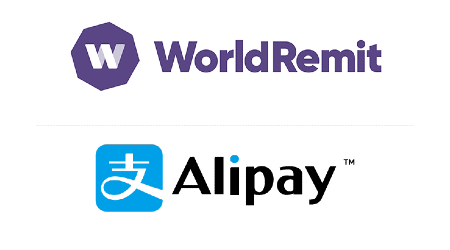 New partnership cuts out the need to have money picked up at an agent location by connecting app to app.
You can now send money from the WorldRemit website or app to anyone who has an account on the Alipay app or website, thanks to a new partnership between the global money transfer service and China's popular online payment platform.
The deal builds on WorldRemit's existing service in China and 150 other countries around the world, and it offers the potential for significant savings in time and cost over "offline" remittances, which typically involve "handoffs" between physical agent stations and regional banks. The elimination of third parties in the transfer means that there is less of a need for transfer tracking, with the processing fees being less.
With 86 percent of China's population already using a mobile payment service last year, according to statistics WorldRemit shared in its announcement, the Alipay partnership opens the door to the vast majority of the Chinese market.
Depending on the recipient's location, WorldRemit money transfers can be picked up in cash at more than 30,000 agent locations, received electronically with mobile money wallets like Alipay, as well as China Union Pay and WorldRemit's own wallet, transferred to a bank account or even added as a top-up for mobile airtime.
"Our mobile-first approach to digitizing remittances through collaboration with Alipay will deliver a mobile-to-mobile money transfer service that suits Chinese consumer behavior," said Scott Eddington, managing director for APAC at WorldRemit.
China is No. 3 for immigrants to the U.S.
In 2017, US remittances to China totaled more than $63 billion, and China is the third-largest source of immigrants to the United States, behind Mexico and India.
WorldRemit not the only one pursuing digital money transfers
This move toward digital remittance is a trend that's attracted other players as well. The cryptocurrency Ripple, for example, was created to use blockchain technology to facilitate near-instantaneous transfers. The system today uses a shared ledger that compares and validates transactions from independent servers, effectively turning a monetary transfer into the equivalent of a peer-to-peer torrent download.
The Society for Worldwide Interbank Financial Telecommunication (SWIFT) — the banking system's current standard for international remittances — uses the traditional "handoff" method, but has utilized blockchains to track the transactions.
As these models, however, best favor large organizations and banks, person-to-person remittance is typically limited to remittance services — such as Western Union or WorldRemit — or online payment platforms, like PayPal and Alipay. While the blending of traditional remittance with online payment services does offer significant savings, in the case of Alipay, it may also be creating a virtual monopoly for the Chinese personal remittance business, effectively keeping foreign firms out of the Chinese market.