Finder is committed to editorial independence. While we receive compensation when you click links to partners, they do not influence our content.
8 Best winter cabin rentals in the US
Curl up, stay inside and let it snow.
A secluded cabin retreat is as close to heaven as it gets, especially when you're drawing near to loved ones. Every single rental on this list includes an indoor fireplace — because we believe a roaring fire is essential for winter cabin bliss.
Vrbo, one of our favorite booking sites due to its robust filtering options, has over 50,000 cabins for rent in the US.
East Coast
Stunning Riverfront Solar-Powered Cabin
In the heart of the Adirondacks, this winter cabin comes with a luxe massage chair for extra pampering. It's situated on a private island in the Independence River — and you won't believe how quiet it gets outside after it snows.
Grieg, New York
$320 nightly
Beautiful Teeny Tiny Cottage on Lake Eden
This serene retreat is a little over an hour away from Burlington, Vermont, smack-dab between Stowe Ski Resort, Smuggler's Notch Ski Resort and Jay Peak Ski Resort. It's also near an indoor waterpark, so you can take a day to splash around after hitting the slopes.
South
A Little Romance
You'll never want to leave this hideaway on the top of the world — or, to be more specific, on top of the Smoky Mountains in the Sherwood Forest Resort (don't worry, you'll be tucked privately away from the other cabins). There are two stacked, stone fireplaces along with a hot tub outside and a jacuzzi in the master bedroom.
Pigeon Forge, Tennessee
$149 nightly
Peace-in-the-Forest Retreat
Looking for a secluded place to rest? This cabin is located on 100 acres of private land, with numerous foot trails so you can meander to your heart's content. It was custom-built by the owner, using wood from the surrounding forest. The bustling cultural center of Greenville is only about 30 minutes away.
Pickens, South Carolina
$80 nightly
Midwest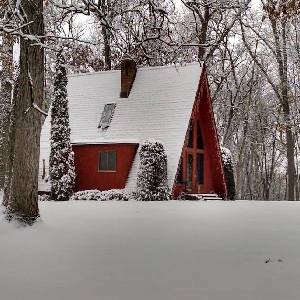 A-Frame on Brandenburg Lake
There's nothing quite as cozy as an A-frame cabin during the wintertime, as you'll be blanketed in a layer of snow, nearly camouflaged into the landscape. We love that this one is only a little over an hour's drive from Chicago. Stay warm even in the middle of a blizzard, thanks to the indoor fireplace and sauna.
Ingleside, Illinois
$173 nightly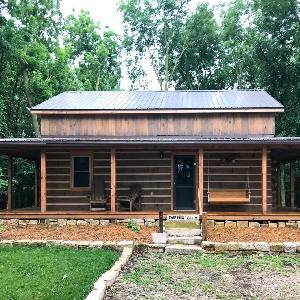 Private Chase County Cabin on Middle Creek
This gorgeous winter cabin sleeps four, so it's perfect for friends or two couples that want to escape city life together. It's onlytwo hours from Kansas City and near multiple historic sites and nature preserves, so you can spend a little time outside if you're brave enough to stray from the indoor fireplace.
Elmdale, Kansas
$102 nightly
West Coast
Fox Crossing
If you like the idea of a cabin getaway but still want to be within walking distance of a Starbucks — and driving distance from wineries galore — this one's for you. Gaze at the stars while soaking in the 121-jet Jacuzzi after spending the day eating, drinking and shopping in Big Bear.
Big Bear Lake, California
From $192 nightly
Coles Corner Cabin
Surrounded by aspens and ponderosa pines in the Okanogan-Wenatchee National Forest, this winter cabin is a short 15-minute drive — following a forested cliffside and the Wenatchee River — to downtown Leavenworth. It's owned by outdoorsy folks who can recommend nearby hiking and cross-country skiing trails.
Leavenworth, Washington
$88 nightly
How we chose these cabins
When choosing cabins for this list, we looked for a balance of value, location and amenities, keeping an eye out for cabins likely to offer a one-of-a-kind experience. We paid special attention to cabins that have a hot tub, sauna and Jacuzzi, and every single property on this list has an indoor fireplace. All of the cabins we've included have at least 4.5 out of 5 stars, compiled from a minimum of eight reviews, so you'll be following in happy footsteps.
How to choose a winter cabin rental
If you're overwhelmed by the sheer number of winter cabin rentals available, we feel you. The trick is to figure out your set criteria and go from there. Also keep your companions in mind, as your priorities will shift depending on who you're with.
Tip — Many winter cabin rentals, especially the adorable rustic ones, don't have indoor bathrooms. If you don't want to trudge to an outhouse through the snow, be sure to choose a place with indoor plumbing.
Couples. For romance, we like saunas and Jacuzzis. Look for private winter cabin rentals that are surrounded by nature, but still a short drive from a main drag — especially if you prefer candlelit dinners prepared by somebody else.
Families. Space is most important when booking for a family, since nothing creates tension like cramped quarters. If you're working with a budget, it's OK to sacrifice aesthetics for more room to breathe. Because once you're all together making memories, matching decor won't be all that important.
Groups of friends. The right spot depends on what you like to do together. If bar-hopping or wine tastings are top on the list, you'll want to be in close proximity to town. But if your chosen clan is happiest sitting around an outdoor fireplace, look for a cozy cabin near a body of water. And make sure there are lots of couches and chairs, to avoid that dreaded "where do I sit?" moment at mealtimes.
Solo. If you're going at it alone, make sure to choose a winter cabin rental that has a plethora of 5-star reviews, and take your time when messaging the host to ask any questions that you may have. Otherwise, pick a place that's small and cozy, so you won't feel lonely as the night approaches. And don't forget to share the address with friends and family before you go.
Traveling during COVID-19
The CDC continues to advise caution when traveling within or outside the US, though it no longer requires self-quarantine or a COVID-19 test for fully vaccinated travelers as of April 2021. It recommends that you delay travel if you are not fully vaccinated to protect yourself and your family from getting or spreading the virus.
When traveling, follow safety measures that include wearing a mask in public, social distancing and washing your hands. If you are diagnosed with, have symptoms of or are waiting for COVID-19 test results — or are otherwise at risk of illness — do not attend gatherings or travel for 14 days.
Vacation rental offers
Vacation rental guides
More guides on Finder