Why is Pfizer's share price falling?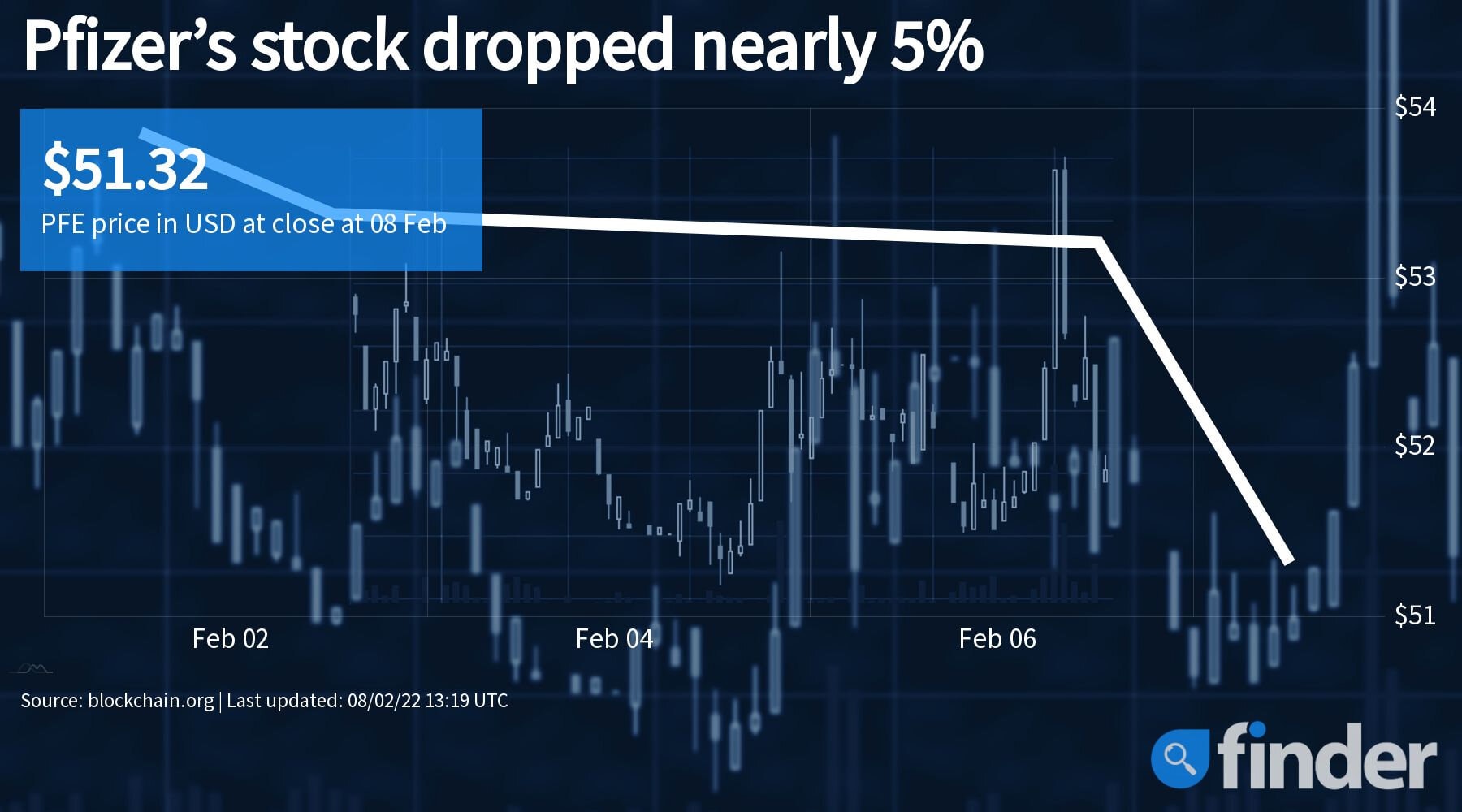 The drugmaker's stock dropped nearly 5% Tuesday after missing on revenue in its earnings report.
Shares of Pfizer (PFE) plunged Tuesday morning, touching their lowest level in two months. At the time of writing, the stock was down 5.71% to $50.17.
Why Pfizer's share price is tumbling
Pfizer reported mixed fourth-quarter and full-year 2021 financial results early Tuesday morning. The company posted earnings of $1.08 per share, beating Wall Street estimates of $0.87. Earnings were up 152% year over year.
Pfizer also said it projects record-high revenue of $98 to $102 billion in 2022. The company raised its expected sales for its COVID-19 vaccine Comirnaty by $1 billion for the year and now expects total COVID vaccine sales of $32 billion. Pfizer is also forecasting sales of $22 billion of its coronavirus antiviral medication Paxlovid this year.
Despite the lifted guidance, it still falls short of Wall Street expectations. Analysts had estimated $34 billion in Comirnaty revenue and $25 billion for Paxlovid.
"I would also caution you that there is less potential upside to this guidance through the year, compared to the situation we faced in 2021 when the vaccine was newly available and few people had received any doses of the vaccine," Pfizer CFO Frank D'Amelio said in his prepared remarks.
The company also missed on revenue, which came in lower than analysts had anticipated. Pfizer posted revenue of $23.84 billion for the fourth quarter, shy of the $24.20 billion expected.
Pfizer's underwhelming revenue stemmed from sluggish sales in its internal medicine, inflammation and immunology and hospital divisions. Internal medicine and inflammation and immunology sales for the quarter fell 3% year over year to $2.24 billion and $1.23 billion, respectively, while hospital sales grew by just 1% to $1.88 billion.
For the full year 2021, Pfizer (PFE) reported revenue of $81.29 billion and earnings of $4.42 per share, up 95% and 96%, respectively, year over year.
Shares of BioNTech (BNTX), Pfizer's vaccine partner, fell as much as 9.6%, while competitors Moderna (MRNA) and Novavax (NVAX) saw shares drop as much as 7.9% and 16.3%, respectively.
Considering buying Pfizer stock?
Despite Tuesday's price drop, analysts are largely bullish on Pfizer's stock. Of the 22 analysts covering the stock, 12 give it a Strong Buy or Buy, compared to nine Holds and one Sell.
The stock has a 12-month average price target of $60.06, which is a premium of roughly 17% from its current price.
Shares of Pfizer can be purchased through any online stock trading platform or brokerage account.
At the time of publication, Matt Miczulski owned shares of BNTX, MRNA and NVAX.
Information on this page is for educational purposes only. Finder is not an advisor or brokerage service, and we don't recommend investors to trade specific stocks or other investments.
Finder is not a client of any featured partner. We may be paid a fee for referring prospective clients to a partner, though it is not a recommendation to invest in any one partner.