Why cannabis stocks reversed course and plunged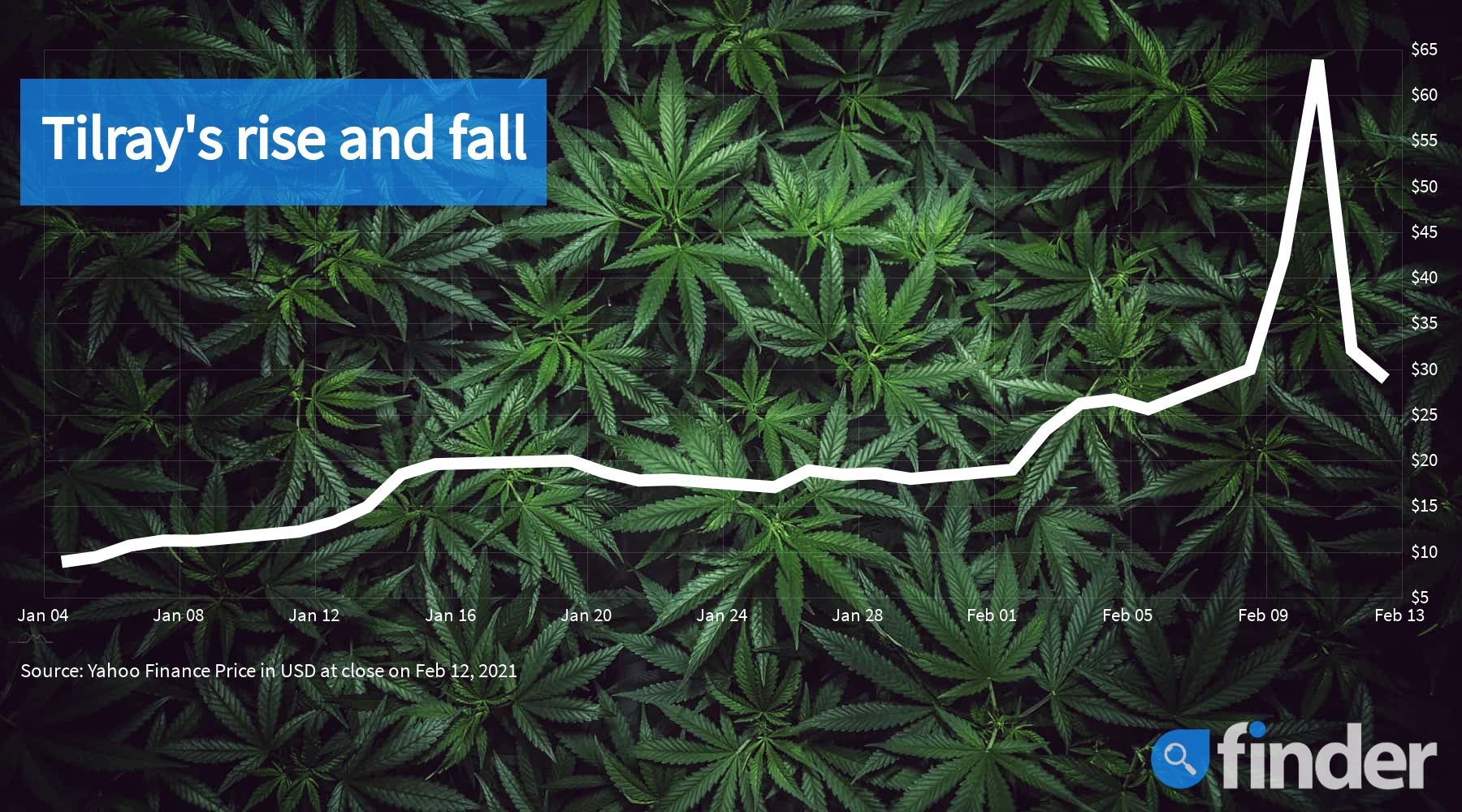 Shares of US and Canadian cannabis companies slid after traders booked profits following an incredible rally this week.
Shares of cannabis firms have run out of steam after rallying earlier in the week, becoming yet another example of a short-lived squeeze of short-sellers by Reddit-inspired retail investors.
Among major US-listed cannabis producers, Tilray (NASDAQ: TLRY) and Aphria (NASDAQ: APHA) were down 49.7% and 35.8%, respectively, while shares of Sundial Growers (NASDAQ: SNDL) posted a 19% loss. Traders booked profits in companies that have seen their share prices spike this week.
Retail investors have been hoping to benefit from potential lighter regulation of the sector under new US President Joe Biden. US Vice President Kamala Harris had said during the presidential campaign that marijuana would be decriminalized at a federal level in the United States under a Biden administration.
Interest in the sector lifted cannabis-focused exchange traded funds (ETFs), with some more than doubling in value over the past month. Analysts have said there was potential for a solid rally in the sector if the new US administration under Biden decriminalizes marijuana, although there has been little movement on this yet.
Reddit again
The surge earlier this week really came after participants on the WallStreetBets forum on Reddit – which helped spike the price of GameStop earlier by squeezing Wall Street short-sellers – turned their attention to US and Canadian cannabis firms, which are among the most heavily shorted stocks.
According to research firm S3 Partners, short interest in the nearly 200 cannabis stocks in the United States and Canada is close to $5 billion and is highly concentrated in a few names.
For example, short interest in Tilray, measuring the number of shares borrowed by short sellers betting on a price drop, was about 37% on Wednesday compared with 27% at the end of January.
Short-sellers borrow stocks to sell them on, aiming to buy back later more cheaply and pocket the difference. If the shares move up instead, they face a "short squeeze" as they race to buy the stock to close their positions and stem losses.
Analysts have been cautioning investors that the rapid surge in prices means many cannabis stocks have overshot their fundamental valuations. Some predicted the Reddit-inspired investments would lead to a quick "pump and dump".
Traders likely decided to pay attention to these warnings, particularly after the US Securities and Exchange Commission on Thursday suspended trading in an unrelated inactive company called SpectraScience due to what it called "a coordinated attempt by certain social media accounts to artificially influence the stock price."
Meanwhile, the contagion has spread to other international markets, with several Australian pot stocks including Creso Pharma (ASX: CPH), Auscann Group (ASX: AC8) and Cann Group (ASX: CAN) also sliding between 3% and 11% on Friday.
Cannabis still an attractive investment
Despite the heavy volatility, the cannabis sector remains attractive for investors as many countries follow the example of Canada and several US states to legalize cannabis for medicinal or recreational use. The legal cannabis sector will grow substantially over the next decade, with the industry expected to be worth over $38 billion by 2025.
Although investors have poured billions of dollars into the sector since 2018, it has been a rocky journey as the challenges facing the industry became more public. Many companies have struggled to be profitable amid stringent regulations, as well as oversupply of pot.
How to invest in cannabis
There's more than one way to invest in cannabis.
US cannabis stocks. This means buying stocks in US-based cannabis companies or companies that have cannabis exposure.
International cannabis stocks. Some of the biggest cannabis companies are listed on stock exchanges in overseas markets, such as Canada. It's possible to invest in these if you use a broker that offers global stocks.
Cannabis ETFs. ETFs contain a bundle of stocks, usually hundreds, and these often track an index of stocks. There are around six cannabis ETFs listed in the US.
Image: Finder