Why are Zillow shares trading higher today?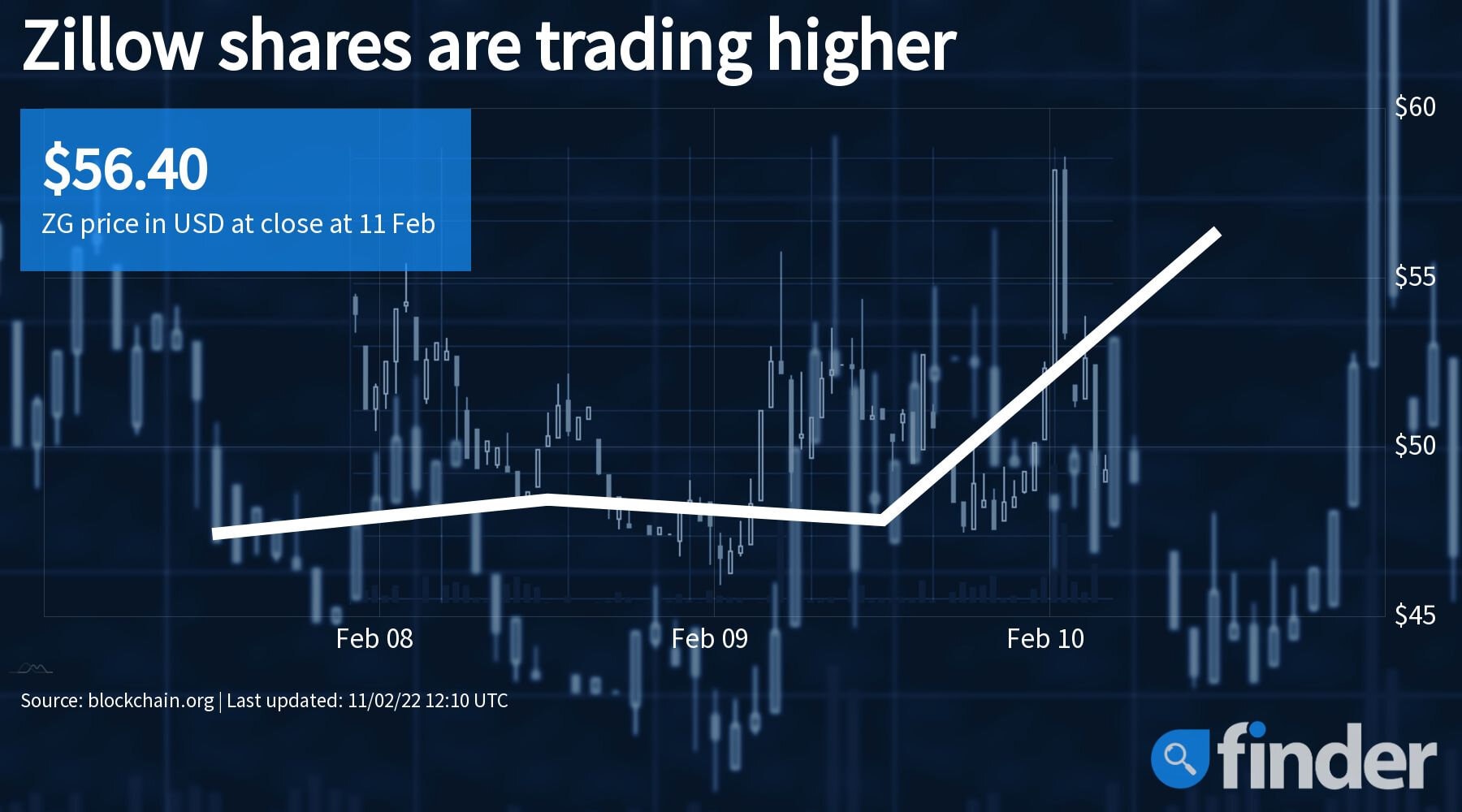 The real estate marketplace company saw its stock soar on better-than-expected quarterly earnings and an upbeat outlook.
Shares of Zillow Group (ZG) are up 18% as of midday today following a strong earnings report.
Shares returned to their highest level in nearly a month in after-hours trading yesterday, and continued trading higher Friday, hitting a session high of $56.62 at the time of this writing and a 19% week gain.
The stock was among the biggest gainers across the market Friday. And since the housing market overall still seems hot, it may have room to run for investors.
Why Zillow's stock is rising
Zillow reported quarterly earnings Thursday that beat analyst expectations. The company reported quarterly revenue of $3.88 billion, up 392% from the year-ago quarter, and well ahead of the Wall Street consensus forecast of $3.29 billion. Zillow posted a quarterly loss of $0.42 per share, compared with a projected loss of $1.07. Internet, media and tech revenue grew 14% year over year to $483 million and mortgage revenue came in at $51 million, near the top of the company's outlook range.
Homes segment revenue totaled $3.3 billion, which "well exceeded the company's outlook as the wind-down of iBuying operations progressed faster than anticipated," ZIllow said in its earnings announcement.
Those results came despite an $881 million loss on its now-shuttered home-flipping business, known as "iBuying." Zillow announced in November when it released its third-quarter earnings report that it was exiting the home-flipping business and eliminating 25% of its workforce, citing the unpredictability of forecasting home prices.
"The wind-down process is running smoothly and efficiently, and we expect it to generate positive cash flow," the company said in a letter to shareholders, adding that it will focus on growing Zillow's core businesses. "We feel even more confident today that exiting iBuying and eliminating the housing market balance sheet risk to our company and our shareholders was the right decision."
ZIllow said it expects first-quarter revenue to be about $3.3 billion and that it expects the wind-down of its iBuying operations to be cash-flow positive.
Thinking of buying Zillow stock?
The 20 analysts offering 12-month price forecasts for Zillow have an average price target of $77.47. This represents a 38% premium over its current price.
The current consensus among the 20 analysts covering Zillow stock is a Hold. Eleven give it a Hold, compared to 9 who give it either a Strong Buy or Buy.
For a wider look at real estate stocks, see our sector details page. Think about investing in real estate? Read our guide.
At the time of publication, Matt Miczulski did not own shares of any equity mentioned in this story.
Information on this page is for educational purposes only. Finder is not an advisor or brokerage service, and we don't recommend investors to trade specific stocks or other investments.
Finder is not a client of any featured partner. We may be paid a fee for referring prospective clients to a partner, though it is not a recommendation to invest in any one partner.