Where can you still get legit masks?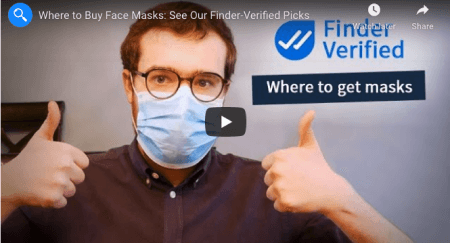 With more and more cities and states requiring residents to wear face coverings while outside their homes, Americans across the country are scrambling to find stores that still have masks in stock.
Unfortunately, Amazon and other third-party online stores are struggling to meet the demand for face masks and are often unable to vet marketplace sellers for legitimacy.
But you can find legit sites that have N95, KN95, surgical and cloth masks in stock. Finder has verified several online mask retailers by confirming FDA registration, business licenses and relevant certifications.
Here's a few of our top Finder-verified picks:
Masks by Whizley. This American personal protective equipment (PPE) supplier ships imported surgical and KN95 masks from its California warehouse through FedEx.Disposable surgical masks come out to $1.20 a piece, with a discount on orders of 5,000 masks or more. The KN95 masks cost between $4.50 and $4.95, depending on how many you buy.

Members from our team have personally purchased masks from this company, reporting receiptt within days, and the masks arrived in great condition.

Clinical Supplies. Another US-based supplier that ships imported KN95 masks from California. According to its website, all deliveries ship in two to three days via UPS and are fully trackable. These KN95 masks are currently on sale for $7 a mask, with packs of 10, 20, 40, 100, 200 and 600 available.
Subzero Masks. If you prefer masks that are made in the US, consider this online store selling American-made, 100% cotton cloth masks with or without particle filters for added protection. While these masks aren't recommended for medical settings, they're a viable option for the general public while out running essential errands.The basic cloth mask without a filter costs $19, and the filtered mask costs $29. While these are pricier than surgical or KN95 masks, they're washable and reusable.
If you're looking for physical stores that have face masks in stock, your best bet is to check the inventory of your local store online or give them a call. Most retailers like Dollar General, Home Depot and Lowe's are not currently selling masks online, but might have stock available to purchase in select locations.
You can also look for masks at outdoor apparel stores such as Dick's Sporting Goods, the North Face and REI. However, you'll likely only find ski masks and scarves — which aren't designed to protect you against the coronavirus but provide a face covering nonetheless.
Also check out local boutiques that are still open near you — many have started selling handmade cloth masks sewn by members of the community. You'll be able to protect yourself while supporting local businesses that may be struggling.
Finally, if you're having trouble figuring out which mask to buy, keep these tips in mind:
N95 and KN95 respirator masks are best suited for healthcare workers and anyone who is caring for a sick person.
Disposable surgical masks are best for anyone who is sick themselves, since this type prevents the person wearing the mask from spreading germs to others.
Cloth masks and surgical masks are appropriate for the general public to wear to the grocery store and other essential businesses. These are a good option if you're looking for something you can wash and reuse.
Make sure that any mask you use completely covers both your nose and mouth.
If you wear glasses, go for a fitted N95 or a medical mask with a bendable strip at the nose to keep them from fogging up. If you're crafty, you can also attach a pipe cleaner to the top of your cloth mask to give it a tighter fit. Medical tape can work as well.
Check customer reviews before buying from a company you're unsure of. Make sure the seller is legit before you invest in a pack of masks from them.