Here's when your American Airlines miles will expire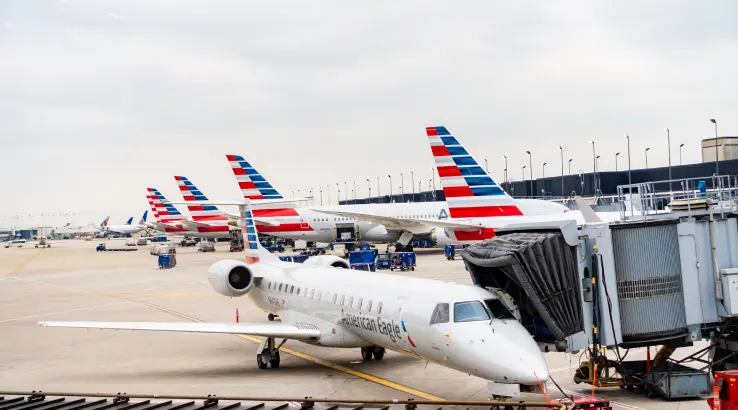 Plus, see where it's suspending service in October.
On August 7th, American Airlines announced that it's suspending the expiration of miles through the end of 2020. Additionally, it will reinstate miles that have expired since July 1st, 2020, letting travelers hold onto those rewards a bit longer.
If you paid to reinstate miles set to expire after July 1st, 2020, you can request a refund by calling American Airlines directly. Otherwise, you'll receive bonus miles as compensation.
When do American Airlines miles usually expire?
Typically, AAdvantage miles expire after 18 months of inactivity, which means that the traveler hasn't redeemed or earned any rewards.
If you're worried about your AAdvantage points expiring next year because you don't foresee booking a flight, one way to keep your miles is to use an American Airlines credit card. Its most basic card, the American Airlines AAdvantage MileUp Card, comes with no annual fee.
Where can I go with American Airlines right now?
American Airlines flies to all 50 US states and is the largest domestic carrier by fleet size. It's still flying internationally as well, though schedules may be more limited than usual. Also, many countries are not allowing US tourists to visit right now due to the COVID-19 pandemic, so you'll need to check up on restrictions before booking your flight.
That said, American Airlines will be suspending service to 15 markets from October 7th to November 3rd with the CARE agreement requirements coming to a close this fall. This includes:
Del Rio, Texas — DRT
Dubuque, Iowa — DBQ
Florence, South Carolina — FLO
Greenville, North Carolina — PGV
Huntington, West Virginia — HTS
Joplin, Missouri — JLN
Kalamazoo, Michigan — AZO
Lake Charles, Louisiana — LCH
New Haven, Connecticut — HVN
New Windsor, New York — SWF
Roswell, New Mexico — ROW
Sioux City, Iowa — SUX
Springfield, Illinois — SPI
Stillwater, Oklahoma — SWO
Williamsport, Pennsylvania — IPT
Are any other airlines offering mileage extensions?
Here's the latest on when your miles will expire with major airlines in the USA:
| Airlines | Standard policy | Extensions | More info |
| --- | --- | --- | --- |
| Alaska Airlines | Mileage Plan accounts are deleted after 2 years of inactivity | No — though it's extending elite membership statuses through 2021 | More info |
| American Airlines | AAdvantage miles expire after 18 months of inactivity | Expiration suspended through 2020 | More info |
| Delta | Skymiles never expire | N/A | More info |
| JetBlue Airways | Jetblue points never expire | N/A | More info |
| Southwest Airlines | Rapid Rewards miles never expire | N/A | More info |
| United Airlines | MileagePlus miles never expire | N/A | More info |
| Spirit Airlines | Spirit miles expire after 2 months of inactivity | All miles in your account as of March, 2020 will be extended through September 2020. | More info |
Photo: Getty Images