Finder is committed to editorial independence. While we receive compensation when you click links to partners, they do not influence our opinions or reviews. Learn how we make money.
Statement credit: What it is and how to get it
This reward can lower your credit card balance.
Statement credit sounds fancy, but it's simply a payment method to your account performed by your issuer. While rewards cards commonly offer statement credit as a redemption option, there are other ways to get statement credit as well. Here's a breakdown of statement credits and how they work.
What is statement credit?
A statement credit is money paid to your credit card account by your provider. It essentially works the same as a cash payment to your account.
For example, if you have a credit card balance of $1,000 and you receive a $100 statement credit, you'll then owe only $900.
When your provider applies a statement credit to your account, you'll see it in the transaction history in your online account. You'll also see it on your monthly credit card statement.
How might you receive statement credit?
There are different ways you can receive statement credit. The three major methods are rewards redemption, reimbursement for travel purchases and credits for item returns.
Redeem your rewards as statement credit
Typically, you'll have a few ways to redeem your cash back, points or miles. You might be able to trade your cash back for a nice deposit into your bank account, or use the points for something like a hotel getaway.
Sometimes, you can redeem your rewards in the form of statement credit. For example, you might normally trade your cash back for a bank deposit, then pay off your credit card with that money. Instead, you can simply redeem your cash back as statement credit and lower your card balance directly.
Points or miles can work the same way. Instead of redeeming them for travel, you may be able to use them for statement credits. But remember this might not always be optimal, because your rewards might be worth lower than they would if you used them for other redemptions.
Pro tip
The standard value for points or miles is 1 cent each. For example, if you have 50,000 points, they should be good for a redemption worth $500.
However, if you redeem these points for statement credit, they might be worth a lower value — $300, perhaps. This gives you a value of 0.6 cents each, which is a poor deal.
The lesson: Always calculate the potential value of your points or miles before redeeming them. You can do this by dividing the value of the redemption by how many points or miles you must use. So, a $300 flight that costs 25,000 points yields a $300/25,000 = 1.2 cent-per-point redemption rate.
Get reimbursed for travel purchases
There are a variety of cards that offer statement credits for travel purchases. Here are a few examples of statement credits you might find:
General travel credits.
These are some of the most powerful travel credits, as they're often good for wide-ranging travel purchases such as flights, hotels, car rentals and more. The Chase Sapphire Reserve® is one example, offering $300 in annual travel credits.
General airline credits.
You'll be reimbursed for eligible spending at specified airlines. The Platinum Card® from American Express is a good pick in this category, offering $200 in annual credits for charges such as checked baggage fees and in-flight purchases.
Dining credits.
You'll be reimbursed when you use your card at restaurants, food delivery apps and more. The American Express® Gold Card is one of the top cards offering this perk: You'll receive $10 in monthly statement credits when you use your card at Grubhub, Shake Shack and other dining merchants.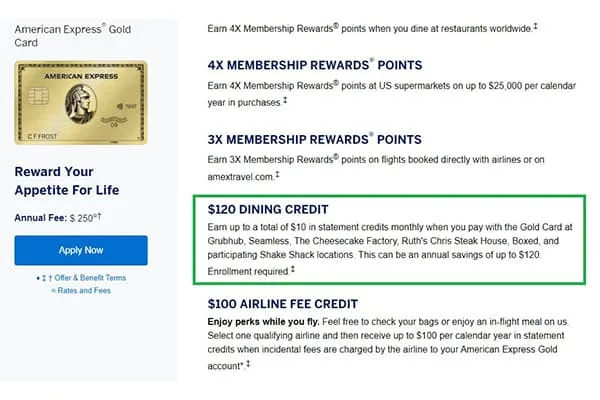 A provider may offer reimbursement for a specific purchase. Here's a common example: Pay for your Global Entry/TSA PreCheck application fee with an eligible card, then get reimbursed later. The American Express® Green Card is another unique product, offering $100 in annual CLEAR credits and $100 in annual LoungeBuddy credits.
Hotel credits.
Some hotel cards will help you erase your purchases when you spend at certain hotels. For example, the Marriott Bonvoy Brilliant™ American Express® Card offers $300 in annual statement credits, but only for purchases you make at eligible Marriott Bonvoy properties.
Airline credits.
Some cobranded airline cards offer savings on in-flight purchases, which you'll receive via statement credits.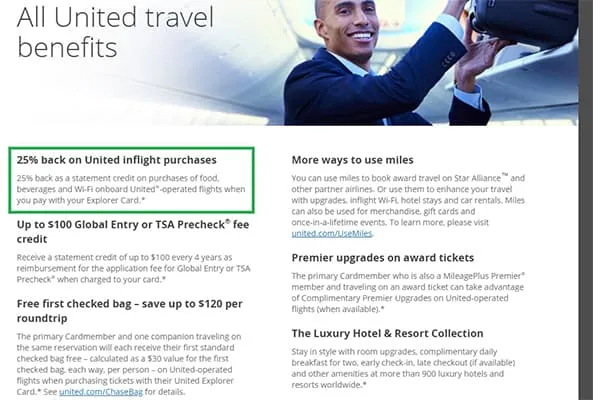 Receive credits for returned items
If you buy an item with your credit card and later return it, you'll usually receive your refund to that same card. Your initial purchase resulted in an increase to your card balance — with a return, your balance will decrease.
Keep in mind you could still accrue interest on a purchase even after you've initiated your refund. That's because refunds can often take up to seven days to fully process.
Pros and cons of redeeming rewards as a statement credit
While redeeming rewards as statement credit can be convenient, it's not always the best choice. Consider these pros and cons before picking this route:
Pros
It's simple. Statement credit is applied directly to your balance, so you can save yourself multiple redemption steps you might take otherwise.
Get straightforward value. Typically, you can redeem your rewards for statement credits at the industry-standard value — that is, 1% for cash back, or 1 cent per point or mile.
Easily get benefit-specific redemptions. If you have a travel credit, for example, you simply need to spend on the right travel purchases. Then, your provider will later apply the statement credit to your account automatically.
Cons
You may get a poor redemption rate. You may get less than a 1-cent-per point or 1-cent-per-mile rate, which is standard across the industry. For example, redeeming Amex Membership Rewards points for statement credits yields a value of only 0.6 cents per point.
You could miss out on better redemptions. You could get higher than the industry-standard redemption rate with your points or miles. Check out our guide to Chase Ultimate Rewards for a great example of maximizing your rewards.
Compare rewards credit cards
Here are some rewards cards that offer statement credit as one of their redemption options. To start, select your credit score and click on Show cards. You can then compare eligible rewards cards side-by-side.
Bottom line
Statement credit is a relatively simple way to redeem your rewards or get reimbursed for certain purchases. While it typically offers an industry-standard redemption rate, do your own calculations to see if you're getting a good deal.
If you're interested in getting statement credit, compare rewards credit cards.
Frequently asked questions