Here's what GNC's bankruptcy means for you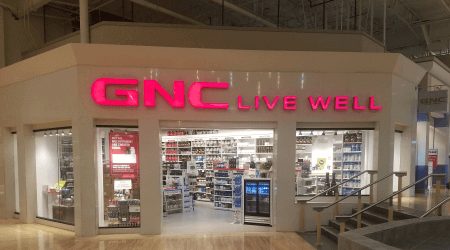 GNC's already battered stock plummets further on the news, though there's talk of a buyout.
With many of its mall-based health and nutrition stores suffering from coronavirus-related shutdowns, GNC filed for Chapter 11 bankruptcy on Wednesday.
GNC stores that have reopened will remain so for the time being, but the company plans to permanently close 800 to 1,200 stores as part of the bankruptcy restructuring, according to a Bloomberg report on Yahoo Finance. And unlike other recent bankruptcies, GNC already has an agreement in principle to sell the company to Chinese investor Harbin Pharmaceutical Group Holding Co., which buoys hopes that the chain will survive its restructuring process.
What bankruptcy means for existing investors
Though it had long been in a downward slide and already become a penny stock amid the spring stock market crash, GNC stock fell hard again Wednesday as bankruptcy news spread.
GNC stock has been on the decline since its 2013 holiday season high of $60, experiencing sharp drops in the first half of 2014 (to $32 from $58), the fall of 2015 ($30 from $50) and much of 2016 ($11 at year-end from the low $30s). It started 2020 at $2.80 before quickly bottoming out at $0.38 on March 17.
Like other struggling companies in recent months, it jumped back above $1 early this month but fell hard with the rest of the market on Wednesday, shedding nearly half of the previous day's value.
Existing investors will have to weigh the risks of holding on for a comeback or cutting their losses, if they haven't done so already.
What bankruptcy means for prospective investors
Big events like bankruptcies often lead to big reactions. Investing in a bankrupt company is considered a high-risk move, but there's a chance that big reactions will lead to overreactions and the stock price rebound.
Though there's always a risk that bankrupt stock becomes worthless, the stocks of recently bankrupt companies have seen a good deal of volatility after the news broke.
Here are a few examples:
JCPenney (now JCPNQ following its delisting) spiked from about $0.20 immediately after its bankruptcy news on May 15th to above $0.60 on June 8th before settling back to near $0.30, where it's now trading.
Hertz (HTZ) has risen from its $1 post–May 22 bankruptcy filing price to as high as $6 on June 8th and is now trading around $1.50.
LATAM Airlines (LTMAQ) has risen from about $1.50 after it filed on May 25th to north of $3 on June 9th. It's now trading under $1.50 again.
Neiman Marcus (MCS) has risen from about $12.50 after its May 7th filing to touch $20 on June 8th before backtracking to today's price around $12.50 again.
Investors are often advised not to risk any more money than they're willing to lose, and that's certainly the case here.
What bankruptcy means for customers
GNC stores can continue to operate — although many are in malls, which may not have reopened from COVID-19 closings yet. But as many as 1,200 of the worst-performing stores may soon permanently close. GNC has about 5,200 locations, including about 1,600 within Rite Aid stores and 1,000 that are owned by franchisees and not affected by the bankruptcy.
You can still order GNC products online. If you're concerned about the company's future, compare GNC products to those from its top vitamin competitors, several of which have lower thresholds for free shipping.
Photo: Wikimedia