Finder is committed to editorial independence. While we receive compensation when you click links to partners, they do not influence our content.
Weirdest Black Friday deals 2021
Get the perfect gag gift with this year's wackiest Black Friday deals.
Black Friday shopping doesn't have to be all about saving hundreds of dollars on washers and dryers — although it certainly can be. Before a whole new slew of zany products surface during this year's sale, have a laugh at these oddball deals from Black Fridays past.
1. Trolls headbands for your pet at Petco
That's right, your pet could've dressed up like your favorite Troll for Christmas last year — and it barely cost a thing. Last year, shoppers took 50% off Trolls animal headbands at Petco to scoop up an adorable headband for just $5.
Before you snatch up this deal, check out the pricing and availability at these stores:
2. Men's hooded ugly Christmas sweater at Kohl's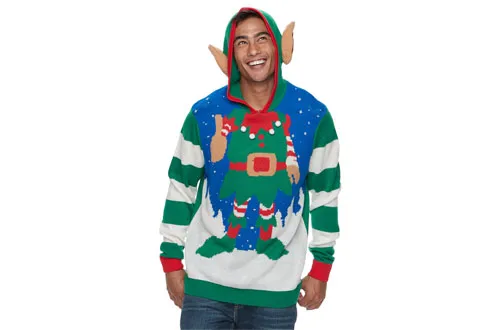 Lucky fellas saved $30 on hooded ugly Christmas sweaters last year at Kohl's. Men had their pick of turning into an elf or Santa himself with this whimsical find for $39. And not only were they looking stylish, they cashed in on $15 in Kohl's Cash, thanks to its Black Friday special.
3. Talking Chewbacca plush toy at Amazon
Star War fans swarmed sourcing
Amazon
last year for a talking Chewbacca plush. Why shell out almost $70 bucks for Chewy when you could get him for a steal at almost half off? The force was strong on this deal.
4. Emoji Bluetooth headphones at Big Lots
In case you wanted to stock up on Bluetooth headphones that look like your favorite emoji faces, Big Lots had a buy two, get one free sale on all headphones during last year's Black Friday sale. The best part? You could mix and match with other styles, including light-up cat ears and woodgrain.
Honorary mentions
These outrageously weird Black Friday deals of years past were just too good not to mention. Although you probably still can't get them at their original Black Friday prices, you might be able dig around the web searching for these hilarious Black Friday specials of yesteryear and bring them back to life.
Free reindeer poop from Tanga.com
Back in 2013, Tanga.com made a splash with its generous offer of a free bag of genuine reindeer poop, plus free shipping. And the best part? Shoppers didn't even need to purchase anything else. You could literally enter your name and address and get reindeer droppings in the mail a couple days later. We're not sure this one will ever be topped.
Talking bacon plush toy from Thinkgeek
Thinkgeek dreamed up this one back in 2011, but as far as we know, the talking bacon plush toy is no longer available. If you were lucky enough to have stumbled upon this deal six years ago, you could've saved a whopping $32, but you had to buy four of them. Still, who doesn't want a fluffy, talking piece of bacon?
Take a chance on getting your car for free
In 2014, a Buick GMC dealership in Chicago placed a bet on ol' Jack Frost. It wagered that it wouldn't snow more than six inches on Christmas Day. But if it did, anyone who bought a car on Black Friday or the Saturday after would get it for free. Sadly, the snow didn't fall, and neither did the dealership's prices.
Other Black Friday deals (that may not be weird but will save you money):
More guides on Finder