Finder is committed to editorial independence. While we receive compensation when you click links to partners, they do not influence our content.
Wedding dresses: Compare & save money
Let's say yes to the dress: your dream wedding dress, that is.
Whether you have a gown custom made or alter one to fit you, choosing a wedding dress is an extremely special and personal experience. Some brides will buy a new dress, while some will choose to wear a special family heirloom passed down from generation to generation. You'll find that the history of weddings and wedding dresses is fascinating and has been influenced by a variety of religions and cultures over time. So, without further ado, let's dive into finding your perfect dress!
Top wedding dress selection
How to choose a wedding dress
Finding the perfect dress for your wedding can be an exhausting task and most brides end up trying on as many as ten dresses before finding the one they like most. In order to ensure that your wedding stays on schedule and that you reduce the stress that comes with picking out the perfect dress, here are some helpful tips on how to choose the perfect wedding dress.
Start shopping early. Allowing yourself enough time to look for a wedding dress can ensure you avoid the last minute shopping rush that increases the pressure of picking out a dress that is perfect for your big day. It is never too early to start looking around for a dress and checking out various wedding gowns online can make the process of shopping very easy, quick and convenient.
Take someone along. When going shopping, make sure you take someone whose opinion you trust along with you. Consulting with a bridesmaid, trusted friend or expert in wedding dresses can ensure you end up picking a dress that complements your style. The person you choose to help you pick out a dress can also help you look at bridal magazines and other online stores so that you can zero in on the wedding dress of your dreams.
Wedding dress colors
Modern brides have the privilege of having unlimited options when it comes to the color of their wedding dress. Choosing a wedding dress color that complements your style and flatters you most can help improve your self-confidence during the wedding and make you all the more beautiful on your big day. The color you settle on can help you be more coordinated with your bridal party and make the whole ceremony more elegant. For most brides, the season in which they get married also plays a big part in their wedding dress colors. Certain colors, such as blue and pink, are popular during spring, while white and other warm fall colors blend perfectly with colder seasons.
Every bride deserves to have a wedding dress whose colors complement her natural features, like her hair and skin color. Brides usually have the choice of going for a colored wedding dress that can enhance the color scheme of the whole ceremony, or go for a traditional white dress that brightens up the event. White colored wedding gowns are traditionally used to signify the purity of the bride, while other bright colors, such as red and pink, are a symbol of love and passion.
If you choose the traditional white like most brides, don't feel as if you are restricted to a single shade. There are many different shades of white, each of which complements different hair and skin tones. Wedding gowns are typically available in at least three shades of white.
Smart ways to save money on your wedding dress.
Saving money on your wedding dress can help you put aside more money for the wedding ceremony or ensure that you can afford a sweet honeymoon. Here are a few tips on how you can save money on your wedding dress.
Rent your wedding dress. One of the best ways to get a wedding gown that is within your budget is to rent it from a formal wear shop. By doing so, you can get a dress that would have set you back a couple of thousand dollars for a fraction of its retail price.
Shop at thrift stores. Most dresses end up being sold to consignment shops for other brides to purchase at a lower price. Brides who shop at consignment stores usually end up getting a beautiful wedding gown at a reduced price.
Go for a custom-made gown. Instead of going a ready-made gown, you can have one designed by your local tailor for or have them emulate a gown you have seen online instead of purchasing a designer wedding gown.
Back to top
Where to find cheap (but beautiful) wedding dresses
Whether you're on a budget or not, you deserve to feel beautiful on your big day. Shop these retailers to find your perfect dress at a fraction of the cost you'd pay at a bridal boutique.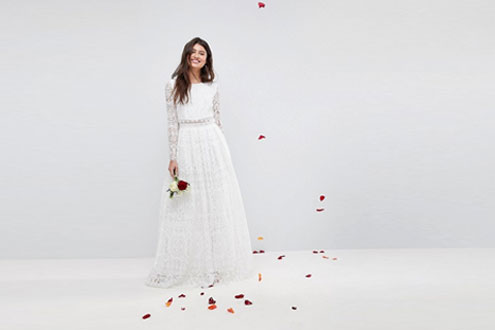 ASOS has a surprisingly large selection of inexpensive wedding dresses that are perfect for your special day.
With options that range from traditional lace to simple and modern and easy returns, why not order a few dresses to try on from this popular online retailer?
10% student discount.
Free shipping on orders over $49.99.
Returns accepted within 28 days of receiving your order.
---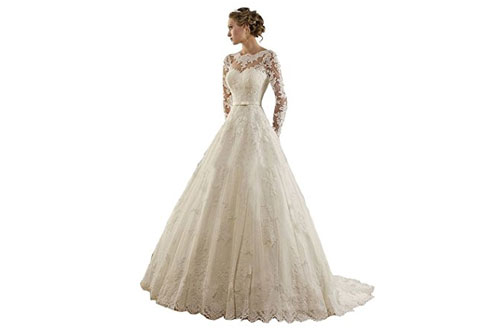 You can buy anything on Amazon, including your wedding dress.
Amazon has dozens of beautiful wedding dresses under $300 with amazing reviews. Check out the user reviews to make sure you order the right size and that the dress is of good quality, then order away!
Free two day shipping with Prime.
Easy, usually free returns.
Customer reviews on website.
---
David's Bridal
This retailer has been a go-to for brides for years with hundreds of classic dresses.
Check out its selection of wedding dresses under $100 for a deal on your wedding dress that's almost too good to be true. There are more than a hundred dresses under $100 available.
Alterations available at a local store.
Free shipping on order over $100.
Variety of sizes available.
---
With lots of less traditional color choices, DressLily is an ideal choice for brides who've decided to ditch the white gown.
With beautiful wedding dresses in pink, blue, red and other less traditional colors, DressLily is an amazing spot to shop for your gown online and score a great deal.
Incredibly cheap prices.
New dresses each week.
Variety of styles.
---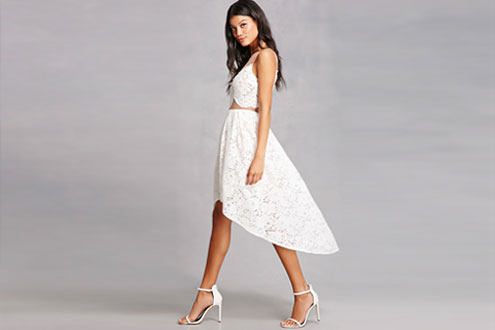 If you want a dress with a more casual vibe instead of a formal ballgown, try Forever 21.
There are tons of beautiful white dresses available at affordable prices. They're perfect for a casual bride who likes to always be on trend.
Free shipping on orders over $50.
Returns accepted within 30 days of purchase.
User reviews on website.
Where to shop for plus-size wedding dresses
Finding a wedding dress that flatters your curves and makes you feel confident can be a serious challenge. Check out the beautiful dresses available from these retailers that are especially designed for bodies that look like yours.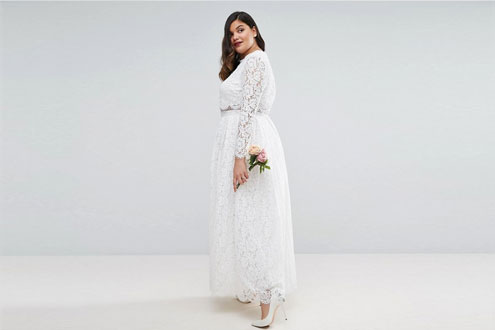 ASOS is likely the best choice for a cheap, beautiful wedding dress for a curvy woman.
If you are a bride on a budget, you'll want to check out the beautiful selection of dresses at ASOS. It's updated often and always trendy.
10% student discount.
Free shipping on orders over $49.99.
Returns accepted within 28 days of receiving your order.
---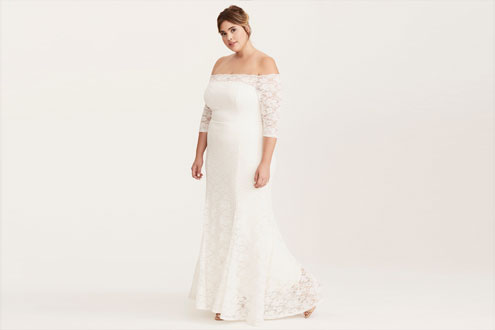 Torrid always has dress choices designed to flatter and sure to impress.
Whether you want a lacy white dress or a less traditional colored dress, we think you'll like the choices you find at Torrid.
Free shipping to store.
Free returns to store.
Customer reviews on website.
---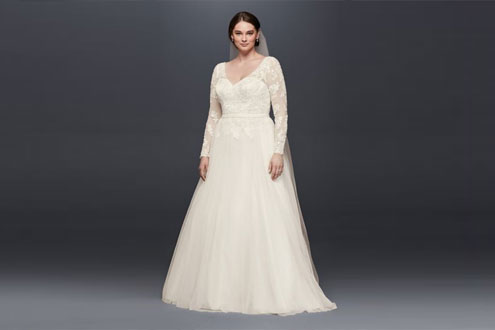 David's Bridal
A classic bridal retailer with plenty of selection for curvy ladies.
David's Bridal has dresses in every cut and color you could dream available for ladies of all shapes and sizes. Most dresses are available up to a size 26.
Alterations available at a local store.
Free shipping on order over $100.
Variety of sizes available.
---
House of Brides
House of Brides Couture is the ideal place to shop for your traditional wedding gown.
Beautiful wedding dresses are available for women up to size 32. Whatever hemline, neckline and silhouette you're looking for, House of Brides has it.
Up to 80% off of retail prices.
Rush orders available.
---
CocoMelody
CocoMelody prides itself on beautiful wedding dresses for brides of all shapes and sizes.
Every bride should have the dress of her dreams and CocoMelody makes those dreams happen. Featuring real brides' photos on its website, it's easy to imagine yourself in a CocoMelody dress.
Professional consultants to help you select a dress.
Free shipping.
User reviews on website.
Where to find dresses for a beach wedding
Beach weddings are a ton of fun and usually less formal than other types of weddings. Whether you're a bride who loves boho or want a more traditional dress, here are some suggestions for the best place to buy a dress for a wedding by the ocean.
For a stunning traditional dress that will make you even more beautiful than the view, try Shopbop.
This site has a selection of gorgeous gowns that are sure to look even better once you have sand between your toes.
Free shipping.
Free returns.
Amazon Prime eligible.
User reviews on website.
---
For a more relaxed and boho look, try a beachcomber's dream wedding dress from Free People.
Its dresses tend to be a bit more relaxed, but that makes them all the more comfortable. Being all done up in lace is definitely not every bride's style.
Free shipping on orders over $100.
Easy returns with pre addressed label.
Customer reviews on website.
---
For a beautiful beach wedding dress at a great price, shop H&M.
If you're looking for a sundress style wedding dress that will shine as brightly as the sun over the water, check out H&M's huge collection.
Trendy dresses.
Local stores for returns.
---
A more traditional seaside bride will love the gowns available from Nordstrom.
If you've dreamed of wearing a sweet, romantic gown in the sand, we think you'll die over these darling choices from Nordstrom. Lace details are everything here.
Expert help available.
Free shipping.
---
Where to shop for vintage and secondhand wedding dresses
Whether you're a bride who loves to prowl for the coolest vintage finds or you want to save some cash by buying secondhand, we have some ideas for you.
preownedweddingdresses.com
Essentially the Craigslist of wedding dresses, this online marketplace is a true gem for brides-to-be.
Former brides can list their dresses to snag some extra cash, and you'll snag a great deal on a beautiful gown.
Shop by designer, size, city or type.
Return policy varies by seller.
Great deals.
---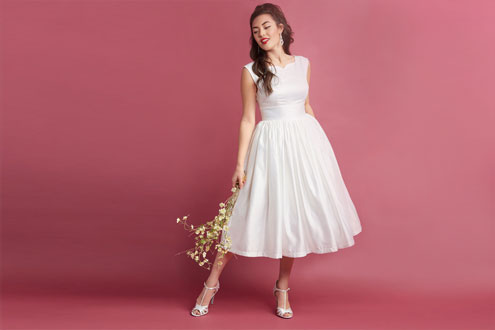 Modcloth specializes in vintage clothing and is an ideal choice for a bride who wants a classic look.
For those who love a good vintage look, Modcloth is your best bet. With dresses in all sizes and silhouettes, we think you'll find something you love.
Free ground shipping on orders over $75.
Free returns.
Discount on your first order.
---
eBay
If you're willing to hunt for the perfect gown, why not try searching eBay?
Thousands of brides list their dresses every day, so you're sure to find a style you like at a price you'll love. Many designer gowns are available in a variety of sizes and most dresses are preowned or vintage.
PayPal accepted by most vendors.
Shipping policies vary by seller.
Return policies vary by seller.
Low prices on designer gowns.
---
On Etsy, sellers of vintage gowns abound to please your antique loving heart.
For brides that are set on a vintage dress, Etsy is the perfect place to shop. Hundreds of vintage gowns are available from every decade and the selection is updated every day.
Huge selection of vintage gowns.
Variety of decades to choose from.
Custom gowns also available.
Back to top
Current deals and specials
The history of wedding dresses
A wedding dress is one of the most essential parts of a wedding ceremony, but few people realize where this ageless tradition of dressing the bride in a classic dress came from. Early cultures in Europe used to dress their brides in red to invoke fertility and to ward off evil spirits during the wedding ceremony. Early Christians preferred blue wedding gowns to symbolize the purity of the bride. Until recent times, white wedding gowns were widely considered impractical, with many bride preferring gray dresses as they were considered more modest and practical. White wedding gowns were mostly used by the royals and the wealthy in society to symbolize the purity of the bride and the marriage as a whole. As we drew closer to the middle ages, many brides started opting for the traditional white wedding dresses that we are all familiar with today. Like today, the design chosen by the brides of the past was widely determined by the trending fashion of the time. For instance, many wedding gowns in the 1920s were short at the front with a long train attached to the back.
Back to top