We tried it first: Milk Watermelon Brightening Serum
Cult favorite brand Milk has taken your favorite summer beach snack, put it in a tube and put it to work to moisturize and brighten your skin.
Milk announced its presale for a new brightening and moisturizing watermelon serum stick via email and on its Instagram. The presale for the new product sold out before the end of the day, but I was lucky enough to snag one before it hits Sephora shelves this Tuesday, April 3.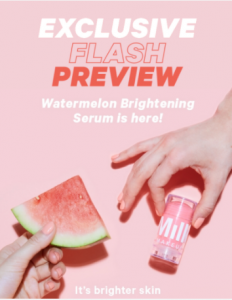 Picture: Instagram
The Watermelon Brightening serum is more than just watermelon. This pint-sized powerhouse includes Swiss garden cress sprout extract to brighten the skin and even your skin tone, as well as vitamins A, C and E to fight against free radicals. It also includes matrixyl, a biomimetic peptide complex that smooths your face.
So far, I love this new product. It came in the signature Milk packaging with holographic tape and included several adorable stickers.
The serum stick itself was far bigger than I imagined it would be and it was free from any potent watermelon smell like I expected. The scent is barely noticeable to my sensitive nose.
The Watermelon Brightening Serum is easy to apply: You simply rub it on your face to refresh your moisture levels and add a brightened glow to your complexion. The best part of a stick serum is that the product goes directly from the container to your face, so you don't waste even a drop of product on your hands. Plus, it's super-convenient to throw in your bag for the day at the beach or to add to your carry-on without shoving one more thing in your tiny liquids bag.
You can buy Milk's new Watermelon Brightening Serum starting April 3 on the Milk website or from Sephora. It costs $36.00 for a large container, but in the future Milk may offer a smaller trial size, as it does for other products.
Picture: Instagram